Air India's missing paintings: Case solved with Jatin Das' recovery?
Air India's missing paintings: Case solved with Jatin Das' recovery?
Written by
Anish Chakraborty
Jul 21, 2017, 01:31 pm
3 min read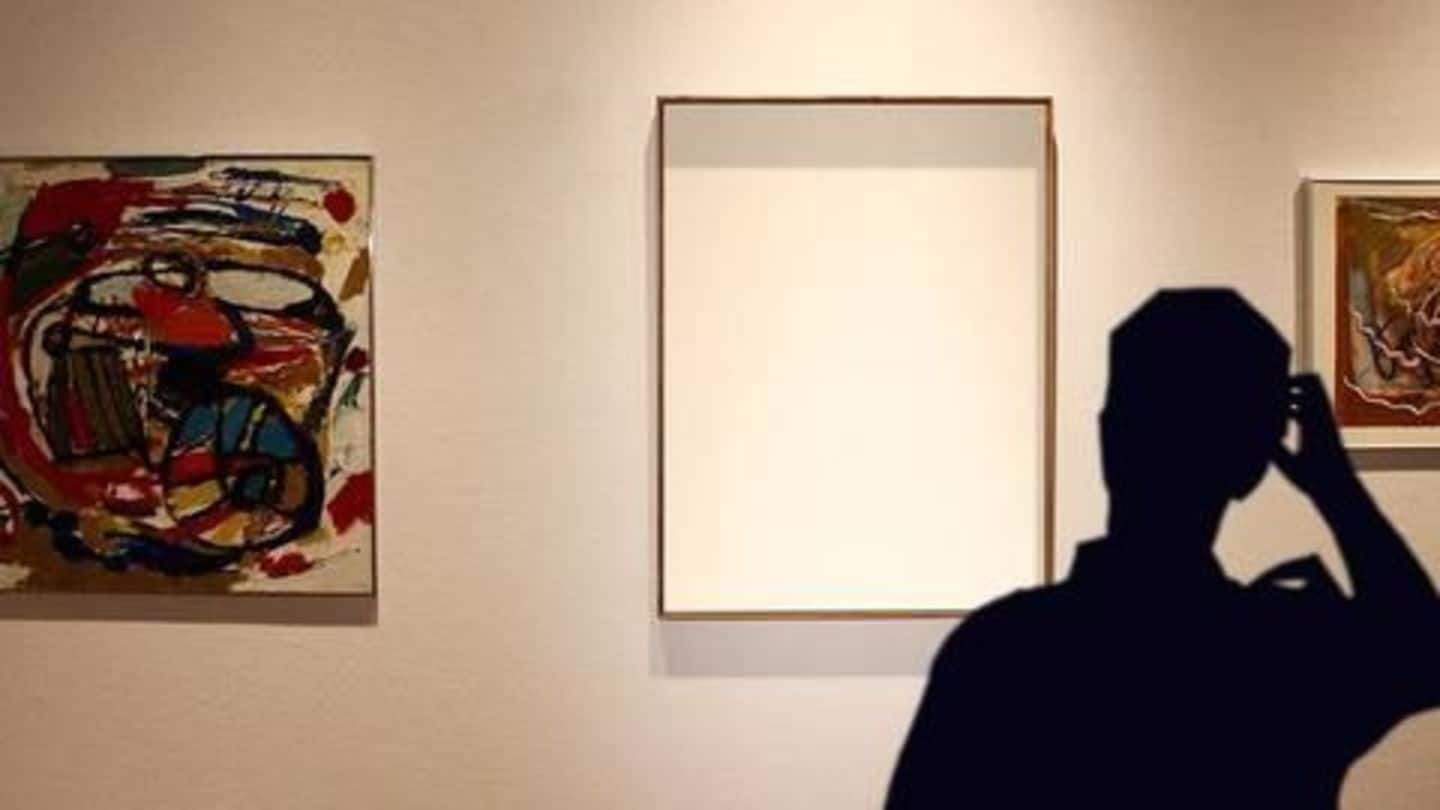 A fortnight after the reports first emerged, Air India has solved the mystery of its missing paintings: it has received a lost Jatin Das artwork by courier, sent from a fictitious-address. It was last seen at an executive director's office. When questioned, she admitted she had taken the "gift" after retirement. AI will write to former-bosses who might have "forgotten" to return such assets.
Air India's paintings vanish from HQ, reappear in open market
Trouble appears to be a constant companion of the Maharaja. Air India, after many summers of failed revival, is finally prepped up for disinvestment. However, while things are being readied to send Maharaja for its much-postponed end, it appears that its precious art assets have done a vanishing act from its Mumbai headquarters and resurfaced back in the black market. Here's all about it.
A collection worthy of a Maharaja
Air India over the years has amassed a sizeable art collection that would make any art collector proud. It has paintings of stalwarts such as Arpana Caur, Anjolie Ela Menon, B Prabha, KA Ara, MF Husain and V S Gaitonde in its collection. After gathering dust for several years, in 2011 Air India CMD initiated cataloging them for the proposed Air India museum.
According to reports, a number of paintings from this collection have gone missing and are doing rounds in the open market. This revelation came to light after famous painter Jatin Das was contacted to verify the authenticity of a painting that he had made for Air India. Das was commissioned to make this artwork titled 'Flying Apsara' by Air India in 1991.
Its the tip of the iceberg
This painting was on display at the Air India lounge in the International Airport in Mumbai until a few years ago. Now, apparently it's in the hands of 'unknown' people. Das says, it's an outcome of "indifference, negligence and theft" but this may be the tip of the iceberg. Chances are more such cases of "negligence" may have already occurred.
The royal guard is silent
According to reports, Air India had around 7,000 pieces of paintings and artefacts at one point of time and the ongoing audit has been able to unearth only 3,500 of them, so far. The total estimated worth of the Jatin Das collection is around Rs. 200 crore. When asked, CMD Ashwani Lohani said, "I will not like to comment on this right now."
An internal query is going on
Ashwani has ordered an internal query for the same and Jayant Sinha, Minister of State for Civil Aviation has also mentioned that the authorities are keeping a vigilant eye on the proceedings. Hopefully, findings of the query will come out soon and this won't become a hiccup in its disinvestment plan.