Ford recalls 52,000 pick-up trucks over parking fault
Ford recalls 52,000 pick-up trucks over parking fault
Apr 02, 2017, 05:37 pm
2 min read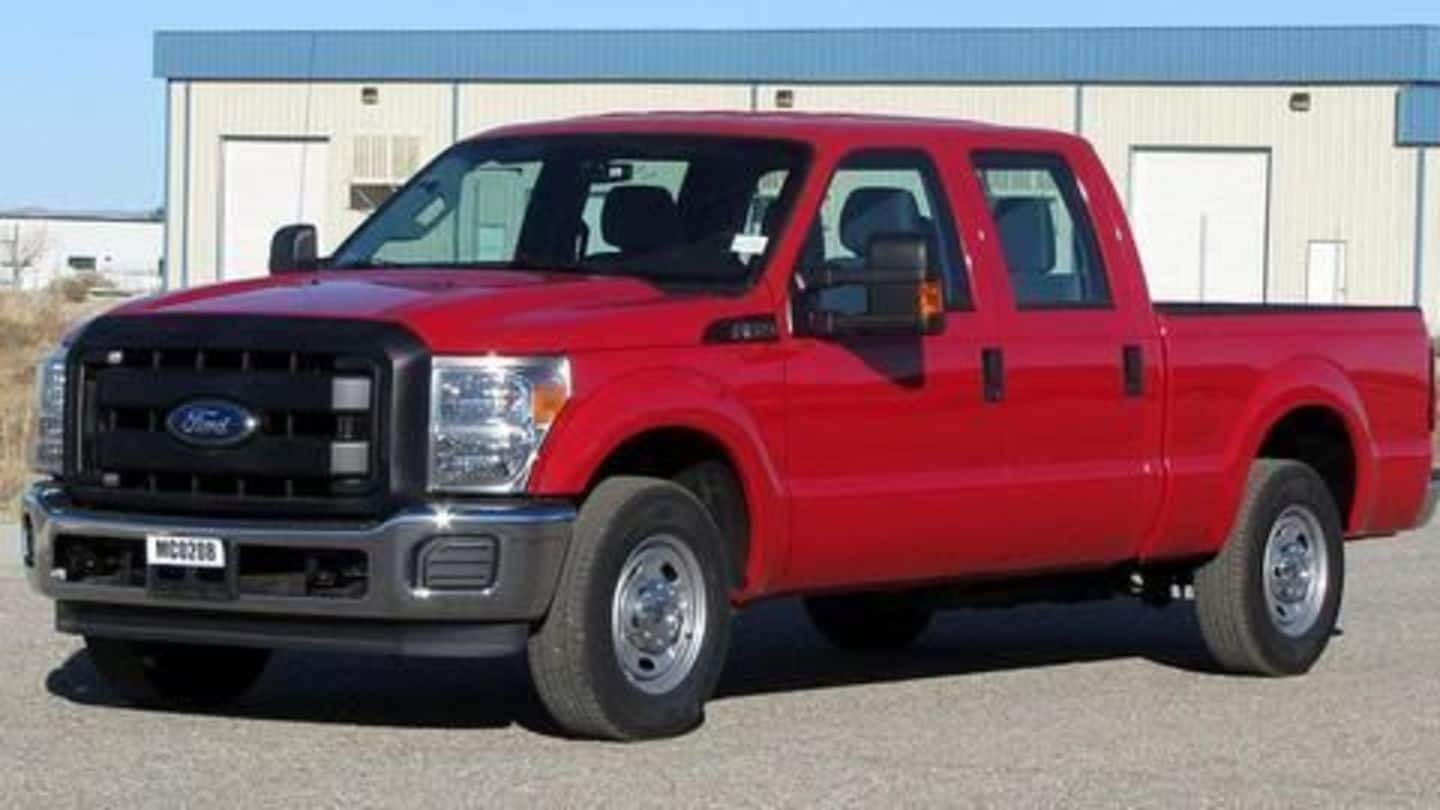 Ford has decided to recall 52,000 F-250 pick-up trucks over a fault in the car's parking brakes. The company also issued an advisory to all users of the car to use the hand brakes while parking it. This is Ford's third recall in a single week. It had earlier recalled 211,000 vehicles over faulty door-latches and 360,000 vehicles over a fire-risk in the engine.
Ford recalls 570,000 vehicles in Europe and North America
Ford has recalled over 570,000 vehicles in North America and Europe to repair separate issues which could lead to engine fires and doors to open without warning. The recalls will impact Ford's first quarter earnings of this year. The company said in a filing to security regulators that the recalls would reduce pre-tax earnings by $295 million.
360,000 cars recalled over possible engine fire
Over 360,000 vehicles will be recalled over possible engine fire troubles in North America and Europe. This includes the Escape SUVs, Fiesta ST compact, Focus, and others. All these cars feature 1.6-Liter four-cylinder turbocharged engines. The problem stems from inadequate coolant circulation, leading to engine fires. Ford has received 29 reports of car fires in the US and Canada, causing no injuries.
What concerned Ford car owners can do
Ford spokeswoman Elizabeth Weigandt said vehicle owners can continue driving their cars safely. She said Ford will mail them instructions on how to check and refill coolant. They should take their cards to dealers if vehicles leak coolant or overheat.
Ford plagued by faulty door latches
Around 211,000 vehicles are being added by Ford to a 2015 recall to replace faulty door latches. The total number of vehicles recalled under this have increased to 757,000. Ford has been investigated over the past three years by the National Highway Traffic Safety Administration because of problems related to door latches.
Nearly 3 million cars recalled due to faulty door latches
Overall, nearly three million vehicles have been recalled due to faulty door latches, including the Fusion, Lincoln MKZ, Escape and C-Max. Over 2.3 million vehicles were recalled last fall as their door latches failed to work properly. The door latch recalls from last year cost the company $640 million. In May 2014, Ford recalled 692,000 Escape SUVs for the same reason.