Maggi has 60% market share: Nestle
Maggi has 60% market share: Nestle
Written by
Sripriya Yegneswaran
Edited by
Gaurav Jeyaraman
Jan 30, 2017, 08:01 am
4 min read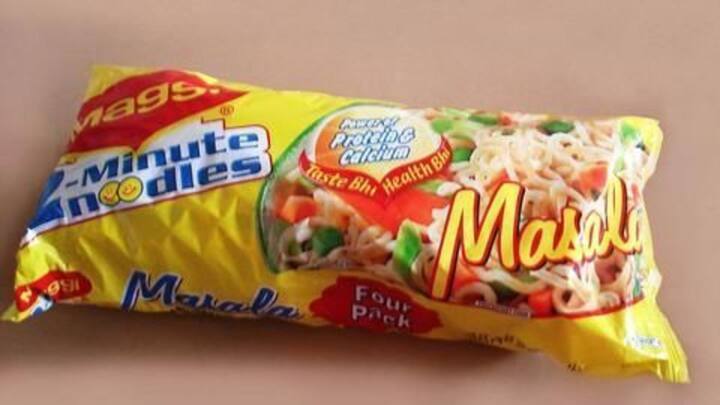 Nestle India Chairman and Managing Director Suresh Narayanan said that Maggi has now captured over 60% of the market share after its sales were hit over poor safety standards. However, he said a lot of work needed to be done as "the organization remains to get back to the peak level." The company recently launched 35 products across categories to diversify its portfolio.
The beginning of 2-minute noodles
Maggi has been popular in India since 1982, when Nestle brought it here with the advertisement campaign that remains popular till date- 2 Minute noodles or "bas do minute". At that time, it enjoyed 90% market share.
Maggi noodles in India declared unsafe
In May, samples of Maggi tested at laboratories in India were found to contain MSG-monosodium glutamate as well as quantities of lead which far exceeded the permissible limit. Uttar Pradesh, the first to test samples, declared Maggi unsafe for health and had forced withdrawal of samples that were tested in Kolkata's National Food Laboratories. Nestle India, however, said that Maggi had no added MSG.
After being scrutinized and tested in multiple laboratories in India, a court order on June 5 banned Maggi. The ban was to last till Nestle India could prove that Maggi did not pose any health concerns. During the ban, Maggi was to be withdrawn from shelves everywhere. It was decided that once clarifications about its safety were presented, a decision would be taken.
The expensive farewell for Maggi
After coming under the heat in India, Nestle paid Ambuja Cements Rs.20 crore to burn the recalled packets of Maggi noodles at their cement plant in Chandrapur. Just the previous month, Nestle said that they were recalling Maggi noodles worth Rs.320 crore, a massive loss, apart from the cost of recalling the goods and transporting them. Nestle had challenged the ban order in Bombay.
Labs in India find Maggi safe
The Food Referral Laboratory in Mysuru which tested Maggi samples returned the report that lead quantities are well within permissible levels. The FDA lab in Goa also returned the same report, which was even verified by the Goa State Pollution Control Board laboratory. The Director of Goa FDA said however, that this did not mean that Maggi was completely in the clear.
Government sues Nestle for Rs.640 crore
Amid the Maggi ban and an awaited High Court order, the government hit Nestle India with a Rs.640 crore damage suit. In a first of its kind 'class action', the Consumer Affairs Ministry filed the complaint with the National Consumer Disputes Redressal Commission (NCDRC), a semi-judicial body. The complaint charged that Nestle India indulged in unfair trade practices, false labeling and misleading advertisements.
Bombay HC lifts the ban on Maggi
Ruling in favour of Nestle India, Bombay High Court lifted the ban on Maggi by setting aside the orders of FSSAI. The court deemed FSSAI orders "arbitrary, unjust and violative of Article 14 of the Constitution." However, in public interest, the court ordered fresh tests. If the lead content is within permissible limits, Nestle India can go ahead with manufacture and sale of Maggi.
Respite for Maggi as it clears tests
Nestle obtained test results from the 3 allocated laboratories commissioned by the Bombay High Court to examine the Maggi noodles samples. All the 90 specimens, which covered 6 alternatives, tested by these labs were found harmless with lead content much below the permitted limits. Other than these tests, countries like "USA, UK, Singapore, Australia" found Maggi in India safe for consumption.
Maggi returns in 100 cities
Maggi made a comeback in Indian markets, with fresh packets of their popular noodles springing up in stores across 100 cities in India. Maggi has also made a comeback online, being made available on Snapdeal as well. Nestle stated that it hoped to regain their dominant market position soon. Nestle India has reallocated funds to launch new advertising campaigns for their comeback.
Nestle seeks SC permission to destroy outdated stocks
Nestle has sought the permission of the Supreme Court to destroy 550 tonnes of Maggi Noodles which have passed their shelf lives. The FSSAI contended that this was being done as a means to destroy evidence and stated it needed to be consulted before the decision was made. The hearing has been adjourned and pushed to come up on 30 September.