Fans pay tributes to musician Chuck Berry at funeral
Fans pay tributes to musician Chuck Berry at funeral
Written by
Anupama Vijayakumar
Apr 10, 2017, 11:50 am
3 min read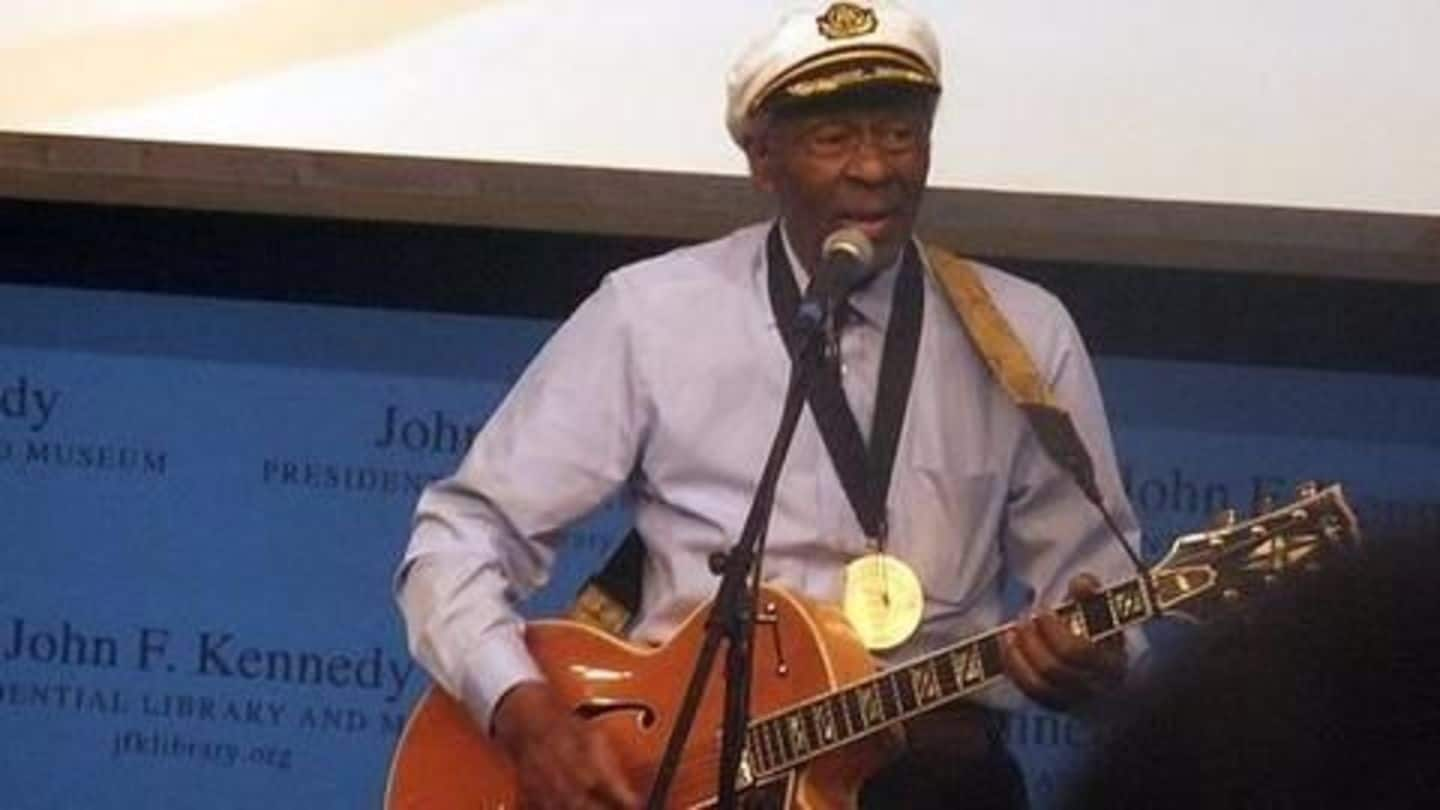 Three weeks after rock 'n' roll legend Chuck Berry's death, fans were allowed to view his body at a private funeral at Pageant club in St Louis. Kiss rocker Gene Simmons was among the attendees. Rolling Stones sent a floral arrangement in the shape of a guitar, while former US President Bill Clinton sent an obeisance letter. Berry's greatest hits played in the background.
A generation grieves as Chuck Berry leaves them behind
Fans continued to pour in their tributes and messages grieving Chuck Berry's death, even after a day. They flooded to Berry's hometown St.Louis to lay flowers at Berry's star under Blueberry Hill Marquee where he played his last concert in 2014. A statement on Berry's website noted, "he spent his last days at home surrounded by the love of his family and friends"
Chuck Berry, Rock 'n' Roll Maestro expires at 90
The death of rock musician Chuck Berry was confirmed by the Police in Missouri. The official statement confirmed the death of Edward Anderson Berry Sr., better known as Chuck Berry. Found unresponsive by the Police, Chuck Berry could not be revived and was pronounced dead Musicians including Mick Jagger and Ringo Starr and fans took to Twitter to express their grief.
Tributes pour in for Chuck Berry
Responding to Chuck Berry's death Major musicians from around poured in eulogies and praises paying tribute to the legendary maestro. Both the Rolling Stones and their front man Mick Jagger noted the strong influence Berry had on their music. "Chuck Berry was rock's greatest practitioner, guitarist, and the greatest pure rock 'n' roll writer who ever lived", tweeted Bruce Springsteen.
Born 18 October 1926 in St. Louis, Missouri, Chuck Berry grew up listening to blues, gospel and country music. His first single "Maybellene" was released under the banner of Chess Records in 1955, starting a new era in rock music. He dedicated his last album "Chuck" to his wife Themetta Berry in 2016. Legendary bands like Beatles and Rolling Stones have covered his songs.
Chuck Berry: Another name for Rock n' Roll
Starting his music career in 1950s, Berry's distinct combination of a country twang with a tinge of blues and his on-stage swagger resonated with the post-War generation. Berry's introduction of catchy guitar riffs, helped transform rock into the distinct style of music that we know today. Berry also revolutionized song writing by taking it away from emotions and poetry to story telling.
Starting in the 1950s, Berry delivered a number of hits during his career including "Maybellene", "Roll Over Beethoven" and "Johnny B Goode". He was inducted into the Blues Foundation, Blues Hall of Fame in 1985 and received a Lifetime Achievement Grammy the same year. In 1986, he became one of the first musicians to be inducted into the Rock and Roll Hall of fame.
Johnny B Goode, a popular Chuck Berry number was part of the "Golden Record", carried by the Voyager space probes launched by NASA in 1977. Intended to tell aliens something about the sounds of earth, the records could last about 2 billion years.