Arnab wants to be a 'dissenter', hints at his digital-plans
Arnab wants to be a 'dissenter', hints at his digital-plans
Edited by
Sripriya Yegneswaran
Nov 06, 2016, 04:00 pm
3 min read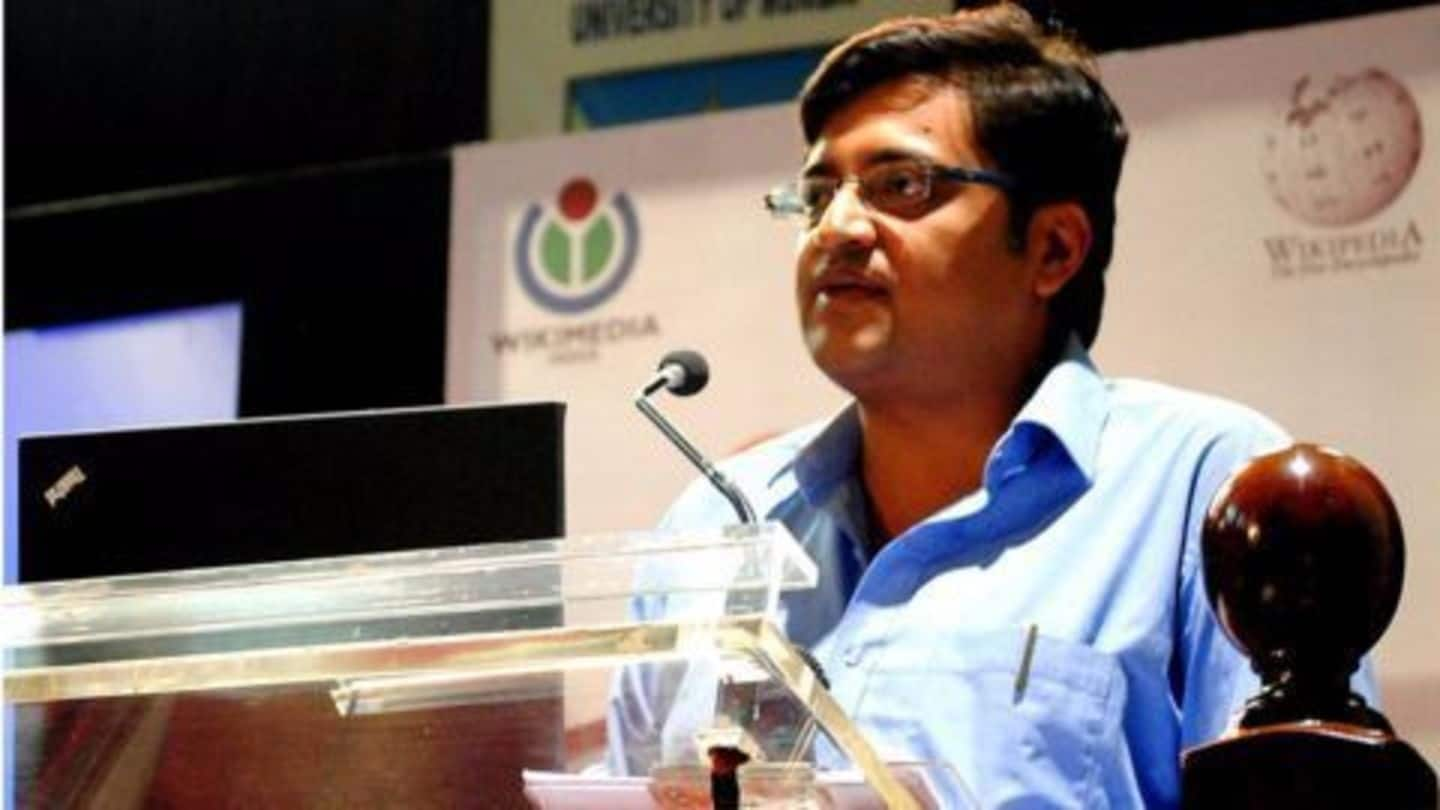 In a conclave organized by India Foundation, Arnab Goswami who has recently resigned from Times Now, mentioned he wants to be a "dissenter". He opined that the center of journalism should be shifted out of Delhi. He assured the audience that he would continue questioning the 'right wing'. He also hinted at his digital plans and said the "dissent will give power to fingertips".
Arnab Goswami's early life
Arnab Goswami was born in 1973 and hails from Guwahati, Assam. He comes from a family of intellectuals. His paternal grandfather was a lawyer, and his maternal grandfather, was a communist and a noted jurist. Arnab holds a sociology degree from Delhi University and a masters degree in social anthropology from Oxford. He started his career as a journalist with 'The Telegraph', in Calcutta.
After working with Telegraph for less than a year, Arnab joined NDTV in 1995. At NDTV, he hosted daily news broadcast. Just after three years, he became part of NDTV's core team as news editor. With Rajdeep Sardesai he co-anchored NDTV's "Newshour", the longest running news analysis show from 1998 to 2003. He also hosted "News Night", a prime time debate show.
Arnab Goswami left NDTV in April 2004. By that time he rose to the position of the channel's national editor. The same year he won the 'Best News Anchor of Asia' 2004 in the Asia TV awards, for his program 'News Night'.
Arnab helped the launch of Times Now in 2006 and had been the Editor-in-Chief ever since. Known for his unique brand of abrasive TV journalism, Arnab's nightly debate show "The Newshour" has been the channel's most successful program. His interview based program 'Frankly Speaking with Arnab' is the most followed interview on TV, in terms of both impact and viewership.
Arnab given Y-category security
Arnab Goswami was recently given Y-category security from the government after having received life threats from Pakistani terrorist organizations.
Arnab Goswami quits Times Now
Popular prime time news host and the Editor-in-Chief of Times Now and ET Now Arnab Goswami has resigned. Reportedly he announced the decision at an editorial meeting. The move was believed to be a step towards becoming an entrepreneur and starting his own venture. According to some reports, Arnab might start a news channel with politician Rajeev Chandrasekhar and global media baron Rupert Murdoch.
Popular scoops by Arnab at Times Now
Though criticized for his high-decibel shows, at Times Now, Arnab revolutionized news coverage, by anchoring for 100 hours during 26/11 attack, spearheading the exposes on CWG scam, 2G scam, coverage of Anna Hazare's agitation, interviews with PM Modi, and Rahul Gandhi, among others.