Coronavirus: India reports record spike of 2.73 lakh new cases
Last updated on
Apr 20, 2021, 12:33 am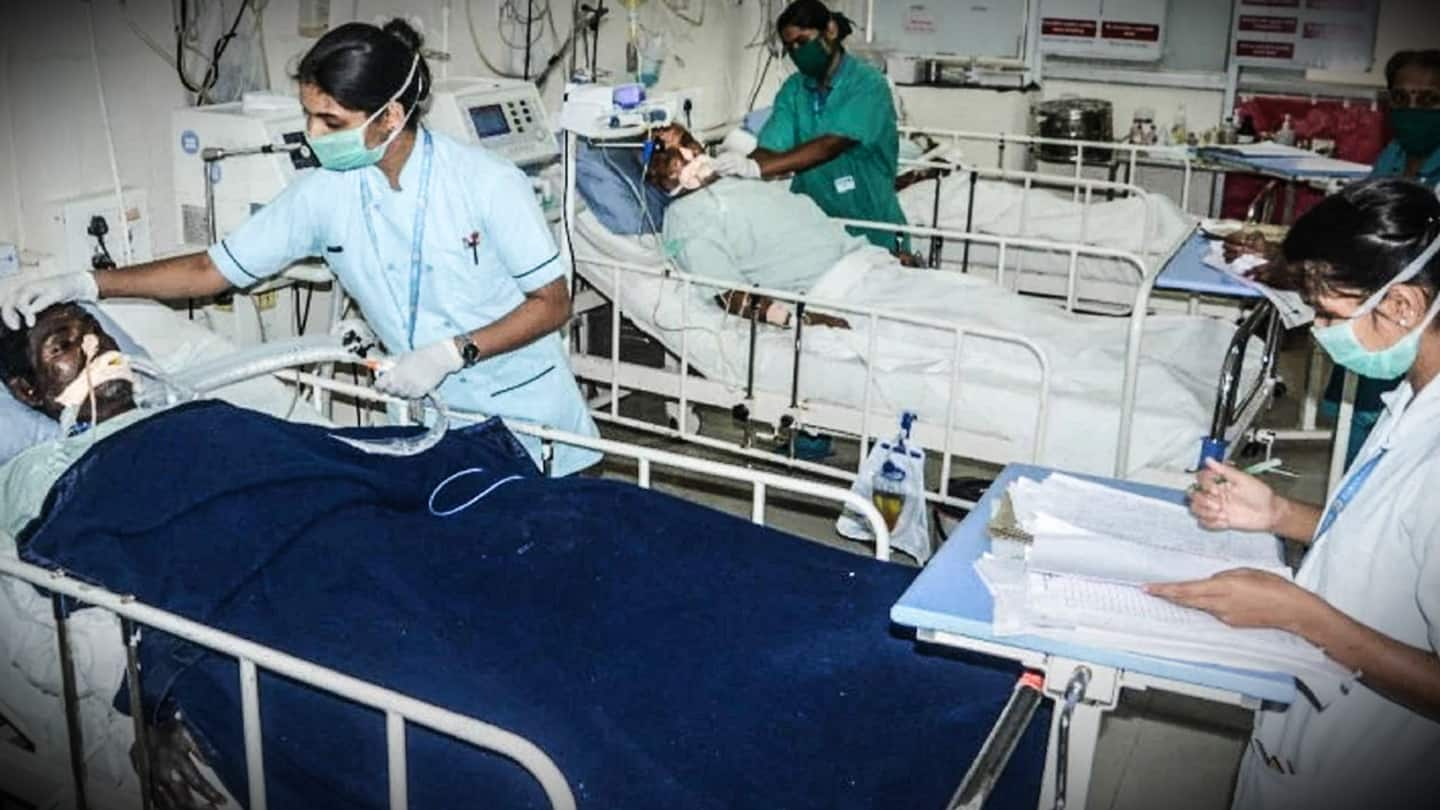 India on Monday reported 2.73 lakh new coronavirus infections, marking the biggest single-day spike since the pandemic began. The nationwide tally has now crossed 1.5 crore. Meanwhile, over 1,600 more patients died in the past 24 hours—the deadliest day—bringing the death toll to 1,78,769. At least 15 out of India's 36 states and union territories reported a record rise in infections on the day.
India reports 1,50,61,919 cases, 1,78,769 deaths
According to the Union Health Ministry, till Monday morning, India reported a total of 1,50,61,919 COVID-19 cases. The death toll has reached 1,78,769. Since the beginning of the pandemic, 1,29,53,821 patients have recovered, while 19,29,329 cases involve active infections. In the past 24 hours alone, India recorded 2,73,810 new infections and 1,619 fresh fatalities. 12,38,52,566 vaccine doses have been administered so far.
Cases continue to climb record highs in Maharashtra
Maharashtra reported 68,631 new cases, marking the biggest single-day spike for the third consecutive day. The daily positivity rate stood at 25.1%. The state's tally has now reached 38,39,338, including 6,70,388 active cases. The state also added 503 more deaths, pushing the death toll to 60,473. Maharashtra has now mandated negative RT-PCR tests for travelers from Delhi, Goa, Gujarat, Kerala, Rajasthan, and Uttarakhand.
Kerala mandates testing for arrivals amid slew of record spikes
Kerala reported a record spike of 18,257 new cases. The previous biggest spike was 13,835 new cases a day before. The daily positivity rate stood at 16.7%. The state's total caseload has reached 12,39,424, which includes 93,686 active cases. 25 more deaths took the death toll to 4,929. All domestic travelers arriving in Kerala are to undergo RT-PCR tests mandatorily.
Karnataka reports 19K new cases; 67% in Bengaluru Urban alone
Karnataka reported 19,067 new cases, marking the biggest spike for the fourth consecutive day. The total tally has reached 11,61,065, including 1,33,543 active cases. 81 fatalities pushed the death toll to 13,351. Bengaluru Urban—which accounts for half of the state's caseload—alone contributed 12,793 new cases and 60 more deaths. The state government will consider fresh restrictions for Bengaluru at an all-party meeting on Monday.
Tamil Nadu reports record spike for 5th consecutive day
Tamil Nadu reported 10,723 new cases, a record spike for the fifth consecutive day. The total caseload has reached 9,91,451, which includes 70,391 active cases. 42 more fatalities pushed the state's death toll to 13,113. The state has announced a night curfew and weekend lockdown.
Delhi announces lockdown as cases cross 25K
Delhi reported 25,462 COVID-19 cases, the biggest single-day spike for the third consecutive day. 85,620 samples were tested on the day, implying a high daily positivity rate of 29.74%. The total caseload in Delhi has climbed to 8,53,460 (74,941 active cases). 161 more deaths pushed the toll to 12,121. Delhi on Monday imposed a week-long lockdown when only essential services will be allowed.
Daily infections breach 30K mark in UP
Uttar Pradesh reported 30,596, the first time since the pandemic began that daily infections rose above 30,000. The cumulative tally has now risen to 8,51,620, which includes 1,91,457 active cases. 129 more deaths pushed the death toll to 9,703. UP has announced a lockdown every Sunday till May 15. People without face masks will be fined Rs. 1,000 (Rs. 10,000 for multiple violations).
9 other states saw record spikes in infections
Other states that witnessed record single-day spikes include Madhya Pradesh (12,248 new cases), Gujarat (10,340), Rajasthan (10,262), Bihar (8,690), West Bengal (8,419), Telangana (5,093), Punjab (4,957), Jharkhand (3,992), and Chandigarh (625). Separately, the COVID-19 situation in Uttarakhand, Himachal Pradesh, Goa, and Puducherry is also concerning.