Patel says Modi responsible for deaths of Patidar youths
Patel says Modi responsible for deaths of Patidar youths
Written by
Shiladitya Ray
Jan 15, 2017, 05:45 pm
4 min read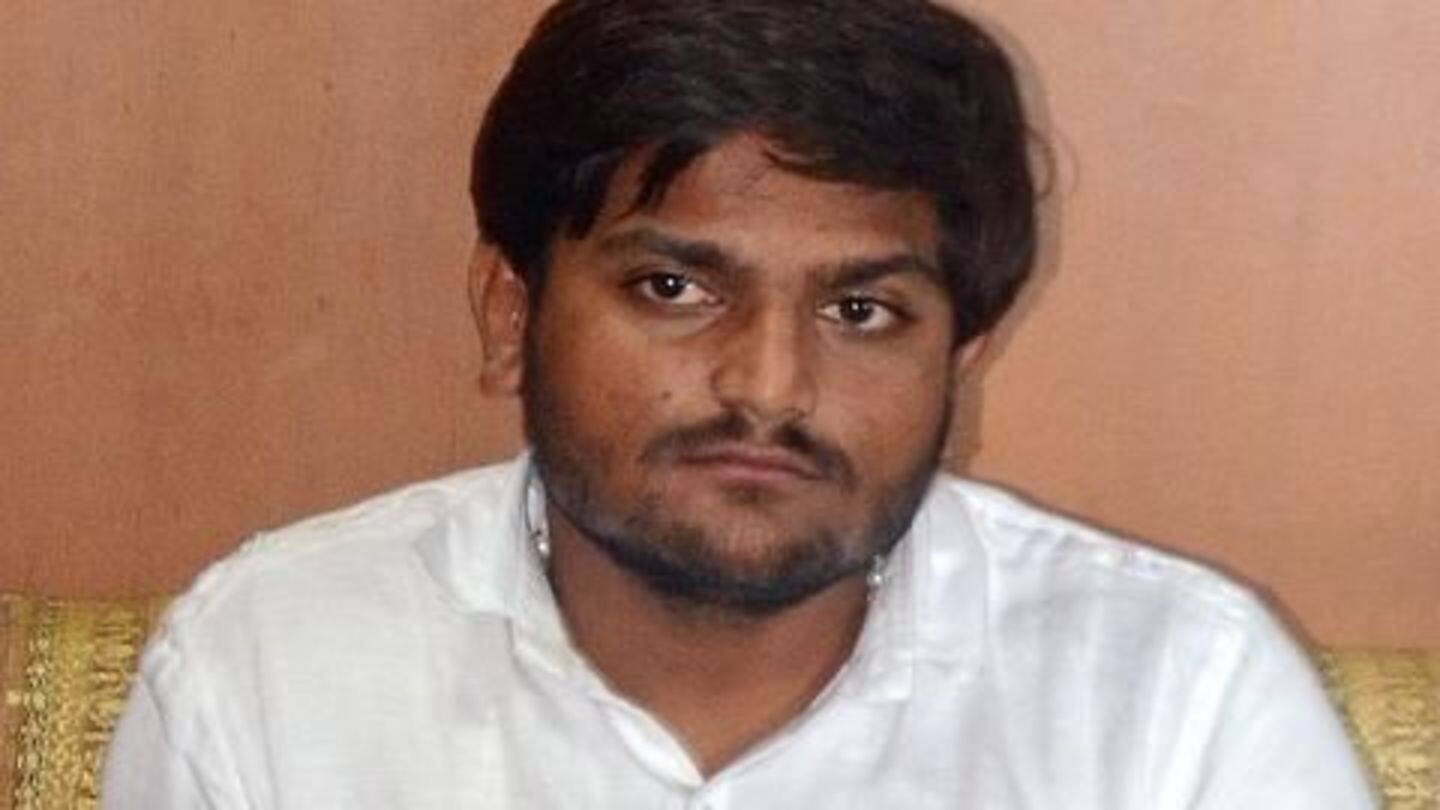 Hardik Patel is set to return to Gujarat on 17 Jan after being out of the state for 6 months in connection with sedition charges. He said he would "take up the issue of death of 13 Patidars" as an election issue for polls in the state. He added that PM Modi was "equally responsible for the murder of the Patidar youths."
Hardik Patel's background
Hardik Patel was born on 20 July 1993 in Viramgam, Gujarat. His father, Bharatbhai Patel was a small time BJP leader and had a plumbing business. Hardik joined Ahmedabad's Sahajanand College in 2010, pursuing a BCom degree and graduated with less than 50% marks in 2013. After his graduation, he helped his father run a submersible pumps and water supplying business.
Hardik starts Sardar Patel Sevadal
In 2011, Hardik Patel started a Patidar community service organisation called Sardar Patel Sevadal whose main aim was the protection of Patidars, especially women of the community who faced eve teasing. In 2012, the Sardar Patel Sevadal participated in the Sardar Patel Mahasabha held in Kanpur, where, for the first time, they raised the agenda of reservation benefits for Patels in academics and jobs.
On 31 October 2012, Hardik Patel was inducted into the Sardar Patel Group (SPG) by its leader Lalji Patel. Within a month or so of his inductment, he was promoted to President of SPG's Viramgam unit. After disagreements with Lalji Patel, Hardik left SPG in 2015, following which the group filed an FIR claiming that Hardik had taken Rs.2 lakh from them.
Hardik Patel becomes leader of PAAS
After his falling out with Lalji Patel of the SPG, Hardik left his business in July 2015 to become the leader of the Patel Anamat Andolan Samiti (PAAS). On 6 July, PAAS organised its first rally in Mehsana galvanizing the powerful Patel community in Gujarat. By 25 August, PAAS had organised 37 rallies to press its demand for reservation benefits for the Patel community.
The Kranti rally: Hardik Patel grabs spotlight
The PAAS rally on 25 August, held in GMDC Grounds in Ahmedabad made Hardik Patel a figure of national controversy. Hardik decided to go on a hunger strike till CM Anandiben Patel received PAAS' memorandum. He was arrested briefly which sparked violence across the state resulting in the death of 10 people. 3500 paramilitary forces personnel and 93 companies of state reserve police were deployed.
The rally held by PAAS in Ahmedabad on 25 August 2015, also known as the "Kranti Rally" was a demonstration of Hardik Patel's mass appeal - the rally was attended by an estimated 500,000 people.
Patel reservation case: Hardik Patel and 30 others detained
Hardik Patel was detained in Surat for trying to launch the "Ek Yatra" procession without permission of the authorities. On 18 September, Patel Anamat Andolan Samiti (PAAS), led by Hardik announced that it would launch the procession "with or without permission from the authorities." OBC communities have planned a counter-rally as PAAS' demands for reservation benefits for the Patel community are detrimental to them.
Patel's words of condolence: don't kill yourself, kill cops
Offering condolence to party member Umesh Patel's family who committed suicide, PAAS convener Hardik Patel asked members of his community to not end their life, but to struggle for their "right for quota." On 3 October in a meeting in Surat with Vipul Desai who had threatened suicide, Patel further said "kill 2-5 cops but no Patel should die".
Hardik in trouble for insulting tricolor, 'killing cops' remark
Hardik Patel of the PAAS was kept under preventive detention by the Surat cops under sedition charges over his alleged comments on 'killing cops'. Hardik was arrested by the police while he was on his way to Rajkot's Khandheri cricket stadium. Further, the police arrested him on a separate charge of disrespecting the Indian flag (his feet touched the flag he was carrying).
Court drops treason charges against Hardik Patel
The Gujarat High Court provided partial relief to Hardik Patel and his associates by dropping treason charges against them. However, sedition charges were not dropped against him. These charges are punishable by life imprisonment or jail upto 10 years. The charges of sedition and waging a war against the government had been filed by Ahmedabad crime-branch in October, for which Patel is in jail.