Najeeb Ahmed case- CBI registers FIR over missing JNU student
Najeeb Ahmed case- CBI registers FIR over missing JNU student
Jun 03, 2017, 12:30 pm
3 min read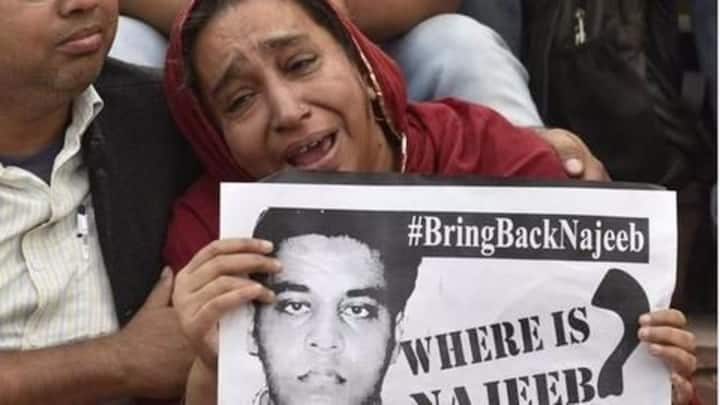 CBI has registered an FIR in the case of missing JNU student Najeeb Ahmed, who disappeared from his hostel in October 2016. The Delhi HC had transferred the case to CBI after his mother Fatima Nafees approached the court. Delhi Police faced severe criticism from judges for their handling of the case. They never took action against the nine students suspected of assaulting Ahmed.
Case of a missing student
A JNU student has gone missing under mysterious circumstances, reportedly after a scuffle with a few students at the university's hostel. Najeeb Ahmad, a 27-year old first year student of MSc Biotechnology hailing from Badaun, Uttar Pradesh, was missing since 15th Oct. A complaint was lodged at the Vasant Kunj Police station under Sec 365, for 'kidnapping and wrongful confinement'.
On 14 Oct, Najeeb had an altercation with the members of ABVP, the student wing of RSS. The trouble started when Najeeb allegedly slapped Vikrant, an ABVP member, who visited Najeeb's room, while campaigning for hostel mess elections. He was allegedly beaten up by the ABVP activists, though the allegations were refuted by ABVP. Najeeb Ahmad went missing the next day.
Issue takes a communal turn
The incident took a communal turn with JNU Student Union, controlled by Left wing student groups, stating that it was not an isolated incident and that it reflects ABVP's attempts to communalize the university campus. While the Left-wing student groups demanded that action be taken against ABVP, the latter claimed a threat from Left-groups and wanted protection for Vikrant and the 2 others.
Najeeb's parents also in the protest
Najeeb's parents who came from UP after receiving a frantic phone call from their son on 14th night, also sat in the JNU students' protest. The protesters want the university administration to try harder to find Najeeb.
Probe finds ABVP student guilty of assaulting JNU's missing student
An internal probe conducted by the Jawaharlal Nehru University has found Vikrant Kumar, a student and member of the ABVP, guilty of assaulting missing student Najeeb Ahmad before his disappearance. An official order stated that Kumar was found guilty of "using derogatory language with provocative behaviour on October 14." The ABVP has accused the university of being biased in their conduct.
Najeeb Ahmad case- JNU missing student's case transferred to CBI
The Delhi HC has transferred the case of missing JNU student Najeeb Ahmad to the CBI for further investigation. Najeeb went missing in Oct'16. The case was transferred based on the plea by his mother and the Delhi Police's statement saying it didn't object to the transfer of the case. The court said a CBI officer of minimum DIG rank should oversee the investigation.