No relief for Karnan as SC refuses suspension of imprisonment
No relief for Karnan as SC refuses suspension of imprisonment
Jun 21, 2017, 02:30 pm
3 min read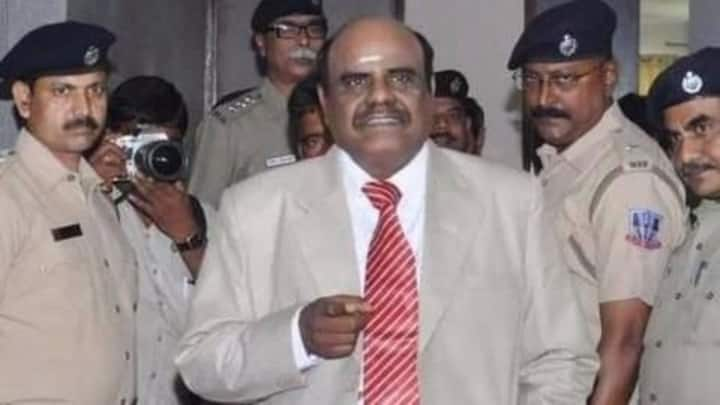 The SC has refused to suspend a six-month jail term for former Calcutta HC judge CS Karnan, who was arrested yesterday after staying in hiding for more than a month. The sentence was awarded on May 9, but he had been on the run since immediately after. He was finally arrested from a private resort in Tamil Nadu.
Justice Karnan's controversial stint at the Madras HC
Justice Chinnasamy Swaminathan Karnan, born in June 1955, completed his LL.B from Madras Law College in 1983, and was appointed as a Madras HC judge in 2008 During his stint there, he accused several colleagues, including Chief Justice Sanjay Kishan Kaul, of discrimination against him for being Dalit. In 2015, he initiated contempt proceedings against Justice Kaul. The SC stayed the order and transferred him to Calcutta.
Justice Karnan's war against the SC
Then began the SC-Justice Karnan war: he passed a stay on his transfer order, and when a two-judge bench lifted the stay, he ordered charges against them under the SC/ST atrocities law. After he wrote an open letter accusing 20 judges of corruption, a seven-judge SC bench ordered his psychiatric evaluation; he retaliated by ordering the 'Delhi DGP' to produce them before him.
The several 'firsts' by Justice Karnan
Justice Karnan has several 'firsts' to his name: he was the first judge to move the National Commission for SCs and STs alleging harassment by colleagues (he is a Dalit). He was the first to barge in on a hearing of another bench and demand to be made a litigant. He was the first judge to have a psychiatric evaluation ordered by the SC.
Justice Karnan the first HC judge to retire while absconding
Justice CS Karnan, a man of many firsts, breaks another record today: he is now the first HC judge to retire while absconding. He has been missing since May 9, when the SC passed an arrest order against him for contempt of court. The same day, he was seen in Chennai chatting with visitors and mediapersons post the order, but vanished soon after.
Justice Karnan arrested in Coimbatore
CS Karnan, a retired Calcutta High Court Justice, who was in hiding since 9 May was arrested today. Karnan had been awarded a six-month jail term by SC for the contempt of court. Karnan, the first sitting high court judge to be awarded a jail term by the Supreme Court, was nabbed in Coimbatore. He will now be taken to Kolkata.