Modi, Abe inaugurate India's first bullet train project in Ahmedabad
Modi, Abe inaugurate India's first bullet train project in Ahmedabad
Sep 14, 2017, 10:32 am
2 min read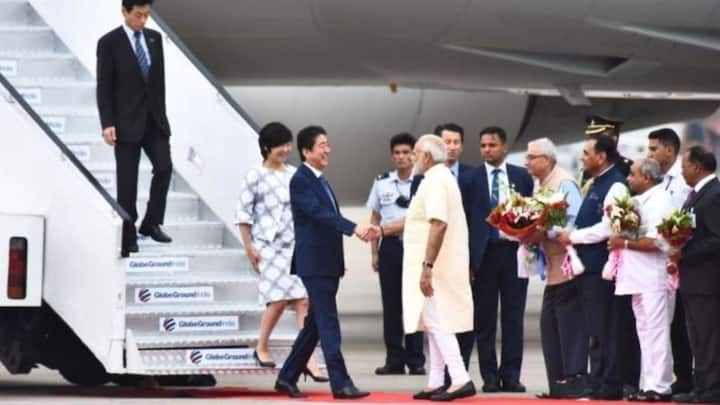 PM Narendra Modi and visiting Japanese PM Shinzo Abe inaugurated India's first high-speed rail project in Ahmedabad at around 10:15am today. "With the laying of this foundation stone, we are also laying the foundation of 'New India'," said Maharashtra CM Devendra Fadnavis who was also present. This project is expected to bring many benefits to India. Find out all about it.
The network will cut down travel time to three hours
The Mumbai-Ahmedabad bullet train will have an average speed of 320kmph and maximum speed of 350kmph. Apart from the underground tunnel, 468km will be elevated and 13km will be on ground. There will be 12 stations: Bandra Kurla Complex, Boisar, Thane, Bilimora, Virar, Bharuch, Vapi, Surat, Ahmedabad, Vadodara, Anand and Sabarmati. Though fares haven't been decided yet, a Mumbai-Ahmedabad journey could cost Rs. 2,700-3,000.
Japan to provide loans to meet 80% of project cost
The project is estimated to cost Rs. 1.1L crore; Japan will provide a soft loan of Rs. 88,000cr at 0.1% interest, to be repaid in 50 years with a 15-year moratorium. It has one condition: India would buy 30% of equipment, including coaches and locomotives, from Japanese firms. The cabinet had earlier said the remaining 70-80% components could be manufactured in India.
Five other high-speed corridors identified
Five other high-speed corridors for more than 300kmph trains have also been identified by the Indian Railways. The corridors comprise Delhi-Mumbai, Mumbai-Chennai, Delhi-Kolkata, Delhi-Nagpur, and Mumbai-Nagpur high-speed corridors. Indian Railways is conducting feasibility studies for the routes.