Delhi bird flu death toll hits 77
Delhi bird flu death toll hits 77
Edited by
Vaneet Randhawa
Oct 31, 2016, 07:08 pm
4 min read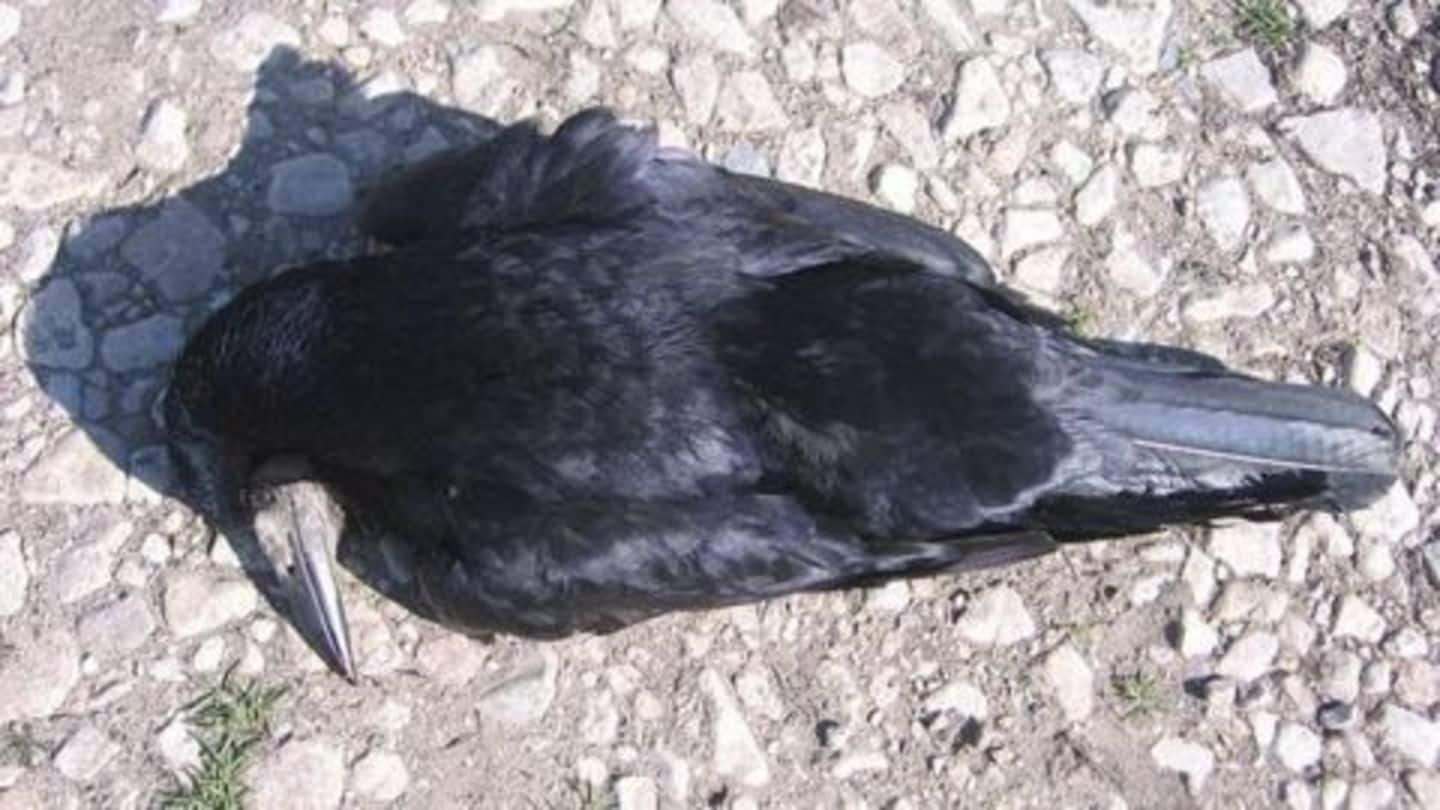 Authorities recovered four dead crows from Shakti Sthal, taking the death toll of birds afflicted by avian influenza to 77. Authorities have not confirmed that the dead birds had avian influenza and have sent the carcasses for testing to the animal diseases laboratory in Bhopal. Delhi zoo is to remain shut and authorities said it would take at least 3 months to re-open.
Bird flu, also known as Avian Influenza or avian flu, refers to the influenza virus that has adapted to birds as carriers. Although adapted to birds, the Avian Influenza can also be transmitted onto human beings and further sustain person-to-person transmission. Viruses A(H5N1) and A(H7N9) are those that are capable of affecting human beings.
Symptoms and treatment for bird flu
The most common symptoms of having being infected with the bird flu virus include sudden and severe cough, cold, high fever and shortness of breath. These symptoms can pave their way to pneumonia, acute respiratory distress syndrome, multiple organ failure and acute kidney injury. Treatment for bird flu is similar to that of swine flu; taking Tamiflu, avoiding self-medication and instantly consulting a specialist.
Between the years 2003 and 2016, 856 instances of bird flu in human beings were recorded, out of which 452 died.
Bird flue scare shuts Deer Park in the capital
On Thursday, the Deer Park in Hauz Khas, Delhi, was shut down on the suspicious death of two birds inside it. The Deer Park has become the second birding place in Delhi (after Delhi Zoo) to be on lock-down due to bird-flu scares. The death toll of birds currently stands at 18, with many birds being discovered dead in various locations.
Rapid death of birds in Delhi
The shutting down of Deer Park was triggered by the death of 10 birds at the Delhi Zoo. 3 out of these 10 birds were local migratory birds and tested positive for bird flu. After inspecting birding sites in the capital, 2 more birds were found dead in the zoo. 3 crows were found dead in Sunder Nagar and 1 in Tughlakabad.
Efforts taken by the Delhi Government
A 23-member committee has been created to look into bird flu outbreaks in Delhi. On Thursday, 4 Rapid Response Teams were formed; these teams included veterinarians, officials from the animal husbandry industry along with civic body officials.
District Animal Husbandry officer Dr. HC Dandotiya said, "On Wednesday, we collected around 50 samples from various parks and some more were collected on Thursday. Results will come in 5-7 days. We will then compile a final report and take necessary action."
Delhi Rural Development Minister, Gopal Rai said, "There is no need for panic now. We are continuously monitoring the situation in every birding site. The government will issue guidelines to Resident Welfare Associations (RWAs) to spread awareness. Additional Director of Internal Medicine at Fortis Research Institute said that it is possible for a human to get affected only by direct exposure to infected poultry/individuals.
Delhi Government: Safe to eat chicken
State development minister Gopal Rai announced that the National Institute of High-Security Animal Diseases in Bhopal had ascertained that the dead birds had the H5N8 virus (3 of 8) and not the feared H5N1. H5N8 virus is not very harmful to humans. He said, "chicken was safe to eat." However, he said it was too early to rule out H5N1.
17 more ducks die in Delhi's Deer Park
Sources stated that 17 more ducks have died of suspected bird flu in Delhi's Deer Park, adding to the 6 birds that had died of the disease earlier. The park has been shut until further notice by government officials. Delhi's animal husbandry minister, Gopal Rai has ordered authorities to bury the carcasses of infected birds deep and carry out disinfection processes.
Bird flu: Experts wary of migratory birds
The incoming flock of migratory birds in the capital has made experts apprehensive about the spread of the H5N1 virus. The Yamuna Biodiversity Park received 400 local migratory birds and the Delhi Zoo and the Okhla sanctuary are also noticing the arrival of migratory birds. According to ornithologists, mixing of these birds may lead to the virus spreading if appropriate precautions aren't taken.
Delhi Bird flu death toll hits 73
Three more birds died of suspected avian influenza, two at Shakti Sthal and one at Paschim Vihar DDA Park, taking the total death toll to 73. All government departments have been asked to spread lime powder around dead birds and spray sodium hypochlorite at places where birds gather. Delhi zoo and several parks in the city have been shut.