Can't lay moral guidelines: SC on Sardar jokes
Can't lay moral guidelines: SC on Sardar jokes
Feb 07, 2017, 02:30 pm
4 min read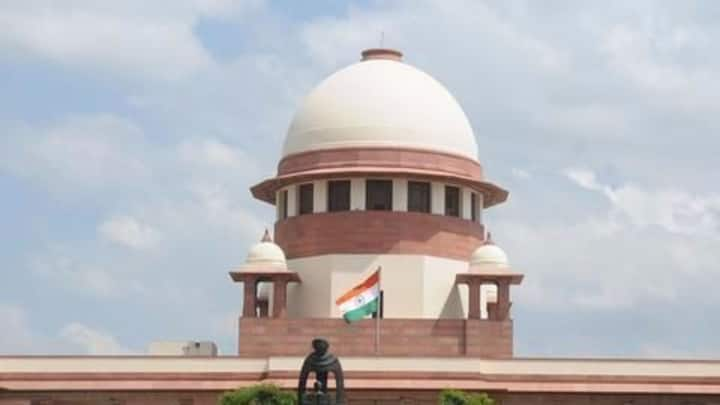 On Tuesday, the Supreme Court refused to issue any directives with regards to the PIL filed by advocate Harvinder Choudhary, seeking to ban jokes made about the Sikh community as they were 'insensitive.' According to the court, even if guidelines are issued, it would be difficult to implement them. The court further added that it could not impose moral guidelines for citizens.
SC to examine petition to ban Sardar jokes
Sikh lawyer Harvinder Chowdhury filed a public interest litigation (PIL) which sought to ban Sikh jokes being circulated online, arguing that "they tend to portray the Sardar community as people of low intellect". The Supreme Court bench of Justice TS Thakur and Justice Gopala Gowda told Chowdhury that many Sikhs don't mind such jokes. The Supreme Court, however, agreed to examine the PIL.
'My children are humiliated'
"All jokes relating to the Sikh community should be stopped. My children are humiliated and feel embarrassed and they don't want to suffix Singh with their name," stated Chowdhury while arguing her case in the Supreme Court.
More than 5,000 websites circulating Sikh jokes
The PIL filed by Harvinder Chowdhury claimed that there were over 5,000 websites circulating Sikh jokes online. Chowdhury stated that these websites created public nuisance by "criticising one community" under Section 268 of the Indian Penal Code, and that it was a crime under cyber laws. Chowdhury also stated that she, along with other Sikhs, faced ridicule on a daily basis in public transport.
Many Sikhs 'take these jokes sportingly'
The Supreme Court bench examining the PIL told Chowdhury, "Many people we know take these jokes sportingly." The bench also added that Khushwant Singh, himself a Sikh, wrote many such jokes.
Comedians change name from Santa-Banta to Shugli-Jugli
Famed Sikh comedian brothers, Gurprit and Prabhpreet Singh, better known as Santa and Banta, announced that they were changing their stage name to Shugli and Jugli. They stated that their brand name was being used to circulate indecent jokes about the Sikh community online. The announcement is believed to be in support of the PIL seeking a ban on online circulation of Sikh jokes.
Santa Banta's 18 year long career
Gurprit and Prabhpreet Singh have been known as Santa Banta for 18 years. Starting in 1988, they have done over 800 shows for Doordarshan, and perfomed internationally in places like Singapore, Bangkok and Toronto.
'Sikh Jokes No More' seeks student support
Terming Sikh jokes as "sick jokes", Delhi Sikh Gurdwara Management Committee (DSGMC) has started a campaign among students for "one lakh signatures" in its online petition to ban Sikh jokes. The campaign encompasses students of 18 schools run by DSGMC, while also encouraging non-Sikh signatories.. The "Ban Sikh Jokes" online petition on Change.org, within 10 days of its launch, has already received 16,000 signatures.
'We love humour but not racism'
"The need of the hour is to let the Indian society know that we love humour but not racism. We are proud Indians and the country has benefited from our contributions in almost every field," said DSGMC president Manjit Singh GK.
SC asks for suggestions on banning Sikh jokes
Hearing petitions seeking a ban on websites featuring jokes on the Sikh community, the Supreme Court has asked the petitioners for suggestions on how to enforce the ban. The court has asked the petitioners to come up with suggestions that can be "enforced judicially" within six weeks. "What can be done in our judicial capacity," Chief Justice of India TS Thakur asked the petitioners.
SC to hear SGPC's plea on Sikh jokes
The Supreme Court agreed to hear the plea of Shiromani Gurdwara Parbandhak Committee along with other petitions seeking a ban on jokes about the Sikh community. The hearing has been scheduled for 5 April and the SC said it may act if people are commercially exploiting the jokes. The SC added that it can only stop jokes if they are circulated for commercial purposes.
SC to examine expert committee's suggestions on Sikh jokes
The Supreme Court is set to review the suggestions put forward by an expert committee on curbing the circulation and commercialization of jokes related to the Sikh community. The committee includes Justice M Y Iqbal (retd.), former bureaucrat Pawan Kumar Verma, Rajya Sabha member M P Bezbaruah and retired IAS officer Raghubir Singh. The SC will deliberate on the issue and make recommendations.