R-Day: Burj Khalifa lights up in India's honour
R-Day: Burj Khalifa lights up in India's honour
Jan 25, 2017, 10:21 pm
3 min read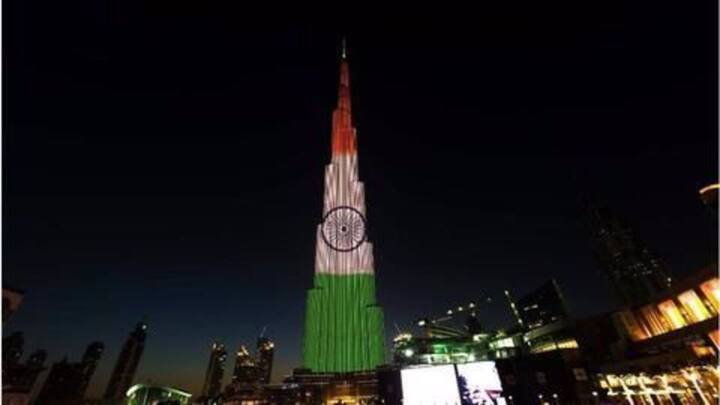 The world's tallest building, Burj Khalifa, has lit up in colours of the Indian flag on the eve of Republic Day. This is in honour of 68th Republic Day celebrations in India and to showcase strong cultural and trade relations between India and the UAE. The official twitter account of Burj Khalifa tweeted, "#BurjKhalifa wishes The #RepublicOfIndia a Happy National Day."
Republic day parade will feature 'Beti Bachao Beti Padhao'
For the upcoming ceremonial Republic Day parade, a total of 23 tableaux are expected to be on display. Of the 23 tableaux, 17 will be representative of various states and union territories. Among key themes, a tribute to Lokmanya Tilak on his 160 birth anniversary, Haryana's 'Beti Bachao Beti Padhao' popular campaign and art and lifestyle of Kutch will be featured.
17 states and Union Territories
States that will make their presence felt at the parade this year include Lakshadweep, Karnataka, Himachal Pradesh, Goa, Odisha, Delhi, Arunachal Pradesh, Maharashtra, Manipur, Tripura, WB, Gujarat, Haryana, Punjab, Tamil Nadu, J & K and Assam.
Culture, tourism and more
Lakshadweep, a participant after 23 years, will present itself as a tourism destination for adventure sports, marine wealth, coral reefs and silver sand beaches. States like Arunachal Pradesh, Karnataka, Tamil Nadu and Tripura will showcase folk and tribal dances unique to their regions. Delhi, which is participating after 3 years, will present a tableau that portrays the transformation of Delhi's education sector.
Themes from selected states
J & K will showcase 'Winter Sports at Gulmarg' located at 2650 m altitude which sees tourists from all over the world. The tableau of Assam state will depict the holy shrine of Kamakhya located in its capital Guwahati. Odisha state's tableau will portray 'Dola Jatra' a popular local festival which depicts the journey of Lord Krishna & Goddess Radha towards their final union.
Central ministries and their unique tableaux
Six central ministries will showcase tableaux. Ministry of Skill Development will showcase a tableau on theme of 'Transforming India through Skill development'. Ministry of Micro, Small and Medium Enterprises' tableau would be based on Khadi and Village Industries Commission. Central Public Works Department will present one on theme of 'Green India-Clean India' and 'Council of Scientific and Industrial Research's will showcase 38 national laboratories.
UAE Crown Prince in India for Republic Day
Prince of Abu Dhabi Sheikh Mohammed bin Zayed Al Nahyan is this year's Chief Guest for the Republic Day Parade. He was received by Prime Minister Narendra Modi at the airport on Tuesday. The Prince arrived in Delhi on a 3-day visit, during which he and PM Modi will hold comprehensive talks and are expected to sign 16 pacts including Strategic Cooperation Agreement.
No online tickets for Digital India's R-Day parade
Even though India has signalled to the world its intention of becoming a digital economy, tickets for this year's Republic Day celebrations are not available online. This is despite the government initiating a cashless ticket sale scheme where payments would be accepted by credit and debit cards. Critics argued that this goes against the mandate of the Digital India program.