J&K: Stone pelters helped al-Qaeda Chief Zakir Musa escape
J&K: Stone pelters helped al-Qaeda Chief Zakir Musa escape
Aug 12, 2017, 10:50 am
2 min read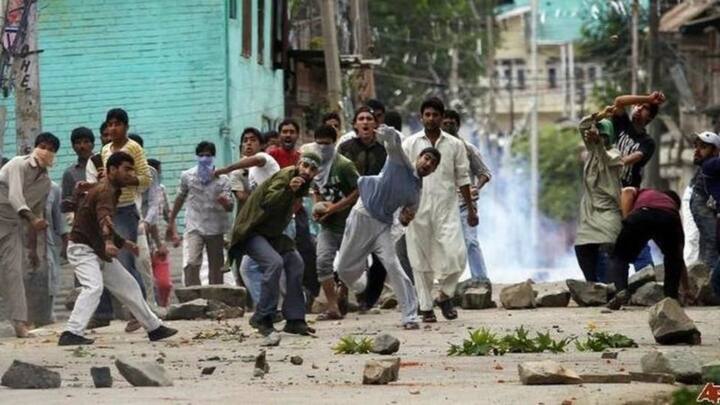 After security forces cornered al-Qaeda India Chief Zakir Musa and his aide in a house at Noorpora in Tral, massive clashes erupted there. Locals pelted stones at security personnel; strangely, they dispersed later and the stone-pelting stopped after which there was no firing from the house. Sources say Musa and his aide managed to escape from Noorpora with the help of locals.
Zakir Musa is one of the most notorious Kashmiri terrorists, known to provoke the youth to pick up arms. He was named the successor of late Burhan Wani, who was shot by Indian forces in 2016. Zakir Musa had left his BTech course in Chandigarh to join militancy. He posted his first video in August 2016 and asked people to unite.
Hizbul Mujahideen commander quits organization
A year after stepping into the shoes of his mentor Burhan Wani, Hizbul Mujahideen commander Zakir Rashid Bhat alias Zakir Musa announced his dissociation from the Hizbul Mujahideen. His announcement came days after the organization rejected his pan-Islamic agenda and call to implement Sharia in Kashmir. Musa announced that he would continue fighting for the supremacy of Islam.
Musa heads Kashmir unit of al-Qaeda
On 27th July, al-Qaeda's propaganda channel announced that its Kashmir operations would be headed by Zakir Musa, former commander of Hizbul Mujahideen. This comes days after he decided to separate ways with Hizbul Mujahideen.
J&K: Al-Qaeda India chief Zakir Musa cornered in Tral
On 11th Aug, al-Qaeda's Kashmir head Zakir Musa was reportedly trapped by security forces in south Kashmir's Tral area in Pulwama sector. He was cornered in his native village in Norpora, where massive clashes had erupted. The Army launched search operations for Musa, after which he went into hiding. He was a Hizbul Mujahideen commander before becoming the chief of al-Qaeda India in July.