BSF Jawan Tej Bahadur dismissed after video on poor food
BSF Jawan Tej Bahadur dismissed after video on poor food
Written by
NewsBytes Desk
Apr 19, 2017, 03:07 pm
2 min read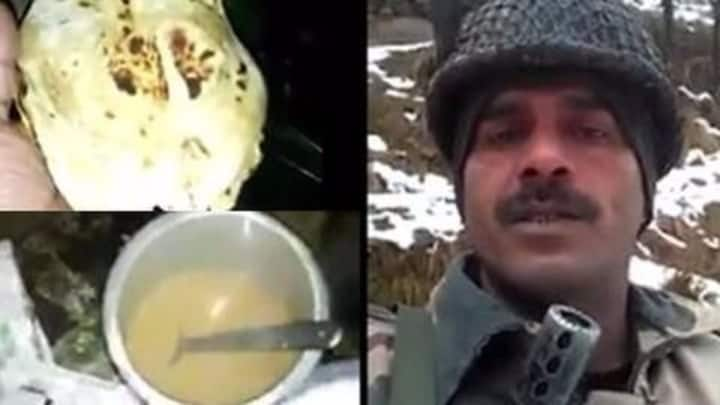 BSF jawan Tej Bahadur Yadav, who shared a video alleging poor food quality in his regiment in Jammu, was dismissed from service for making false accusations against superiors. Among other charges, an internal investigation found him guilty of indiscipline, including uploading the viral video in violation of norms. His plea for voluntary retirement was denied. "He can appeal within three months," said an officer.
Troops are served sub-standard food, alleges BSF jawan
On 9 Jan, BSF's 29th battalion jawan Tej Bahadur Yadav alleged the troops are served sub-standard food in a series of Facebook videos. He said jawans even go "empty stomach" at times and slog for 11 hours and stand throughout the duty hours. He added he doesn't blame the government but officers sell off the essentials procured for them by the government illegally.
Officers selling rations for profit near BSF J&K's camp: Reports
Allegations on social media against the paramilitary continued with jawan Tej Bahadur Yadav of the BSF's 29th batallion stating that officers sold rations to shopkeepers in the nearby areas; at lower than market prices to make profits. He added that essentials like fuel were also sold by officers in the paramilitary. Shopkeepers in the area concurred with the allegations.
Army chief: Taking to social media may invite punishment
Army Chief Bipin Rawat stated that soldiers taking to social media to complain about conditions could be punished as it affects the morale of the whole army. Rawat added that if soldiers feel their concerns are not being addressed, they can approach him directly and speak about it. The Army Design Bureau submitted a report enlisting 50 problems soldiers are facing, that need rectification.
Paramilitary: Nutritionists, monthly meetings to address food quality issues
After a video emerged of a BSF trooper complaining about sub-quality food for jawans, the government informed parliament that paramilitary forces are now having monthly mess meetings to review food quality. Assam Rifles has also roped in nutritionists to prepare a healthy diet for troops. Government has suggested senior officers and medical officers check the quality of food being served during their visits.