Tim Cook discusses digital India with Modi
Tim Cook discusses digital India with Modi
Written by
Ramya Patelkhana
Edited by
Gaurav Jeyaraman
May 22, 2016, 09:35 am
4 min read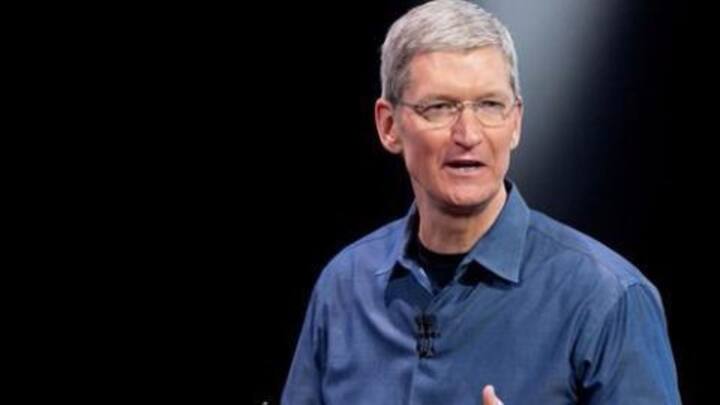 Apple CEO Tim Cook and PM Narendra Modi held discussions on digital India and how the technology giant can help these programmes. The two also discussed issues related cyber security and data encryption, in light of Apple's recent tiff with the FBI. Cook, who shared Apple's future plans for India, also discussed the possibilities of manufacturing and retailing in India.
Apple CEO's surprise visit to India
It was announced that Apple CEO-Tim Cook would make a surprise visit to India directly after flying out of China. Recently, Apple had made an investment worth $1 billion in China's Didi Chuxing ride-hailing app. Cook was chosen by Steve Jobs to take over the charge of Apple in August 2011. This would be Cook's maiden visit to India after becoming the CEO.
Apple's third largest market is India
Cook's visit to India comes at a time when Apple's market in the US and China was down. India–Apple's third largest market was expected to give a boost to Apple as service providers like Airtel, Vodafone, Idea were expanding 4G networks all across. Reportedly, Apple's distribution and sales in India had doubled in the last two years increasing the company's optimism on India.
Discussion on iOS development potential in India
On his first day in India, Tim Cook was expected to meet members of the startup community in Mumbai to understand and discuss the potential for iOS applications' development in India.
Tim Cook kickstarts India tour, arrives in Mumbai
Apple CEO Tim Cook is on his maiden visit to India and reached Mumbai at 11:45 pm on 17 Apr'16 in a private jet. Later, Cook headed towards the Grand Luxury Suite in Taj Mahal Palace hotel's Heritage Wing. Tim's meetings with Mukesh Ambani, Vodafone India CEO-Sunil Sood, Maharashtra CM Devendra Fadnavis, and Tata Group Chairman-Cyrus Mistry were reportedly scheduled earlier.
Cook wants Apple to enter Indian startup system
During his four-day-visit to India, Cook was reportedly expected to launch Apple into the Indian startup system. After reaching India, Cook announced that Apple would open a 'design and development startup accelerator' in Bengaluru that would be completed by 2017.
After Mumbai, Hyderabad visit on the second day
Reportedly, Tim Cook would visit Hyderabad on 19 May 2016, after spending a day in Mumbai. Meeting with Andhra Pradesh CM Chandrababu Naidu had reportedly been scheduled; Naidu was expected to discuss big investments in his state with Cook. Telangana CM Chandrasekhar Rao would make an announcement of land allocation to Apple; later, Cook would launch Apple's first development centre in India at Hyderabad.
India's first Apple development centre
It was announced that Apple's development centre in Hyderabad would be the company's key research and development centre in Asia. It was expected to be completed towards the end of 2016 and become fully functional by 2017.
Apple CEO to meet PM Modi
In New Delhi, the Apple team would be staying for two days at Leela Palace hotel in Chanakyapuri. Cook's meeting with Bharti Enterprises Chairman Sunil Bharti Mittal was fixed for 20 May; he would meet Prime Minister Modi on 21 May. With PM Modi, Cook would discuss single brand retail stores and India's decision to reject Apple's sale of refurbished iPhones in the country.
Shah Rukh Khan hosts dinner for Cook
Bollywood superstar Shah Rukh Khan reportedly hosted a private dinner for Apple CEO Tim Cook at his residence 'Mannat'. Many celebrities like Aamir Khan, Amitabh Bachchan, Aishwarya Rai, Madhuri Dixit, Vidhu Vinod Chopra and a few businesspeople were among the star attendees. Earlier in the day, Cook visited Mumbai's famous Shree Siddhivinayak temple, where he ran into Anant Ambani, Reliance Industries Chairman-Mukesh Ambani' son.
Tim Cook inaugurates new office in Hyderabad
Apple's CEO Tim Cook inaugurated a new office in Hyderabad that will focus on development of Maps for Apple's products including the iPhone, iPad, Mac and Apple Watch. Cook stated that the new office would accelarate the development of Apple maps and also create over 4000 new jobs. However, the company did not disclose the quantum of investments it has made in this regard.