Sahgal, Bharadwaj agree to take back Sahitya award
Sahgal, Bharadwaj agree to take back Sahitya award
Edited by
Gaurav Jeyaraman
Jan 22, 2016, 06:47 pm
4 min read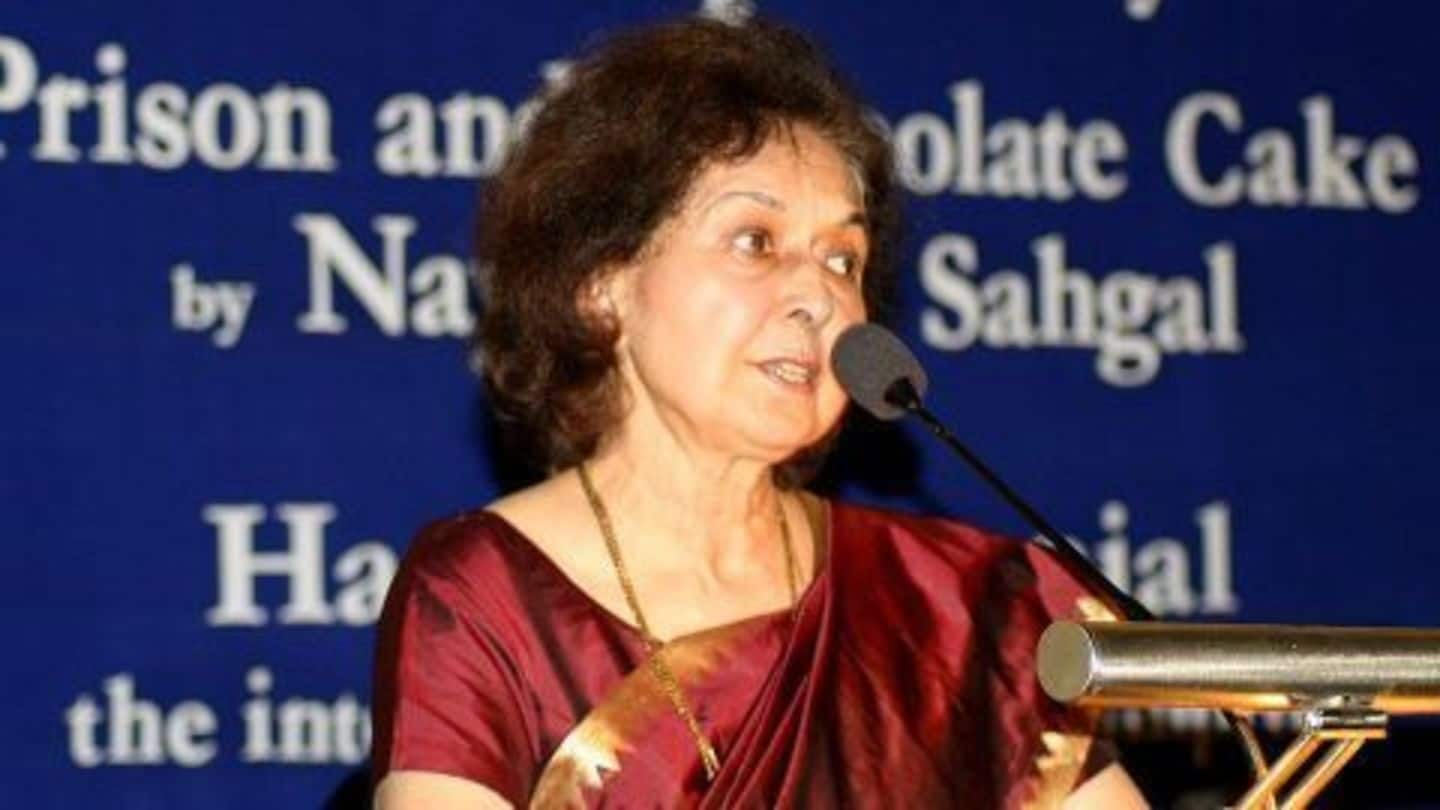 The Sahitya Akademi announced that some writers who had returned the literary award citing 'growing intolerance' in the country had agreed to take back the awards. Nayantara Sahgal and Nand Bhardwaj are taking them back because according to a resolution taken in October, there is "no provision in the Constitution to return the honours." All the writers are being sent the resolution's copy.
Cold blooded murder of MM Kalburgi
Dr MM Kalburgi, renowned Kannada writer, and rationalist was shot dead in Dharwad, Karnataka for his views on idol worship and Hindu rituals. Right-wing activists were thought to be responsible for this. Since 2013, there have been similar attacks in neighbouring Maharashtra on rationalists like Narendra Dabholkar and Gobind Pansare, who supported the anti-superstition bill in their state and at the Center.
Hindi writer Uday Prakash returns Sahitya Akademi award
Renowned Hindi writer Uday Prakash returned his Sahitya Akademi award in protest against the murder of Kannada scholar, fellow recipient and rationalist M.M. Kalburgi . He received the award in 2010 for his collection of short stories, Mohan Das. Prakash said that Kalburgi's murder was part of a series of attacks on and instances of disrespect shown towards writers, artists and intellectuals.
Sahitya Akademi Award is a literary honor which is conferred by Sahitya Akademi, India's National Academy of Letters, on writers of the most outstanding books of literary merit published in any of the major Indian languages recognised by the Akademi.
Nayantara Sahgal returns Sahitya Akademi award
Noted writer Nayantara Sahgal returned her Sahitya Akademi Award to protest against the increasing intolerance and supporting the right to dissent in the country. Referring to the recent killings of rationalists and writers M.M. Kalburgi, Narendra Dabholkar and Govind Pansare and of Dadri resident Mohammad Akhlaq, who was lynched on suspicion of consuming beef, she criticised the government's inaction and questioned PM Modi's silence.
Nayantara Sahgal is the niece of Jawaharlal Nehru. She received the Sahitya Akademi award in 1986, for her novel, Rich Like Us. Sahgal also famously criticised her cousin, Indira Gandhi, for actions during the Emergency in 1975.
Sahitya Akademi chairperson responds to Sahgal, Vajpeyi
Responding to announcements by Nayantara Sehgal and Ashok Vajpeyi about returning their Sahitya Akademi awards, Akademi's chairperson Vishwanath Prasad Tiwari said the authors should "adopt a different way to protest". He said that the Akademi is autonomous and not a government organization. Further, award is given to an author for a chosen work so there was no logic in returning it, unlike Padma awards.
7 more decide to return their Sahitya honours
Salman Rushdie joined the swelling chorus of remonstrance by leading writers against the "communal poison" and "rising intolerance" in India. 7 more writers decided to give back their Sahitya Akademi awards. These were Kashmiri Ghulam Nabi Khayal, Urdu novelist Rahman Abbas, Kannada writer- translators GN Ranganatha Rao and Srinath D N, Hindi writers Mangalesh Dabral and Rajesh Joshi and Punjabi writer Waryam Sandhu.
Writers yet to return Sahitya award citation, trophies
While few writers have returned the award amount with a formal letter to the Akademi, others have sent letters minus the cheques. Some have only announced their decision. However no one so far "has returned the award citation or trophy".
BJP says returning awards an 'insult' to fraternity
The BJP condemned the action of the literary giants who returned their awards saying that they were 'insulting' their own fraternity by doing so. BJP national secretary Siddharth Nath Singh said that if the writers were to raise their voice they should raise the issue and their concerns with the government. He also said that this decision of theirs was not 'practical'.
Fate of returned Akademi awards to be decided
The outcome of the Sahitya Akademi awards given back by demurring authors will be decided next month on 17 December. The board will rule on "whether to strip the writers of the award or to take a middle path" convincing them to rethink. Akademi said it was the first time they were seeing resistance from writers and appealed to them to refrain from politics.
Young writer declines Sahitya award
A young Kannada writer, TK Dayanand, has written to the Karnataka Sahitya Academy, declining to accept the Sahitya Academy Award conferred upon him. Dayanand was chosen for the award for his debut work "Raste Nakshatra", a collection of writings. He stated that he decided not to accept the award in order to condemn the state government's approach over the Kalburgi murder case.