After Obama's exit, PM Modi world's most 'followed' leader
After Obama's exit, PM Modi world's most 'followed' leader
Jan 20, 2017, 06:41 pm
3 min read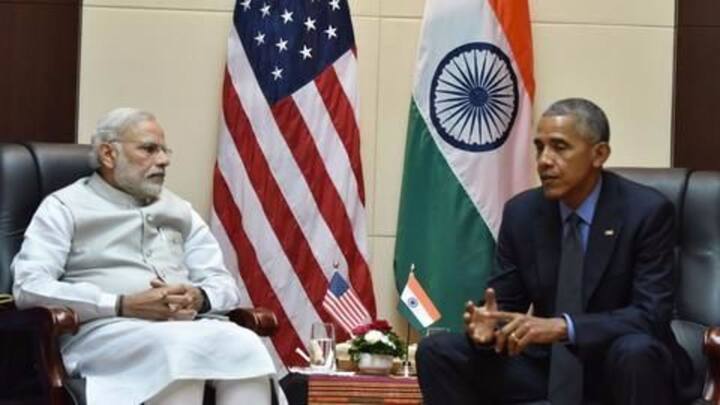 As President Obama ends his term as the 44th President of the United States, Prime Minister Modi became the most followed leader of a state on social media. Modi has the highest number of followers amongst all leaders of states on Facebook, Twitter, YouTube and Google+ Currently, he has 26.5 million followers on Twitter, 39.2 million on Facebook, and 5,91,000 on YouTube.
Rupert Murdoch's effusive praise for PM Modi
In 2014, Media Baron Rupert Murdoch met with PM Modi and took to social media to express his admiration; he described him as the "best leader with best policies since (India's) independence." Several other CEOs representing media houses and the entertainment industry in attendance were also impressed by Modi for his "energetic and dynamic leadership". Overall optimism towards India was largely attributed to him.
McKinsey CEO: India now a 'magnet'
Last year, Dominic Barton, CEO of McKinsey observed that since Narendra Modi became Prime Minister, India was finally back on the priority list of CEOs. Over the last several years, investors and businessmen had given up on India for being too complicated and for having a very uncertain policy regime. Barton believed Modi to be "very determined" and "was going to get things done".
KPMG's India focused survey of CEOs
Last week, KPMG disclosed observations from a survey of 125 CEOs concerning India's future prospects. A thumping 94% were very confident about the economy's growth over the next three years. Over 90% were optimistic about the business environment. A majority were of the view that India was the "leading region for new market growth over the remaining term of the Modi Government".
Modi lags behind in Asia in the popularity stakes
Despite his popularity across the West, at home and amongst the business fraternity, Modi enjoys a lower profile amongst residents of Asian countries. His underwhelming popularity is attributed to lack of confidence of those polled with respect to Modi's foreign policy decisions. Of 5300 people polled in 10 countries, 39% percent had a positive opinion. Surprisingly, a significant number refused to voice any opinion.
JPMorgan's CEO vociferously endorses PM Modi's initiatives
In a recent interview, Jamie Dimon, one of the world's most renowned bankers spoke very positively about India's future and credited Prime Minister Modi for making all the "right moves". Dimon was speaking at a conference wherein he was very vocal about India's phenomenal growth prospects. He said "We love India" and that India featured very prominently in JPMorgan's long-term investment plans.
Jamie Dimon applauds India's economy
At a JP Morgan conference in India, hundreds of companies and investors from across the world were in attendance. Jamie Dimon said, "We have been here since 1945. This conference is a testimony to the growth of India." He added that India had fabulous companies and great education. India was the world's fastest growing economy and PM Modi was making impactful and positive moves.
Soaring popularity on social media
PM Modi is the 2nd most popular leader on Facebook. His personal Facebook page has 31 million fans and the official PMO page has 10.1 million. PM Modi trumps Barack Obama in terms of online interactions with 200 million, five times that of Obama.