Viral video: Sena MP Gaikwad now seen arguing with cops
Viral video: Sena MP Gaikwad now seen arguing with cops
Written by
Anupama Vijayakumar
Apr 20, 2017, 10:12 am
3 min read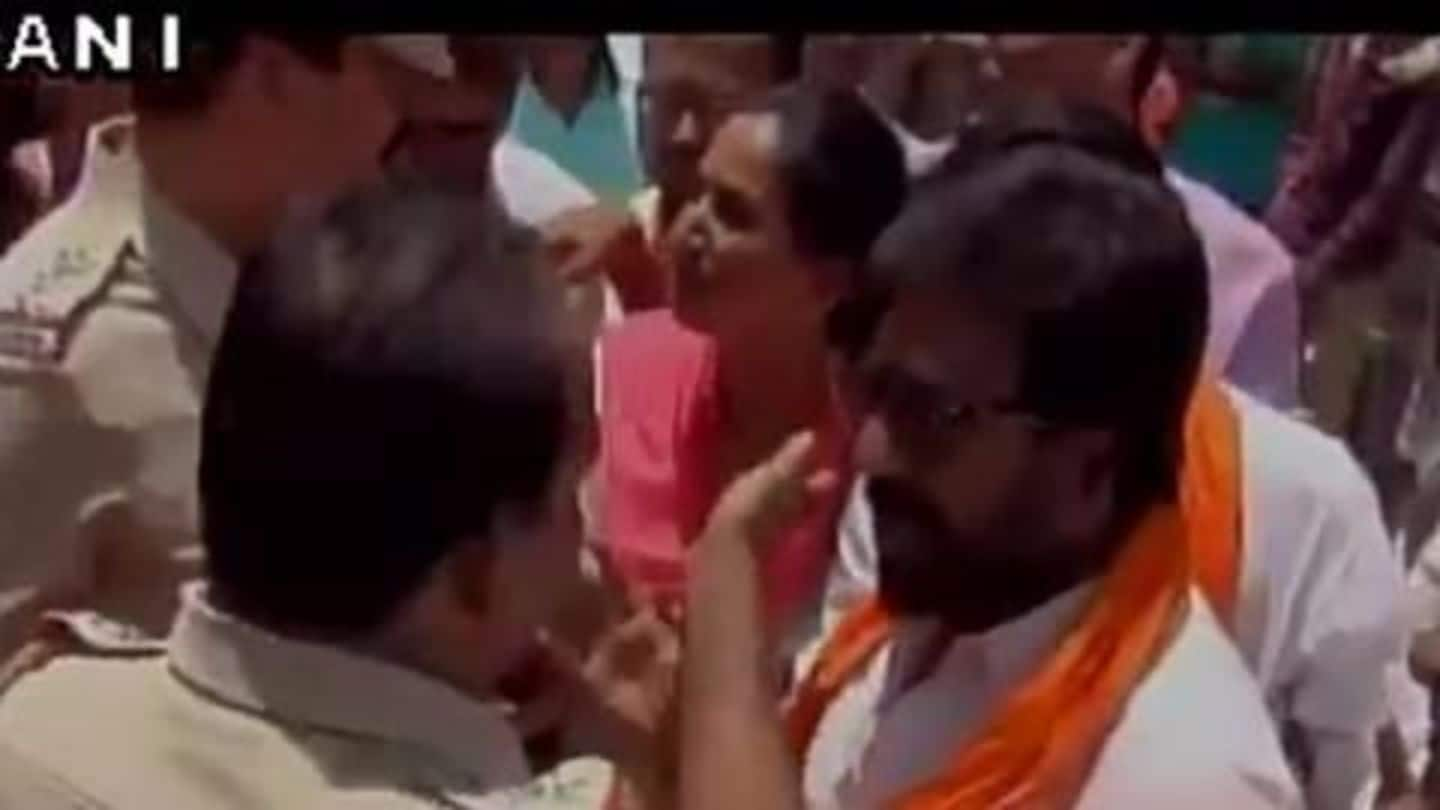 Wading into another controversy, Shiv Sena MP Ravindra Gaikwad had a heated argument with cops at Latur when they tried to disperse a protest by him. In a video that has gone viral, Gaikwad is seen arguing with policemen after his aide couldn't withdraw cash for him from several ATMs. He and his supporters then launched a protest.
Shiv Sena MP slaps Air India official
Shiv Sena MP Ravindra Gaikwad assaulted an Air India employee on being informed of the non-availability of business class seats on an all economy flight. Admitting to the assault, he noted, "Yes, I beat him with my sandal 25 times". The employee has lodged an FIR with the Delhi Police. An official statement noted that the airline would look into creation of "no-fly list".
Air India slapping incident: Major airlines stand together
Following the assault on an Air India staffer, major players SpiceJet and IndiGo extended their support towards the "no fly list". This follows Air India's own decision to blacklist the MP. "We will support a no-fly list", said IndiGo President Aditya Ghosh. Stating that he is not ashamed he dared Air India to take action. The issue raises concerns on parliamentarians' impunity in India.
Gaikwad was part of a group of 11 MPs who forced a fasting Muslim man to eat chapati on Ramzan, at Maharashtra Sadan in Delhi in 2014. The Maharashtra government promised appropriate action. Since his election the MP has reportedly brawled with the BJP leaders in his constituency. A college teacher by profession, he is also known to have slapped his students.
The MP has over 17 charges against him under various sections of the IPC including homicide (Section 304) and rioting (Section 148). He also has one charge each under criminal intimidation (Section 506) and voluntarily causing hurt (Section 123).
United Indian airlines bar abusive Sena MP from flying
A day after Shiv Sena MP Ravindra Gaikwad assaulted an Air India employee, all domestic airlines barred him from flying with them for an indefinite period. After AI cancelled his Delhi-Pune ticket, Indigo followed suit, forcing him to take a train. The Federation of Indian Airlines announced it had taken a "strong view of the incident". An FIR has also been lodged against Gaikwad.
Air India lifts ban on Sena MP Ravindra Gaikwad
ANI reported that Air India has lifted the flying ban on Shiv Sena MP Ravindra Gaikwad, a day after Sena members demanded the civil aviation ministry intervene in the matter. On April 6, Shiv Sena members, including Minister of Heavy Industries and Public Enterprises Anant Geete, surrounded Civil Aviation Minister Ashok Gajapathi Raju in parliament and stopped him from leaving.