PM Modi unveils "Pradhan Mantri Sahaj Bijli Har Ghar Yojana"
PM Modi unveils "Pradhan Mantri Sahaj Bijli Har Ghar Yojana"
Sep 25, 2017, 07:35 pm
3 min read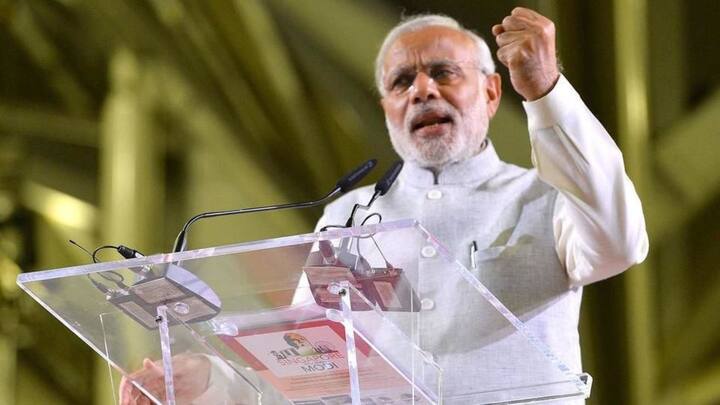 In a major announcement, PM Modi unveiled the Pradhan Mantri Sahaj Bijli Har Ghar Yojana that aims to provide electricity to all rural and urban households. The scheme will re-iterate the party's commitment of ensuring complete electrification. The total budget for this scheme is Rs. 16,320cr and government will provide budgetary assistance of Rs. 12,320cr. The expected date of completion is 31 March, 2019.
BJP's National Executive meet: Amit Shah targets Rahul Gandhi
During BJP's National Executive meet, BJP President Amit Shah has attacked Congress VP Rahul Gandhi for defending dynastic politics. He said that the BJP gives importance to performance and does not believe in the politics of appeasement. Further, he specified that BJP will continue to keep expanding its reach under the 'Vistarak' scheme and about 4862 party workers are making efforts towards this.
About the BJP's National Executive meet
BJP's National Executive meet is being held at Delhi's Talkatora Stadium on Hindutva icon Pandit Deendayal Upadhyaya's birth anniversary. More than 2,000 delegates that include the party's elected lawmakers, including 1,400 MLAs, 337 MPs and all MLCs are attending the meet.
Piyush Goyal addresses the media
Piyush Goyal, while addressing the media, said that PM Modi's vision for a clean India was discussed. Further, he condemned the riots in WB and the violence involving the communist cadres and RSS workers in Kerala. He also listed the Modi government's achievements of working towards a "corruption-free environment" through steps such as demonetization, shutting down shell companies and cracking down on benami properties.
Meanwhile, PM Modi will be addressing the meet today evening
Meanwhile, Modi will address the conclave in the evening and may unveil a scheme that will provide electricity to the poor. He will also focus on the country's economy by addressing falling GDP rates. He is expected to speak on demonetization's long-term impact in curbing black money.
Nitin Gadkari condemns terrorism and violence of all kinds
Nitin Gadkari addressed the media and commended the government for implementing the goods and services tax and resolving the Sino-India Doklam crisis. He reiterated the government's policy of fighting terrorism and said that the PM always criticized Pakistan's 'indulgence of terrorism'. Further, Gadkari denounced the Communist party's alleged killings of RSS workers and also the attacks on journalists, referring to journalist Gauri Lankesh's murder.
Arun Jaitley highlights important points of PM Modi's address
Jaitley said the PM highlighted the fight against terrorism and corruption. PM Modi said his anti-corruption stance is "uncompromising" and assured that whoever will be caught won't be spared. Jaitley said Congress will not support any anti-black money steps as they didn't do anything from 2004-2014. For terrorism, he asserted that other countries are cooperating and 90 hardcore terrorists have been deported.
PM Modi inaugurates the Pandit Deendayal Upadhyaya Urja Bhawan
PM Modi inaugurated ONGC's Deendayal Urja Bhawan. Union Ministers Dharmendra Pradhan and RK Singh were also present. In February, ONGC changed its name from Rajiv Gandhi Urja Bhawan to Pandit Deendayal Upadhyaya Urja Bhawan. Termed a "green structure," it received sustainable building design's highest recognition, i.e. US Green Building Council's LEED Platinum award. This ONGC's new corporate office has been built at Rs. 600cr.