Sonia Gandhi may quit after UP, Punjab elections
Sonia Gandhi may quit after UP, Punjab elections
Written by
Kartikeya Jain
Edited by
Vaneet Randhawa
Nov 14, 2016, 03:22 pm
4 min read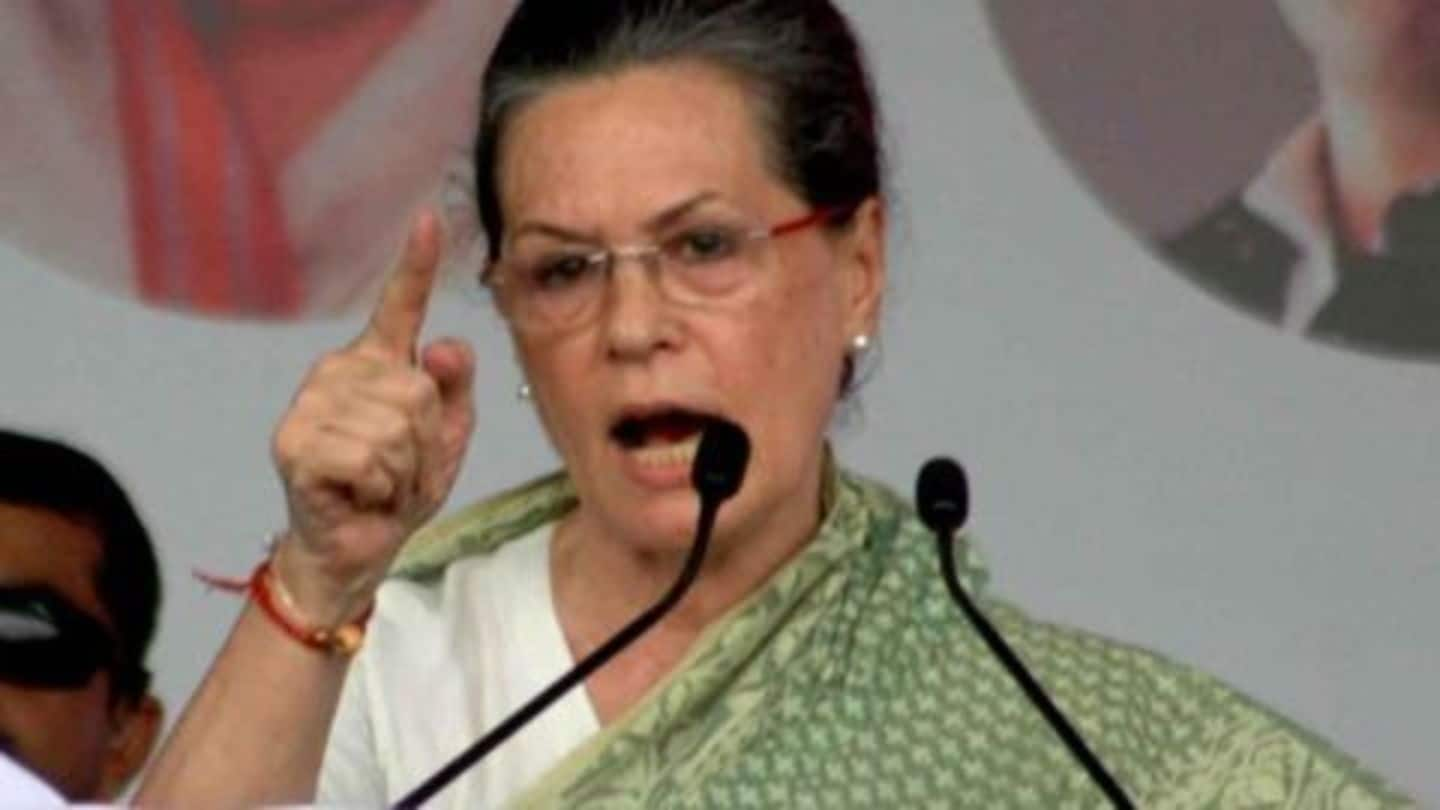 Sources have stated that Congress chief Sonia Gandhi may step down after the UP and Punjab elections, citing health reasons. The development clears the air over speculation of Rahul Gandhi's appointment to the top spot. Sources said she wanted to quit much earlier; however, several senior members in the party wanted her to continue for these last 2 elections.
Born on 19 June 1970, Rahul Gandhi is the great-grandson of former Prime Minister Jawaharlal Nehru. He is also the son of former Prime Minister Rajiv Gandhi and current Congress President Sonia Gandhi. He is the Congress MP for the Amethi constituency. He had led the party campaign in 2014 Indian general elections in which the party was able to secure only 44 seats.
Security concerns for Rahul
After his father was assassinated in 1984, Rahul Gandhi shifted from Harvard University to Rollins College due to security concerns. He had assumed the pseudonym Raul Vinci and his identity was known only to the university officials and security agencies.
The new Vice President of Congress
Getting elevated to number two position in the party, Rahul Gandhi was appointed as the Congress Vice President. The then defence minister AK Antony had passed a resolution for this move. The resolution was unanimously adopted by the party's highest policy making body- the Congress Working Committee (CWC). Rahul was one of the 11 general secretaries of the Congress party earlier.
Rahul should take full time leadership: Digvijay
Senior leader Digvijay Singh said that Rahul Gandhi should take full time leadership of the All India Congress Committee. He said that all Congressmen would support him to become the president of the party. However, party spokesperson Anand Sharma said that they were Singh's personal views. He said that party always takes collective views when taking such decisions for the party.
Rahul will become Congress President: Antony
Congress senior party leader AK Antony said that Rahul Gandhi would soon become the President of the party. He said that the date and time would only be specified after the Bihar elections. Hailing Rahul's leadership skills, he said that the Rahul had handpicked VM Sudheeran as Kerala Congress head. He added that Sudheeran was able to end the factional feud in Kerala Congress.
Rahul was architect of victorious Grand Alliance: Congress
With the victory of Grand Alliance in Bihar elections, Congress claimed that Rahul Gandhi was its architect. Congress general secretary Shakeel Ahmed said that Grand Alliance wouldn't have been possible without the effective leadership of Rahul. He said that a 40 minute meeting betwen Rahul and Bihar CM Nitish Kumar ahead of the polls had played a crucial role in the elections.
Rahul should take charge: Capt Amarinder
Congress deputy leader in the Lok Sabha Captain Amarinder Singh said that the time has come for Rahul Gandhi to take charge of the party. He said that Rahul had proved his leadership skills in the Bihar elections. He added that Rahul had also proved that Prime Minister Narendra Modi was just a salesman and not a true leader.
Rahul to become AICC president in August/November
The Congress Vice-President is expected to become president at a special All India Congress Committee session. Sonia Gandhi who has held this post since 1998 will take on the role of the chairperson of Congress parliamentary party (CPP). It is expected that once the president of AICC, Rahul will start with a new team: new general secretaries' appointments and massive organizational shuffle will ensue.
CWC preparing for Rahul Gandhi's elevation
Amid Sonia Gandhi's ailing health, the Congress Working Committee is paving the way to elevate Rahul Gandhi to the party's top position. At the CWC meeting, AK Antony, backed by Manmohan Singh, Ambika Soni, C P Joshi and Karan Singh demanded that uncertainty over Rahul Gandhi's leadership be addressed immediately. Sources said Rahul Gandhi agreed that he should assume leadership.