UP elections: 7th phase of polling underway
UP elections: 7th phase of polling underway
Mar 08, 2017, 06:42 pm
4 min read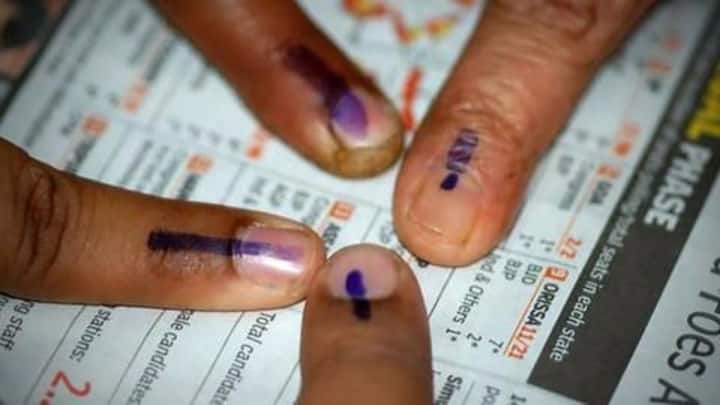 The seventh and final phase of UP polls began across 40 seats in Uttar Pradesh, including PM Narendra Modi's constituency Varanasi, on March 8. In focus are the Naxalism-affected districts of Chandauli, Mirzapur and Sonbhadra. Bhadoi, Ghazipur and Jaunpur are also going to polls to decide the fate of a total of 535 candidates. Voter turn-out in UP was almost 60% until 5 PM.
Phase 1 of voting in UP assembly elections begins
The first phase of voting in the Uttar Pradesh assembly elections has started today with 73 out of the state's total 403 constituencies going to the polls. Key constituencies in this phase include Mathura, Meerut, Ghaziabad and Noida. The seven phase election is a three-way contest between the BJP, the Bahujan Samaj Party (BSP) and the Samajwadi Party (SP)-Congress alliance.
The SP, led by CM Akhilesh Yadav, is looking to retain power in the UP with the Congress. The BSP is hoping to regain power in UP after five years. The election is a three-year litmus test for PM Narendra Modi-led BJP's rule.
UP Polls: 63% voter turnout amidst SP, BSP clash
After the polling for 73 of UP's seats began, supporters of Bahujan Samaj Party (BSP) and the Samajwadi Party (SP) clashed in Meerut. The fire was opened in a village in Kithaur area, and one person was injured. The deployed security personnel pacified the two factions and the situation was brought under control. Meanwhile, UP recorded 63% turnout in the first phase of UP-elections.
Female voters in Baraut receive red roses from election officials
The Election Commission of India (ECI) has asked its officials to give red roses to all female voters at polling booths. "This is for the first time that we have got a rose," one woman voter said.
Phase-2 polling underway in UP
The second phase of polling is underway in Uttar Pradesh. In this phase, 67 assembly constituencies in Western UP across 11 districts will go to polls. There was nearly 55% voter turn-out until 4 PM. There are 722 candidates, and the total voter count stands at 2.28 crore. Prominent leaders like SP minister Azam Khan and BJP Legislature Party leader Suresh Kumar are contesting.
UP elections Phase 3: Yadav belt goes to vote
Central UP, known to be the Samajwadi Party stronghold will go to polls in the 3rd phase. The party will seek to create a repeat of the resounding victory it had in 2012. Meanwhile, the BJP vowed to build the Ram Temple in Ayodhya if voted to power. 69 seats will be contested in this phase. So far, 24.19% turn-out has been recorded.
UP polls: Phase IV polling underway, Amethi, Rae Bareli vote
Voting got underway in the fourth phase of polling in UP. 1.84cr voters across 23 constituencies in Bundelkhand and Doab, including Congress strongholds of Rae Bareli and Amethi, will choose their leaders from 680 candidates. Meanwhile, 27 EVMS in 12 constituencies developed snags and were replaced. 10.23% overall voter turnout was recorded till 9 am, with 9.5% in Rae Bareli and 9.03% in Allahabad.
5th phase of polling in UP starts on peaceful note
The fifth phase of polling in Uttar Pradesh started today morning in 51 seats across 11 districts of the state, including Amethi, Basti, Faizabad, Gonda and Sultanpur. 1.81 crore voters will decide the fate of 607 candidates in the Terai region and parts of eastern UP. 27 per cent voting was recorded till 11 am amid heavy security deployment.
6th phase of UP Assembly Elections begins
The sixth and penultimate phase of polling in Uttar Pradesh has commenced today for 49 assembly seats amid tight security arrangements. Around 1.72 crore voters will decide the fate of 635 candidates in seven districts. The focus is on the assembly segments within the Lok Sabha constituencies of SP patron Mulayam Singh Yadav in Azamgarh and firebrand BJP leader Yogi Adityanath in Gorakhpur.
Gangster Abu Salem couldn't afford bail bond to vote
Gangster Abu Salem, currently jailed in Mumbai, is a registered voter in Azamgarh and wanted to vote in the assembly elections. However, his family realized they'd have to pay Rs. 3-4 lakhs for a bail bond and make complicated security arrangements. Hence, they dropped the idea.