Smriti Irani was against sharing her educational information
Smriti Irani was against sharing her educational information
Written by
Sripriya Yegneswaran
Jan 19, 2017, 01:13 pm
4 min read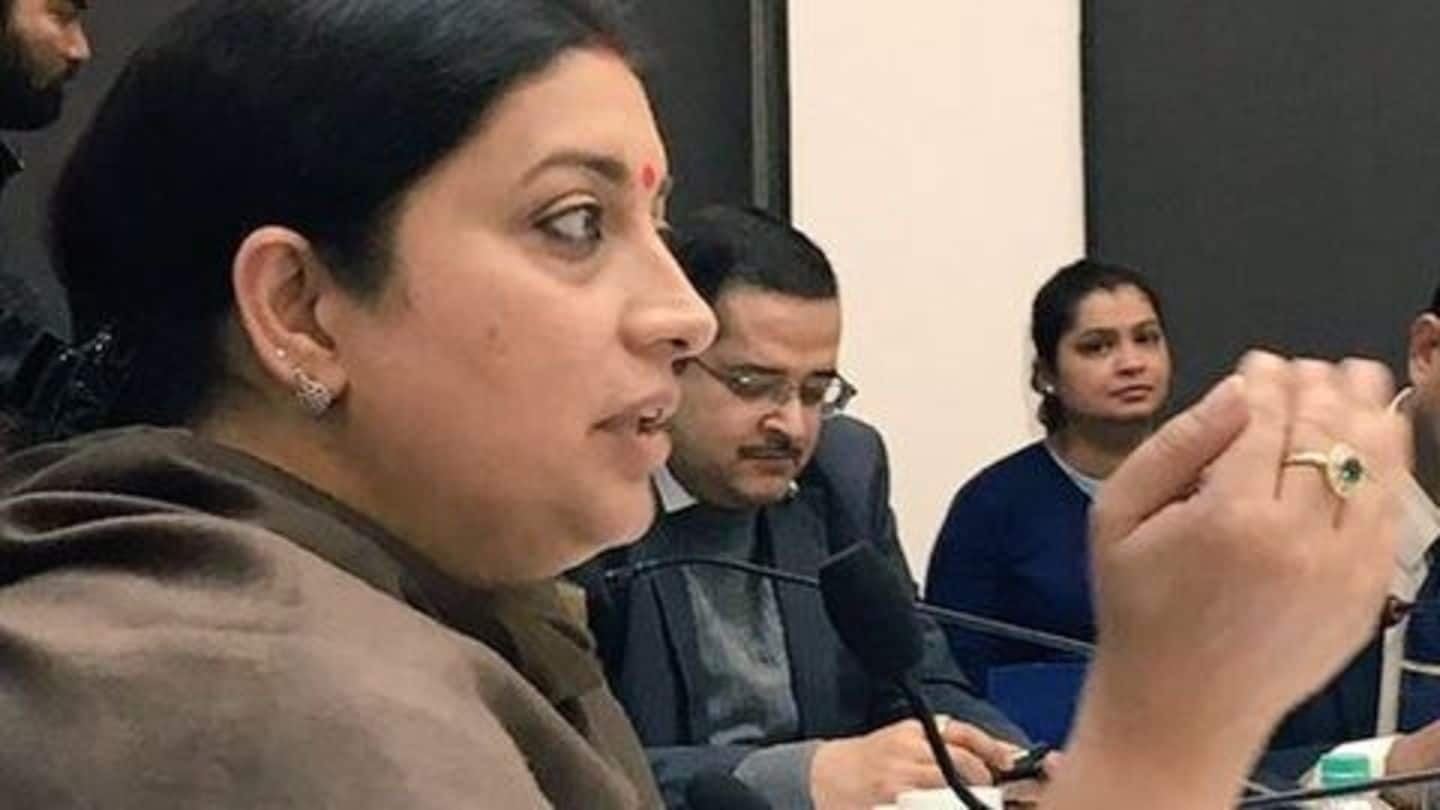 According to reports, the School of Open Learning (SOL) had informed the Central Information Committee (CIC) that Union Minister Smriti Irani had asked Delhi University to keep her degree-related information undisclosed. Following that, however, CIC directed SOL to release all information regarding Smriti Irani's educational qualifications. On 10th January, a notice was issued to an officer from DU for failing to produce the same.
Smriti Irani's education documents leaked
5 Delhi University officials were suspended by the University for leaking documents related to the educational qualifications of Smriti Irani. A Hindi daily published the documents and claimed that Irani took admission in DU's School of Open Learning but never appeared for examinations. Congress claimed that Irani mentioned 'BA from DU' as educational qualification during Lok Sabha elections.
Irani claims to have a Yale University degree
Speaking at the India Today Woman Summit 2014, Irani said that she held a degree from Yale University. She didn't explain her degree but she was amongst the 11 Indian MPs who went to the Yale University on 19 June 2013 to attend a six-day leadership program. When further asked about her degree, she told the questioner to file a PIL in the court.
Irani says her Yale University statement 'misconstrued'
HRD Minister said that her participation in a leadership programme and certificate thereafter were 'misconstrued' by some fractions of the media. She said that her critics should judge her on her performance as a minister rather than her educational qualifications. A spokesperson from the ministry said that she got a certificate and not a degree from Yale University.
Before achieving political success, Smriti Irani worked at McDonald's as a waitress. Also, she was one of the finalists at the 1998 Miss India beauty pageant.
Court to hear complaint against Irani
A Delhi court agreed to hear a private complaint filed by Ahmer Khan, a freelancer, against Irani for providing false educational qualifications in her election affidavit. The complaint would be heard on 25 April. The complainant claimed that she mentioned BA as her highest qualification during Lok Sabha elections and BCom as her highest qualification while being elected for the 2011 Rajya Sabha.
AAP demands probe in Smriti Irani case
AAP demanded a probe into Smriti Irani's fake degree, while claiming that the party's internal Lokpal would probe similar allegations against Delhi Law minister Jitender Singh Tomar. AAP demanded similar action against Minister of State for HRD Ram Shankar Katheria, who is also being accused for holding a fake degree. AAP claimed that over 30% of the central ministers have criminal cases against them.
Delhi court to hear Irani's degree case
A Delhi court upheld a complaint filed against Smriti Irani for allegedly giving false information about her educational qualification during the 2004 and 2014 Lok Sabha elections. The complaint which was originally scheduled to be heard on 25 April, would now be heard on 28 August. Irani's lawyer said that she had not been summoned so far and no FIR had been registered.
Court upholds complaint, Opposition demands Irani's ouster
Congress said that Irani has lost all "moral, constitutional or legal" right to continue as the HRD minister. Congress questioned as to how the Government intends to run education in the country when the HRD minister herself has a fake degree. AAP also demanded a similar treatment for Irani as was given to Jitender Singh Tomar.
Smriti Irani gets relief in fake degree case
A Delhi court has dismissed the fake degree-case against Union Minister, Smriti Irani. Irani had been accused of providing false information concerning her education in affidavits that she filed for contesting elections; in this regard a case was filed against her last year. The court had asked Election Commission and Delhi University to submit Irani's degrees however they weren't able to trace her documents.
Smriti Irani's school records to be inspected
The Central Board of Secondary Education (CBSE) has been instructed by the Central Information Committee to allow the examination of Textiles Minister Smriti Irani's Class X and XII records. This decision overruled the argument that the records are personal information. CBSE has to facilitate the inspection and provide certified copies of documents excluding personal details within 60 days of the order.