Ram Nath Kovind is India's 14th President
Ram Nath Kovind is India's 14th President
Edited by
Shikha Chaudhry
Jul 20, 2017, 04:24 pm
3 min read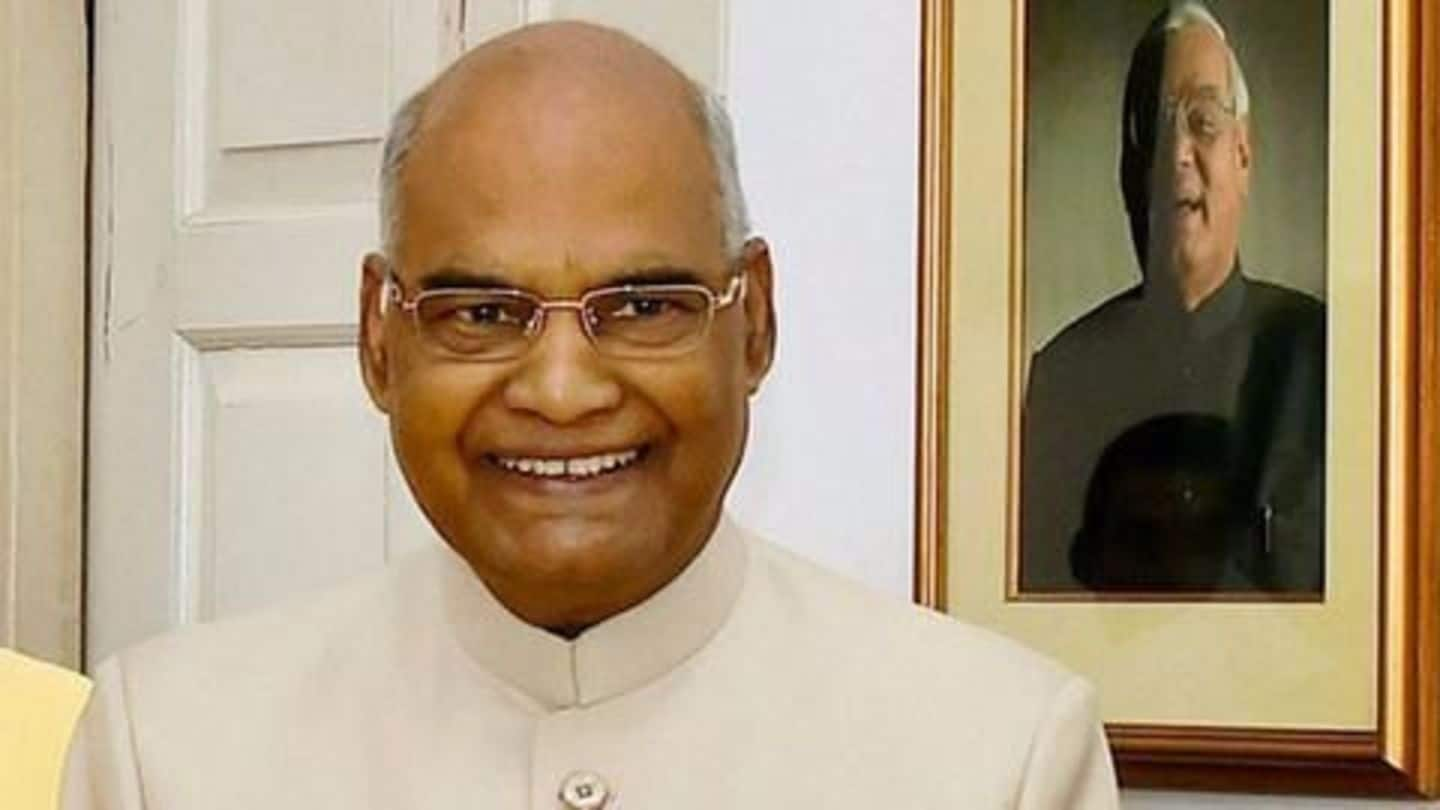 BJP candidate Ram Nath Kovind crosses winning margin to defeat Meira Kumar, the opposition candidate, to become India's next president with 66% of the votes in his favor. Eight rounds of counting took place. This election saw 99% polling, the highest ever. Incumbent President Pranab Mukherjee's term ends on July 24. Kovind will be sworn in the next day. Find out all about him.
Dalit leader Ram Nath Kovind was born on 1 October 1945 in Derapur tehsil of Kanpur Dehat in Uttar Pradesh. He graduated in both Commerce and Law from Kanpur University. After graduation, he had also prepared for the Indian Administrative Services in Delhi. However, his family soon migrated to Delhi after which he trained and practiced as a lawyer.
The start of Kovind's political journey
In 1977, Kovind became the Personal Secretary to the then PM Morarji Desai, which marked the beginning of his political career. BJP fielded him as its Lok Sabha candidate from Uttar Pradesh's Ghatampur in 1990; he lost and had never contested again. Later, he was elected to Rajya Sabha from Uttar Pradesh for two consecutive terms of 1994-2000 and 2000-06.
Kovind's Dalit credentials greatly valued by BJP
The move to choose 72-year-old Kovind as Presidential candidate could immensely help BJP in the 2019 General Elections, which would likely depend on Dalit votes in UP. Kovind was the President of BJP Dalit Morcha during 1998-2002. He also served as the All India Koli Samaj's President as well as the SC/ST representative at Indian Institute of Management (Calcutta).
Professional advocate who practiced in Supreme Court
In 1971, Kovind enrolled as an advocate with the Bar Council of Delhi. He became the Advocate-on-Record of the Supreme Court in 1978. He was a Central Government advocate in the High Court of Delhi during 1977-79 and a Central Government Standing Counsel in the SC during 1980-93. He practised in the Delhi HC and the SC for 16 years.
This election saw 99% polling, the highest ever
Kovind was elected by an electoral college consisting of 10,98,882 members including MPs and MLAs. This time, 32 polling stations were set up across India. Ninety-nine percent polling was recorded, the highest ever. 4,835 voters, including 4,120 MLAs and 776 MPs, were eligible to vote. MP Minister Narottam Mishra had been barred from voting over allegations of paid news.
Kovind had represented India in the United Nations in New York and also addressed the United Nations General Assembly in 2002. He was also a member of the board at Dr. BR Ambedkar University in Lucknow.
Member of several important Parliamentary Committees
The NDA Presidential candidate served as a member of several key Parliamentary Committees. They include: Parliamentary Committee on Welfare of Scheduled Castes and Tribes, Parliamentary Committee on Petroleum and Natural Gas, Parliamentary Committee on Home Affairs, Parliamentary Committee on Social Justice and Empowerment, and Parliamentary Committee on Law and Justice. He also served as the Chairman of Rajya Sabha House Committee.