Record: NASA launches world's smallest satellite built by Indian students
Record: NASA launches world's smallest satellite built by Indian students
Jun 22, 2017, 04:25 pm
2 min read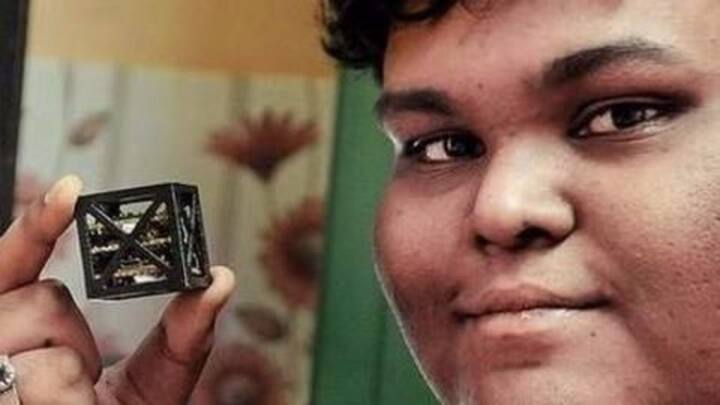 NASA has launched the world's smallest satellite built by a group of students from Tamil Nadu. The team, led by Rifarh Shaarook, had made the 64gm KalamSat for the space agency's Cubes in Space contest. The mission span was 240 minutes post launch. The little satellite operated for 12 minutes before starting its downward fall.
More about the young inventor
Rifarh was born to a scientist father, who passed away when he was nine. Even before that, he was inspired by his father's work on astronomy. His first project was an inverter when he was in class VII, followed by robots, rovers, space probes and more. Since class 8, he has been associated with Space Kidz India.
The world's smallest satellite is born
After Space Kidz discovered NASA's Cubes in Space contest in November'16, Rifarh was chosen as the lead scientist. Earlier, Rifarh and his six teammates had designed a 1kg cubesat, which they modified into a smaller version according to rules of the contest. They also built a Near Space Launch Vehicle for KalamSat. The project was selected from 86,000 designs submitted from 57 countries.
The tiny satellite, fitted in a 3.8cm cube, was built with parts supplied from India and abroad. It includes eight sensors that can measure different data including temperature and radiation. "Its main role will be to demonstrate the performance of 3D-printed carbon fibre," said Rifarh. In a 240-minute post-flight mission, KalamSat will record data for 12 minutes, then will fall into the sea.
What's next for Rifarh and his team?
Rifarh, who cleared his Class XII exams this year with 62.5%, says they want to create "a private space organization like SpaceX in India". He was assisted in the KalamSat project by Tanishq Dwivedi, Vinay S Bhardwaj, Yagna Sai, Mohammed Abdul Kashif and Gobinath, under the supervision of Space Kidz founder Dr Srimathy Kesan. The team will not be attending the launch.