Articles about Unmanned Aerial Vehicles
An unmanned aerial vehicle (UAV), also known as are drawn, is an aircraft that is either remotely piloted by a human or piloted autonomously. It usually doesn't carry crew and passengers on board. As of 2021, UAVs from a variety of manufacturers are available for individual, commercial, and defense use. These UAVs are commonly used for search and rescue, surveillance, mapping, photography, warfare, and spying. A variety of configurations are available for UAVs. Some are built like fixed-wing aircraft and powered by propellers, while others employ a single propeller like a helicopter and some others employ multiple propellers. A typical hand-held UAV can reach a maximum altitude of up to 600 m and has a range of approximately 2 km. Military-built high-altitude long-endurance UAVs can reach up to 9100 m altitude and fly over 200 km. In some countries, a full-scale pilot's license is required to fly even a small-scale portable drone. Interestingly, UAVs have been in existence since 1849.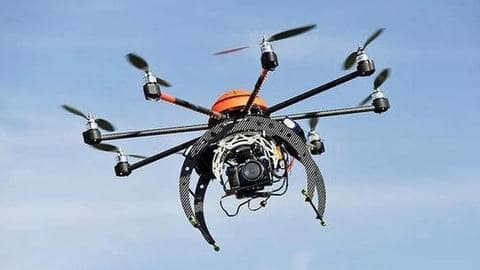 Gujarat: Drones flying sans nod to be seized or destroyed
Drones and UAVs if found flying in the area of three kilometers from the perimeter of all the Naval installations declared as "No-fly zone" in Gujarat without prior permission will be either confiscated or destroyed, a Defense PRO said on Wednesday.