Samit Gohil breaks world record; Gujarat reach Ranji semis
Samit Gohil breaks world record; Gujarat reach Ranji semis
Written by
Rishikesh Malkhede
Dec 27, 2016, 10:48 pm
3 min read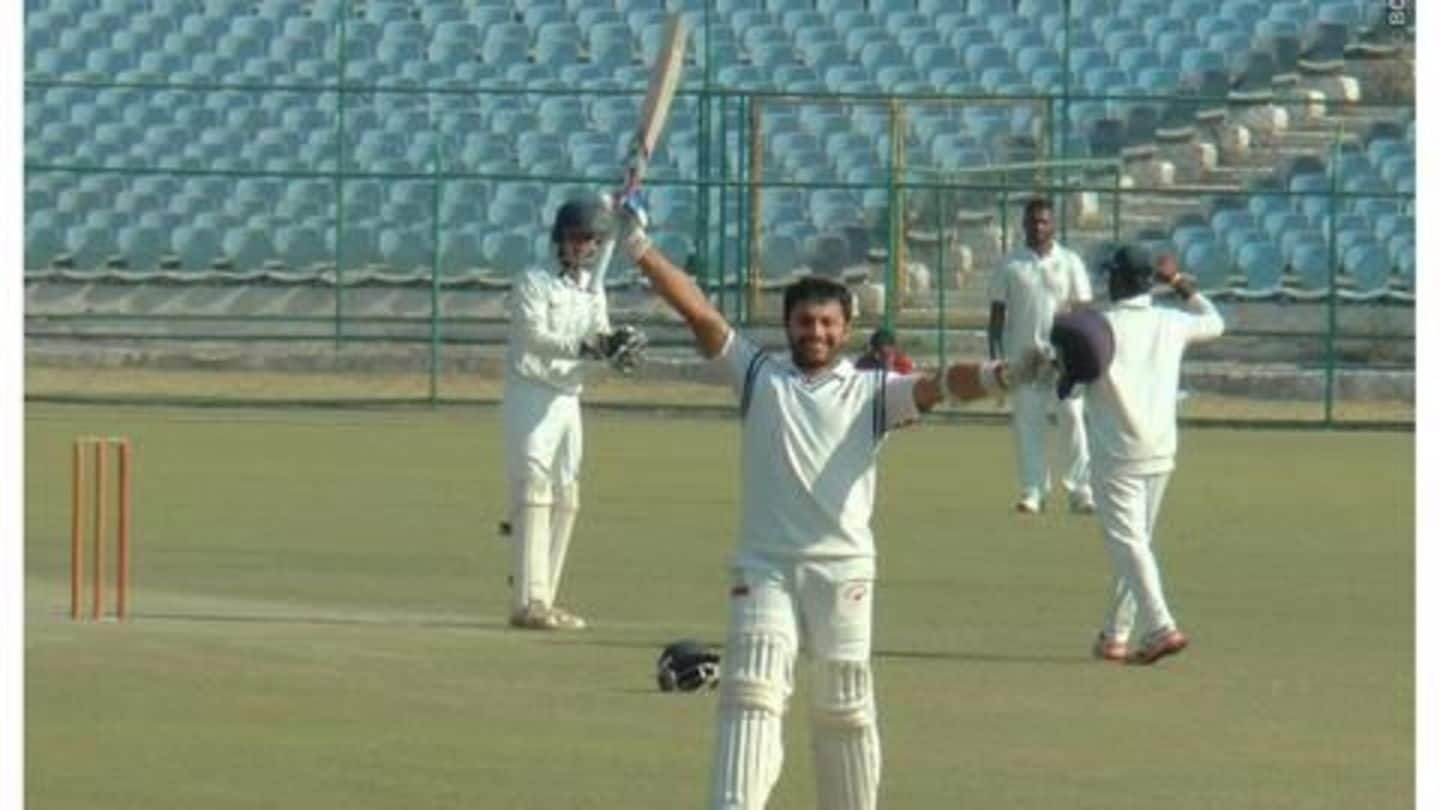 With an unbeaten 359, Samit Gohil batted Gujarat in the semi-finals of 2016-17 Ranji Trophy. He also created a world record for scoring most runs while carrying his bat through the innings in first class cricket. His score is also the fourth highest in the tournament ever. Gujarat defeated Odisha after scoring 263 and 641 in 227.4 overs and will face Jharkhand now.
The 206-17 Ranji Trohy reached its quarter-final stage with eight teams competing for the semi-final spot. The four quarter-final matches will be played between Hyderabad vs Mumbai at Raipur, Karnataka vs Tamil Nadu at Visakhapatnam, Gujarat vs Odisha at Raipur and Haryana vs Jharkhand at Vadodara. The semi-finals are scheduled for 1 January 2017, while finals will start from 10 January.
Tamil Nadu defeat Karnataka in just two days
Tamil Nadu became the first team to reach the semi-finals of 2016-17 Ranji Trophy after winning in just two days against Karnataka. Day two of the match saw 19 wickets being picked, and the TN bowlers had bowled out Karnataka twice in two days. 'Man of the Match' Aswin Crist got seven Karnataka wickets, while K Vignesh got four in second innings.
Gujarat score a mountain of runs
Scoring 263 runs in first innings and 514 in second, Gujarat have taken a lead of 578 runs against Odisha, with still two wickets remaining. Odisha are yet to bat in the second innings. Samit Gohel score 261 in second innings for Gujarat.
Jharkhand reach semi-finals of 2016-17 Ranji Trophy
Jharkhand defeated Haryana by five wickets to win the quarter-finals match and book their place in the semis. Haryana had set a target of 175 runs after second innings play, which Jharkhand reached comfortably on the fourth day of the match. Jharkhand's Shahbaz Nadeem was declared Man of the Match for taking 11 wickets in the match.
Mumbai set a target of 232 runs for Hyderabad
Defending champions Mumbai set a target of 232 runs for Hyderabad. At the end of fourth day, Hyderabad had scored 121 runs for the loss of seven wickets. They now need 111 runs to win and have three wickets in hand.
Mumbai defeat Hyderabad in quarters; to play TN in semis
After winning their 41st Ranji Trophy last year, Mumbai has once again reached the semi-finals of the tournament after a 30 run win over Hyderabad. Hyderabad could only manage to score 201 before being bowled out by the Mumbai bowlers. 'Man of the Match' Abhishek Nayar picked five wickets in second innings and four in the first for Mumbai.