NorthEast United registers first win against FC Goa
NorthEast United registers first win against FC Goa
Written by
Rishikesh Malkhede
Oct 05, 2016, 12:01 pm
3 min read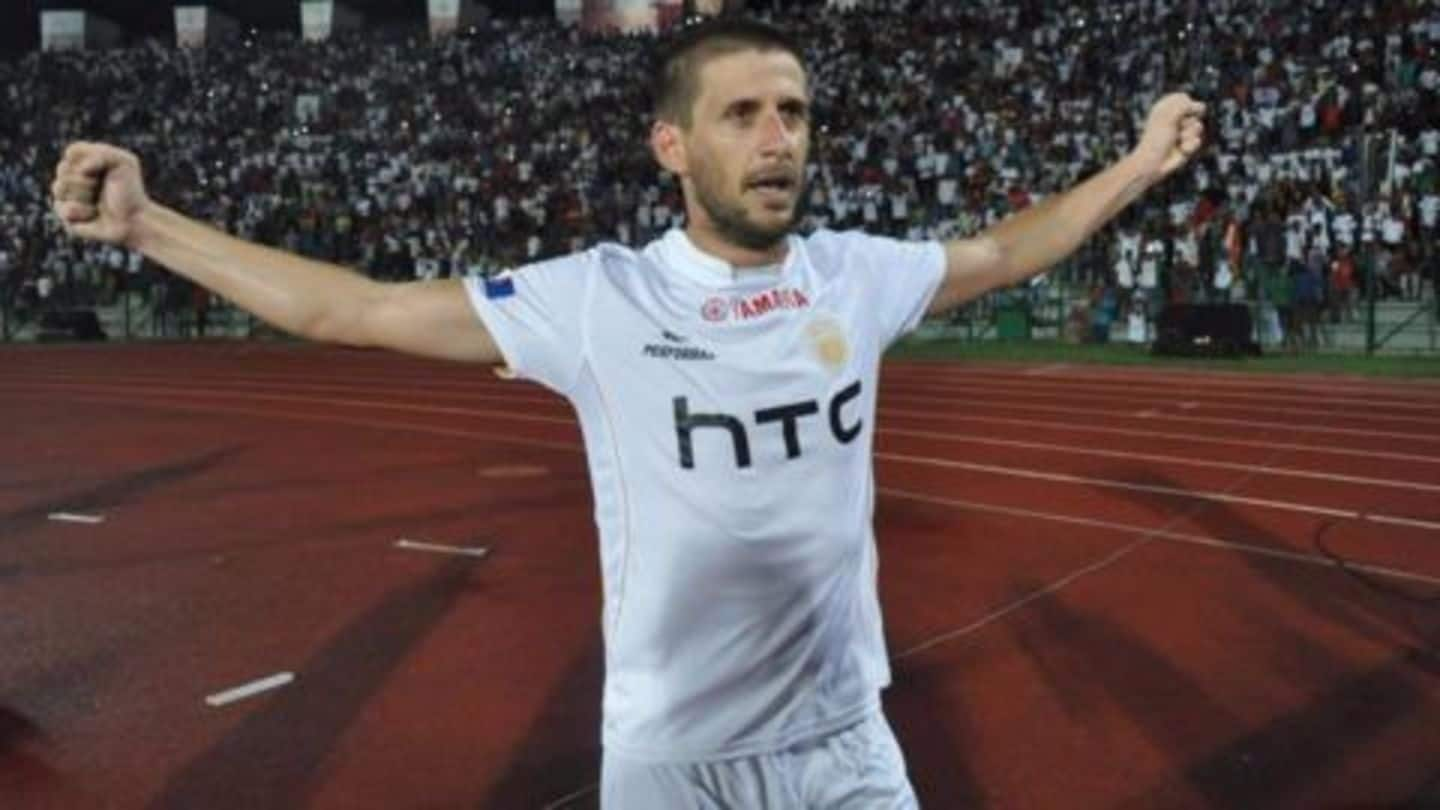 Emiliano Alfaro helped North East United to register their maiden victory against FC Goa in the 2016 Indian Super League in Guwahati. Alfaro's two goals in both halves resulted in NEUFC winning the game by 2-0. The opening goal came in 20th minute while the second one in the 62nd. The 26-year old missed his hat-trick because of exceptional blocking on the goal line.
2016 Hero India Super League is a men's professional football league of India. Starting on 1 October 2016, it will go on till December 2016. The finals will be played on 18 December 2016.
2016 Hero ISL kicks off in Guwahati
The opening ceremony of 2016 Hero Indian Super League took place at the Indira Gandhi Athletic Stadium in Guwahati on 1 October 2016. Bollywood actors Varun Dhawan, Alia Bhatt and Jacqueline Fernandes performed at the ceremony. The owners of all the eight ISL teams were present along with the founder chairperson of Football Sports Development, Nita Ambani.
NorthEast United beat Kerala Blasters in the opening game
The opening match of the Hero ISL ended in Guwahati with the home team, North East United defeating Kerala Blasters 1-0. No goals were scored in the first half of the game, but the goalkeepers were kept busy as the second half started. In the 54th minute, Japanese forward Katsumi Yusa scored a goal for the home side.
Kolkata-Chennai match in 2016 ISL ends in a draw
The previous two champions of ISL, Atletico de Kolkata and Chennaiyin FC met in the second match in Kolkata with the match ending in a 2-2 draw. Kolkata took lead by scoring the first goal of the match, but Chennaiyin FC clawed back with two back-to-back goals. A penalty by Kolkata in the 86th minute equalled the scores with no goals scored later.
Mumbai to face Pune today in ISL
In the third match of ISL, Mumbai City FC will be up against Pune City FC at the Shree Chhatrapati Balewadi Sports Complex, Pune. In the previous four encounters, Pune City had won 2 matches, Mumbai had won one, with one ending in a draw.
Mumbai City beat Pune City in all Maharashtra derby
Mumbai City FC defeated Pune City FC in the all Maharashtra league game of the 2016 Hero Indian Super League. The only goal of the match was scored by Mumbai City's Adrian Defederico in the 69th minute and they won 1-0. In an overall dull match, host team Pune was not able to convert the chances it got into goals.
NorthEast United faces FC Goa on 4th Oct
North East United FC will face last year's runners up Goa FC at Indira Gandhi Athletic Stadium in Guwahati. In the previous four encounters, Goa has won two matches and two have ended in draw. NEUFC has not registered any win against Goa yet.