HS Prannoy wins US Open badminton tournament
HS Prannoy wins US Open badminton tournament
Jul 24, 2017, 01:45 pm
3 min read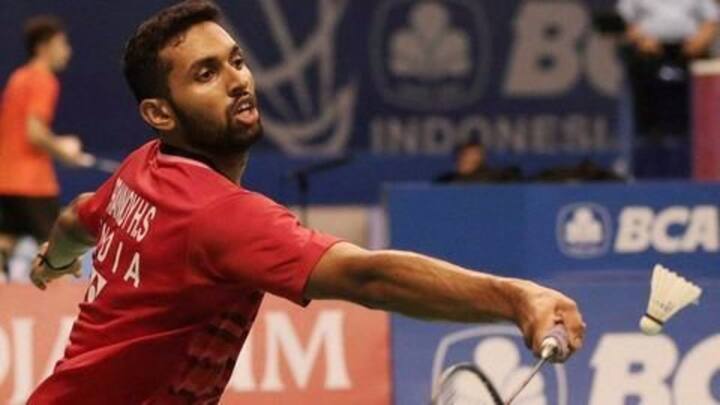 India's HS Prannoy trumped over fellow countryman Parupalli Kashyap to clinch the US Open Grand Prix Gold badminton tournament. Prannoy won the match 21-15, 20-22, 21-12 in one hour and five minutes to lift his third grand prix gold title. It was the second time this year that two Indians met in a summit clash of a badminton tournament.
US Open badminton championships
The US Open badminton championships are part of the BWF (Badminton World Federation) Grand Prix Gold series held annually. 2016 edition of the event was won by Lee Hyun Il of Korea and Ayumi Mine of Japan in Men's and Women's Singles respectively. 2017 US Open, scheduled to take place from 19-23 July, in Anaheim, California, has a prize money of $ 120,000.
Indians in the fray at the US Open
With the ace shuttlers Saina Nehwal and PV Sindhu missing from the tournament, Women's Singles will see the participation of Rituparna Das, Ruthvika Shivani, Sri Krishna Priya, and Sai Uttejita Rao, and Reshma Karthik. Men's Singles will include the likes of Parupalli Kashyap, HS Prannoy, and Sameer Verma. Doubles event has three pairs in mixed category, two each in Women's and Men's doubles events.
Parupalli Kashyap beats top seed Hyun Lee at US Open
Parupalli Kashyap stunned the top seed and defending champion Lee Hyun Il, in the first round of US Open Grand Prix Gold. Kashyap put up a gritty performance to beat the Korean 21-16, 10-21, 21-19. In the other results involving Indian shuttlers, HS Prannoy advanced into the second round beating Luka Wraber, and Sameer Verma scored a win over Hoang Nam Nguyen.
US Open Badminton: Sameer sets up quarterfinal clash with Kashyap
After winning their respective fourth round men's singles matches, Indian shuttlers Sameer Verma and Parupalli Kashyap will meet in an all-India quarterfinals match at the US Open Grand Prix Gold badminton tournament. HS Prannoy also won his match and will face Japan's Kanta Tsuneyama in the quarterfinals. In men's doubles, Manu Attri and B. Sumeeth Reddy will meet Hiroki Okamura and Masayuki Onodera.
US Open Badminton: Indian shuttlers dominate men's events
Indian shuttlers Parupalli Kashyap and HS Prannoy reached the semi-finals of men's singles in the US Open Grand Prix Gold badminton tournament. Kashyap defeated Indian counterpart Sameer Verma 21-13, 21-16, while Prannoy went past Kanta Tsuneyama 10-21, 21-15, 21-18. Manu Attri and B. Sumeeth Reddy won against Japanese pair 21-18, 22-20 and secured their place in the last four.