Michel Platini resigns from UEFA presidency
Michel Platini resigns from UEFA presidency
Written by
Kartikeya Jain
May 09, 2016, 05:20 pm
4 min read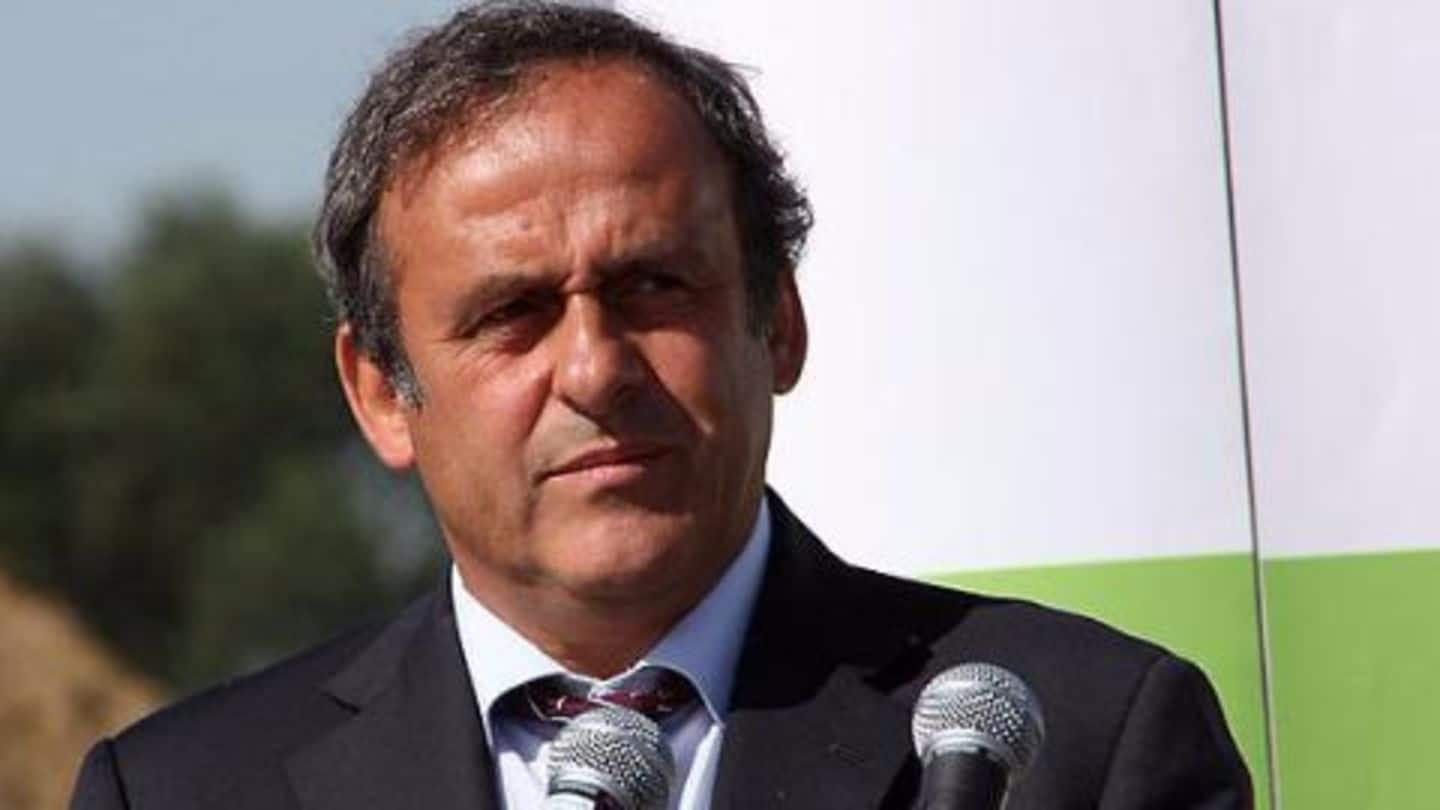 Michel Platini resigned as UEFA president after failing to overturn a six-year ban against him from football activities. A decision by the Court of Arbitration for sport reduced the ban from six years to four and fine from 80,000 Swiss francs to 60,000 Swiss francs. With the ban still in place, Platini's position at UEFA was left untenable, having being suspended from the sport.
Swiss media claimed that Sepp Blatter had given off the 2010 and 2014 World Cup television rights to discredited former FIFA vice-president Jack Warner at surprisingly low prices. SRF, the Swiss television channel affirmed that Blatter had sold off the screening rights for $600,000 ($250,000 for 2010 and $350,000 for 2014). This was merely 5% of their genuine market value.
Blatter, Platini suspended for 90 days
FIFA president Sepp Blatter and vice president Michel Platini were suspended by the FIFA ethics committee for 90 days. It was a huge blow to Platini who was hoping to succeed Blatter as the next FIFA president. The Union of European Football Associations Chairman Greg Dyke said that they would withdraw support from Platini in case the allegations were proved true.
How did Platini get involved?
According to allegations, Sepp Blatter had made a payment of £1.3m to Platini in 2011 against the interests of FIFA.
Blatter and Platini to remain suspended
FIFA rejected Sepp Blatter and Michel Platini's appeal that challenged the 90-day suspensions imposed on them. The decision had forbidden Blatter from setting foot in the organization's headquarters. It also forbade him from conducting business related to the sport while an internal review of the transaction continued. Blatter's lawyer Richard Cullen said that decision was one-sided and lacked supporting evidence.
Organised conspiracy to bring me down: Blatter
Sepp Blatter said in an interview that the corruption controversy was an organised conspiracy of the UEFA-president Platini, the European Union and the media for bringing him down. He also remarked that Platini was envious of him as he wanted to be the FIFA president. He said that he was a victim of an artificial crisis which had nothing to do with criminal activity.
Blatter and Platini reject ban claims
Suspended FIFA-president Sepp Blatter's spokesman, Klaus Stöhlker said that the ethics committee did not have the authority to ban him. He said that Blatter was elected by FIFA congress and only they had the right to remove him from power. Michel Platini's lawyer said that the recommended ban was a scandal. He said that it was designed to destroy Platini's bid for FIFA's presidency.
FIFA opens proceedings against Blatter and Platini
FIFA's ethics committee opened formal proceedings against suspended FIFA President Sepp Blatter and Vice President Michel Platini. The ethics committee has recommended bans of more than six years for Blatter and Platini from football over an alleged disloyal payment. A statement from the committee said that the proceedings would not made public due to reasons linked to privacy rights.
Blatter and Platini get an 8 year ban
Suspended FIFA President Sepp Blatter and UEFA head Michel Platini were both handed an eight-year ban by the Ethics Committee for 'abusive execution' of their positions. Blatter and Platini have been slapped with respective fines of £33,700 ($40,000) and £54,000 ($80,000). Both men have denied any wrongdoing and will appeal at the Court of Arbitration for Sport in Lausanne.
Blatter and Platini's ban reduced to six years
Sepp Blatter and Michel Platini have had their bans from football reduced from eight to six years by the FIFA Appeal Committee. The bans were reduced after the Appeal Committee considered the duo's "activities and services rendered to Fifa, Uefa and football". Both of them have denied any wrongdoing and most likely will appeal to the Court of Arbitration for Sport (CAS).
Platini appeals against the ban, moves to CAS
On 2 March 2016, Michel Platini launched an appeal against his ban from football, to the Court of Arbitration for Sport. Platini's suspension ruled him out of the race to replace Blatter as the head of FIFA, a pursuit which was won by Gianni Infantino.