Will quit tennis if I am banned: Ilie Nastase
Will quit tennis if I am banned: Ilie Nastase
Apr 29, 2017, 11:12 am
3 min read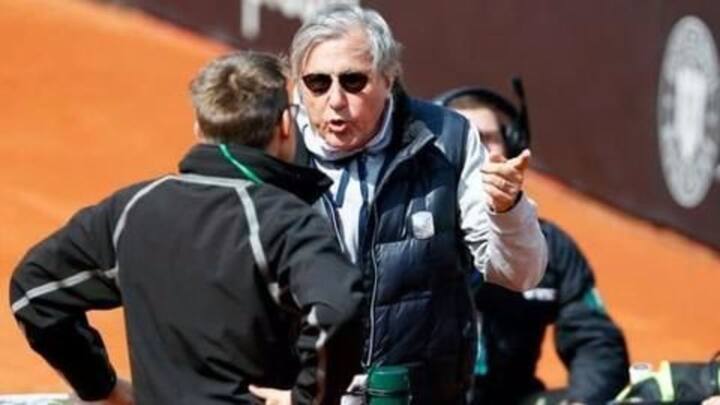 Ilie Nastase said he will quit tennis if he is banned over his racist comments on Serena Williams's unborn child. He added only the English, and not Romanians, consider "chocolate with milk" racist: "For me it's not racial." Nastase also defended abusing British team captain Anne Keothavong and player Johanna Konta "as a member of the crowd"; he was no longer captain, he justified.
Ilie Nastase is a retired Romanian tennis professional and a former world number one player who won two Grand Slams in the 1970s. Until recently he was the national Fed Cup team captain.
Ilie Nastase who was Romania's Fed Cup captain, while attending the draw ceremony ahead of his team's tie against Great Britain, was heard saying about Serena Williams's unborn child with a white father, "Let's see what colour it has. Chocolate with milk?" Earlier in the week Serena announced that she and her fiance Alexis Ohanian, Reddit co-founder are expecting their first child.
Nastase's brush with controversies
This was not the first time Nastase went looking for trouble. Nastase who was aptly nicknamed "nasty" during his prime, made unsubstantial doping allegations against Serena Williams based on her physique. During recent Romania v Britain Fed Cup match, he swore at the chair umpire and abused British team captain Anne Keothavong and player Johanna Konta, calling them "bitches", leaving the latter in tears.
Inappropriate behaviour towards British Fed Cup captain
Nastase sleazy behaviour was also evident when he made the British Fed Cup captain Anne Keothavong uncomfortable with inappropriate remarks which included asking for her room number on more than one occasion.
Serena Williams hits back at Ilie Nastase for 'racist' comments
Responding to former tennis player Ilie Nastase's recent remarks about about her unborn baby, Serena Williams said, "It disappoints me to know we live in a society where people like Ilie Nastase can make such racist comments". She added, "I have said it once and I'll say it again, this world has come so far but yet we have so much further to go."
Suspended by ITF yet refuses to apologize
Ilie Nastase was handed a provisional suspension by the ITF for his foul-mouthed rant during Fed Cup match and yet refused to apologize saying, "I don't regret it and they can send me to prison if they want..I don't care."
Serena backs ITF investigation
Serena said that she would give her full support to the ITF (International Tennis Federation), which has launched an investigation into Nastase's conduct. The 35-year-old world no 1 player said, "This or anything else will not stop me from pouring love, light and positivity into everything that I do. I will continue to take a lead and stand up for what's right."
"Still I rise", quotes Serena in her statement
Directed towards Nastase, Serene quoted passage from Maya Angelou's poem, "I am not afraid like you. Does my sassiness upset you? You may shoot me with your words..you may try to kill me with your hatefulness, but still like the air, I rise."