India defeat England at Wankhede to win the series 3-0
India defeat England at Wankhede to win the series 3-0
Written by
Rishikesh Malkhede
Edited by
Sripriya Yegneswaran
Dec 12, 2016, 10:10 am
4 min read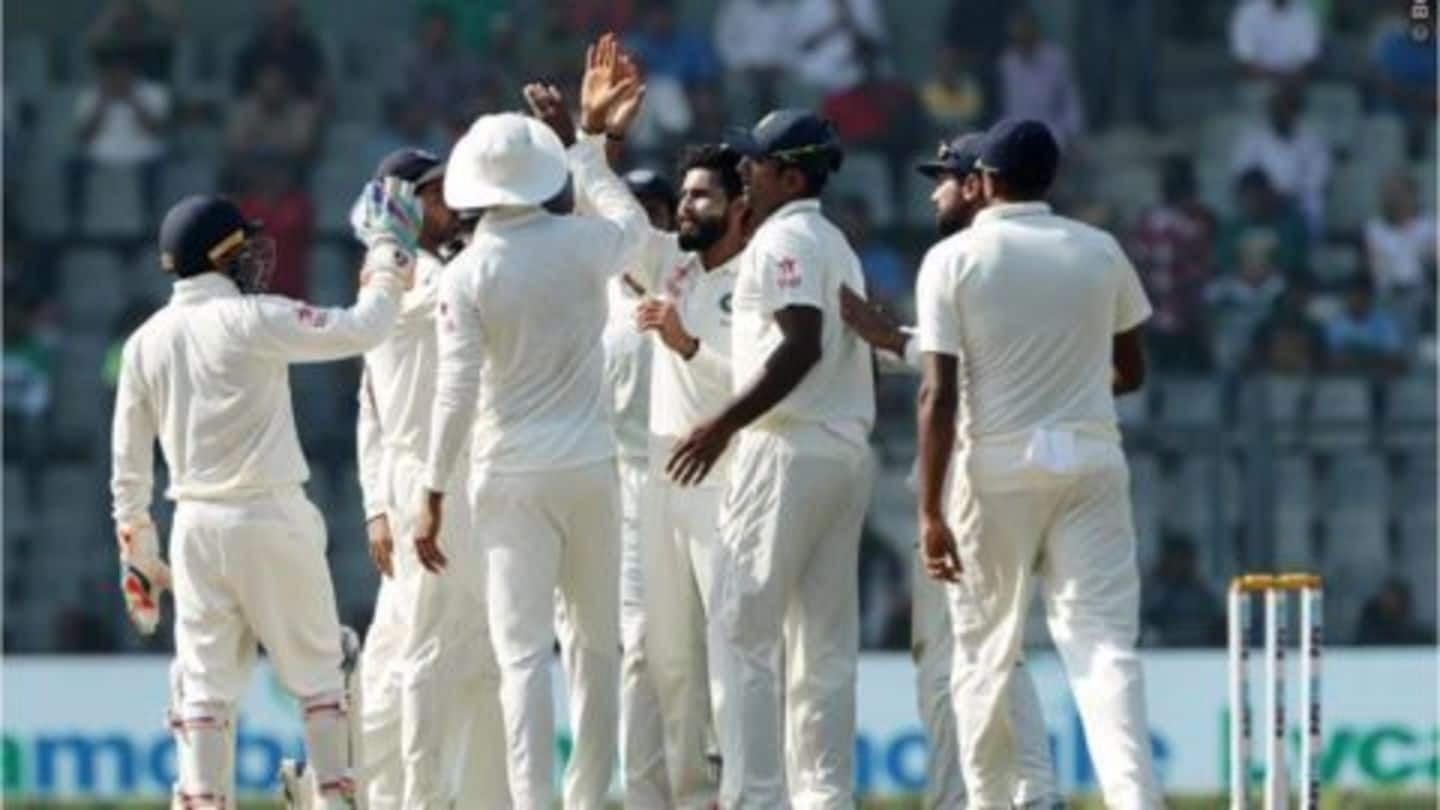 Ravichandran Ashwin grabbed 24th five-wicket haul as India beat England in fourth test to win the five match series 3-0. Ashwin finished the match with 12 wickets. The number one team in the world, India, won the match by an innings and 36 runs. This is India's 135th test match win. The fifth test will start on 16th December in Chennai.
India take on England in fourth test at Mumbai
India would play against England in the fourth test match at the Wankhede Stadium in Mumbai from 8 December 2016. The hosts would get into the match having won two of the five test matches and would eye a series win whereas, England would aim for a comeback. England had prevailed over India in the previous two matches at Wankhede Stadium.
Kohli slams England's 'Christsmas break'
A day before the third test, Virat Kohli took a dig at the 25-day Christmas break the England team is taking. He said, "Make sure when we go there, we also have eight days' gap after three tests and 25-day gap between ODIs and tests."
Jennings dominate India on day 1
Debutant Keaton Jennings hit an impressive century on day one of the third test between India and England. Moeen Ali scored a fifty and put 288 runs on board losing five wickets at the end of the day. The final session belonged to Ravichandran Ashwin who took four wickets. England had won the toss and chose to bat first.
India make good start on day two after England's 400
Ravichandran Ashwin bowled another magical spell and restricted the England team to 400 runs on second day of third test at Wankhede Stadium in Mumbai. Jos Buttler scored 76 runs for the visitors. In reply, India made a good start, scoring 146 runs for one wicket. Murali Vijay is batting on 70, while Cheteshwar Pujara is at 47 runs.
Ashwin's 23rd five-wicket haul
Ravichandran Ashwin achieved another feat as he picked up his 23rd five-wicket haul in test cricket. He is placed third in the number of five-wicket hauls in an innings by an Indian bowler. He has equalled record of Imran Khan, Dennis Lillee and Kapil Dev.
Murali Vijay scores 100 on day 2 of India-England match
The 100 run partnership between Kohli and Vijay helped India reach 247/2 in the first session of the day. Murali Vijay scored his eighth test hundred and second of this series to help India continue its domination over England. Earlier today, India lost Cheteshwar Pujara on the second ball of the day but Vijay and Kohli helped India cruise through the first session.
Virat's ton stabilize India at Wankhede Stadium
Indian captain Virat Kohli scored his 15th test ton in the fourth test against England at Wankhede Stadium. Kohli has now scored more than 500 runs in a series for the second time. He had earlier scored 692 runs against Australia in 2014-15. With eight test hundreds as a captain, Kohli is on the third place behind Mohammad Azharuddin (9) and Sunil Gavaskar(11).
India finish day four with a 51 run lead
Murali Vijay and Virat Kohli's centuries helped India put on a decent score on day three of the fourth test against England. While Vijay scored 136 runs, Kohli is playing at 147. With a lead of 51 runs, India have lost seven wickets in reply to England's 400. Moeen Ali, Adil Rashid and Joe Root each picked up two wickets.
Kohli and Jayant put India in a commanding position
Jayant Yadav scored his maiden century in the fourth test against England today. He is the first Indian to score a century at number 9. Earlier today, Kohli scored third double-century of his career. He is the only batsmen to score three double centuries in three successive test series. With the help of Kohli and Jayant, India scored 631, their highest ever against England.