India lifts U-18 Hockey Asia Cup
India lifts U-18 Hockey Asia Cup
Written by
Rishikesh Malkhede
Sep 30, 2016, 05:14 pm
3 min read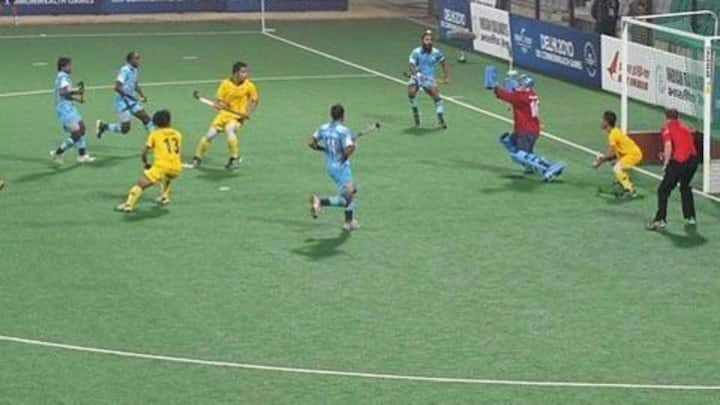 India defeated Bangladesh 5-4 to lift the U-18 Hockey Asia Cup in Dhaka. The game was tied 4-4 till the end, but a goal in the last 20 seconds helped India clinch the victory. India's Vice-Captain Hardik Singh was named the 'player of the match.' With Junior World Cup coming in December 2016, this win will be a boost for the Junior team.
4th 'Boys Under-18 Asia' Cup
Under-18 Asia Cup is a hockey tournament which takes place every five years. The 4th edition of the tournament would take place in Dhaka, Bangladesh from 24-30 September 2016. A total of seven teams will fight to win the championship. The teams have been divided in two groups of three and four. Korea and Malaysia were respectively the winners and runners-up in 2011.
India and Pakistan likely to win!
With the absence of Korea and Malaysia in the 4th Under-18 Asia Cup, India and Pakistan are considered to be the favorites to win the tournament.
India lost to host team Bangladesh
In the opening match for pool A, Bangladesh beat India 5-4. The host team was in the dominating mode right from the start of the match. India gave away too many penalty corners to Bangladesh giving them more chance to score a goal. Bangladesh's Ashraful Islam scored the maximum goals for the team, including the 5th decisive goal, snatching away the win from India.
We need to perform better in next game: Indian Coach
Indian coach BJ Kariappa said, "We conceded too many penalty corners today, and did not attack their drag flickers hard enough. We look to improve upon this and perform better in our next game against Oman".
India defeats Oman 11-0 in U-18 Asia Cup hockey
India thrashed Oman in their second match in the under 18 Asia Cup hockey. Three Indian players - Ibungo Singh Konjengbam, Dilpreet Singh and Nilam Sanjeep Xess scored hat-tricks as India won 11-0. Dilpreet Singh was named the player of the match. The win boosted India's chances to make it to the knock-out stage of the tournament.
India beats Pakistan to reach finals in U-18 Asia Cup
India beats arch rivals Pakistan 3-1 in the second semi-final match in the under-18 Asia Cup hockey. Indian boys started on a positive note scoring the first goal quite early. They increased their lead by half time and then scored the third goal in second half. The final will be played on Friday, 30 September, between India and host team Bangladesh.
PR Sreejesh congratulates team
Goalkeeper and current captain of India's senior hockey team took to Twitter to congratulate the junior team on the win. Sreejesh tweeted 'Congratulation @TheHockeyIndia for winning the U-18 Asia cup #proud #hockey #brothers #deshkagame #deshkeliye'