Davis Cup: India defeat Uzbekistan 4-1
Davis Cup: India defeat Uzbekistan 4-1
Apr 09, 2017, 06:56 pm
2 min read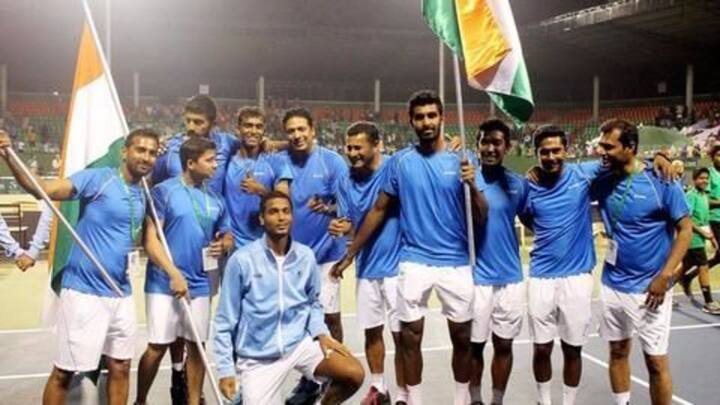 After qualifying for the World Group playoffs yesterday, India defeated Uzbekistan 4-1 in the Davis Cup Asia/Oceania Zone Group 1 round two tie at Bengaluru. In reverse singles, Ramkumar Ramanathan had an easy 6-3, 6-2 win over Sanjar Fayziev. However, in the dead singles rubber Prajnesh Gunneswaran lost 7-5, 6-3 to Temur Ismailov to end the tie 4-1 in favor of India.
India-Uzbekistan to play Davis Cup round two in Bengaluru
Bengaluru's Karnataka State Lawn Tennis Association will be host to Asia Oceania group I Davis Cup tie between India and Uzbekistan from 7-9 April. Indian team's non-playing captain Mahesh Bhupathi will make his debut at Bengaluru, succeeding Anand Amritraj. The winner of the tie will advance to the World Group play-offs to be played in September later this year.
Paes out, Gunneswaran to make debut
Newly appointed captain Mahesh Bhupathi have kept veteran player Leander Paes out of the team, bringing in 257th ranked Prajnesh Gunneswaran. Gunneswaran and Ramkumar Ramanathan will play singles' matches on the first and the third day. For the doubles rubber, Rohan Bopanna will pair up with Sriram Balaji to face Farrukh Dustov and Sanjar Fayziev on day two.
India win both singles matches on day one
Ramkumar Ramanathan and Prajnesh Gunneswaran started India's campaign on a winning note as they won both their respective singles matches. Ramanathan defeated Temur Isamilov 6-2, 5-7, 6-2, 7-5 in the first singles rubber, while Pranjesh overcame Sanjar Fayzieb 7-5, 3-6, 6-3, 6-4. With these wins, India has taken a 2-0 lead in the tie. The reverse singles will be played on 9 April.
Paes' advice helped a lot: Ramanathan
After winning his singles rubber, Ramkumar Ramanathan said, "Before the match I spoke to Leander and he told me to play for the country and Davis Cup is a great adventure, so give your best." He added that he got the similar advice from Bopanna.
Davis Cup: India qualify for the World group playoffs
Rohan Bopanna, along with Sriram Balaji defeated Uzbekistan's Farrukh Dustov and Sanjar Fayziev in doubles rubber to extend India's lead in the ongoing Davis Cup match at Bengaluru. The Indian pair won the match 6-2, 6-4, 6-1 to take India into the World Group playoffs. After three matches, India lead 3-0 over Uzbekistan. The reverse singles matches will be played tomorrow.