Maria Sharapova to make her comeback at Stuttgart Grand Prix
Maria Sharapova to make her comeback at Stuttgart Grand Prix
Written by
Gaurav Jeyaraman
Edited by
Vaneet Randhawa
Jan 11, 2017, 12:52 pm
5 min read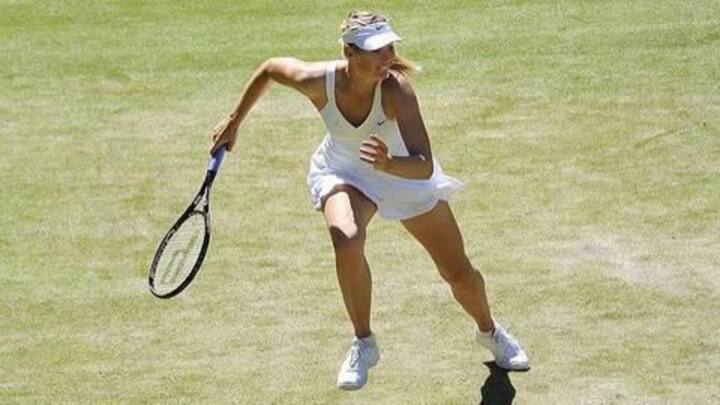 Former world number one tennis player Maria Sharapova is all set to return to competitive action at the Stuttgart Grand Prix in April after facing a 15-month doping ban. The Russian was banned after she tested positive for meldonium at the 2016 Australian Open. She will also compete at the 2017 French Open which begins on 22 May.
Meldonium also known as mildronate is a drug used to treat ischaemia - a lack of blood flow to parts of the body. The substance increases blood circulation and the World Anti-Doping Agency (WADA) recently discovered that it has performance-enhancing capabilities. It is classed as an S4 substance under the WADA code and was put under its banned substances list on 1 January, 2016.
Sharapova tests positive for banned substance
Russian tennis superstar Maria Sharapova has revealed that she failed a drugs test conducted by the World Anti-Doping Agency during the 2016 Australian Open. Sharapova, 28, tested positive for meldonium, a substance that was prescribed to her by doctors since 2006 for health issues. The five-time Grand Slam champion will be suspended from 12 March pending further investigation.
What was Sharapova's defence?
Sharapova's lawyer stated that she had "abnormal electrocardiogram readings" and "some diabetes indicators", which prompted her family doctor to recommend medication, including meldonium. Sharapova said she received an email on 22 December from WADA about changes to the banned list, but failed to check the updated list of substances. She added that she hoped she could be given another chance to clear her name.
Strip Sharapova's titles if found guilty - Capriati
Three-time Grand Slam singles champion Jennifer Capriati, whose career was ended by an injury said she was "extremely angry and disappointed" and "never opted to cheat no matter what," adding that "if it's all true every title should be stripped."
Williams supports Sharapova, Nike drops her
World number one Serena Williams said Maria Sharapova showed "a lot of courage" for accepting responsibility for her failed drug test. Williams added that she was happy that Sharapova was "upfront and very honest," about the issue. Meanwhile, Nike, TAG Heuer and Porsche have suspended their relationships with Maria Sharapova until investigations into her failed drug test are concluded.
UNDP drops Sharapova as their Goodwill Ambassador
United Nations Development Program has decided to drop Maria Sharapova as their Goodwill Ambassador pending the tennis star's doping case. The UNDP said that it remained grateful to Sharapova for all her work "especially around the Chernobyl nuclear disaster recovery." Sharapova had been associated with the New York-based agency since 2007 and worked as their ambassador to combat poverty and inequality.
WADA: Scientific evidence inconclusive on meldonium
The World Anti-Doping Agency has admitted that there was a lack of scientific evidence about how long the drug meldonium stays in an athlete's system. Preliminary tests showed that it could take weeks or months for the drug to leave the body. WADA said that in such cases, athletes "could not reasonably have known or suspected" that the drug was still in their system.
Sharapova's sponsor calls for amnesty for meldonium atheletes
The chairman of Maria Sharapova's racket sponsor has called for an amnesty to be given to athletes who took meldonium for proven medical reasons. He made the statements in light of Wada's admission on the inconclusive nature of the meldonium tests. He alleged that WADA's decision to ban meldonium was "based solely upon the alleged prevalence of use among eastern European and Russian athletes."
2 year suspension for Maria Sharapova
Maria Sharapova was barred for 2 years from tennis for testing positive for meldonium at the Australian Open. The International Tennis Federation had temporarily suspended Sharapova in early March. The verdict declared that though Sharapova did not mean to cheat, but carried "sole responsibility'' for the positive test. The tennis star can appeal the ban in Court of Arbitration for Sport .
Maria Sharapova appeals against the 2 year ban
Maria Sharapova filed an appeal in the Court of Arbitration for Sport (Cas) against the 2-year ban from tennis for using a prohibited drug. The Cas will rule on Sharapova's case by 18 July. Sharapova's counsel said the ban was 'harsh' and had been meted to her because she was a famous athlete and the International Tennis Federation wanted to make her an example.
Maria Sharapova to return to tennis next year
Russian tennis star Maria Sharapova is set to return to tennis next year after the Lausanne based Court of Arbitration for Sports reduced the ban to 15 months. She was earlier handed a ban of two years by the International Tennis Federation after she was tested positive for meldonium during 2016 Australia Open. Sharapova is now eligible to play in the 2017 French Open.
I can't wait to see all my great fans: Sharapova
Happy to make a comeback, Sharapova said, "I could not be happier to have my first match back on tour at one of my favourite tournaments. I can't wait to see all my great fans and to be back doing what I love."