Spain leads 2-0 on day one at Davis Cup play-offs
Spain leads 2-0 on day one at Davis Cup play-offs
Written by
Rishikesh Malkhede
Sep 17, 2016, 10:36 am
3 min read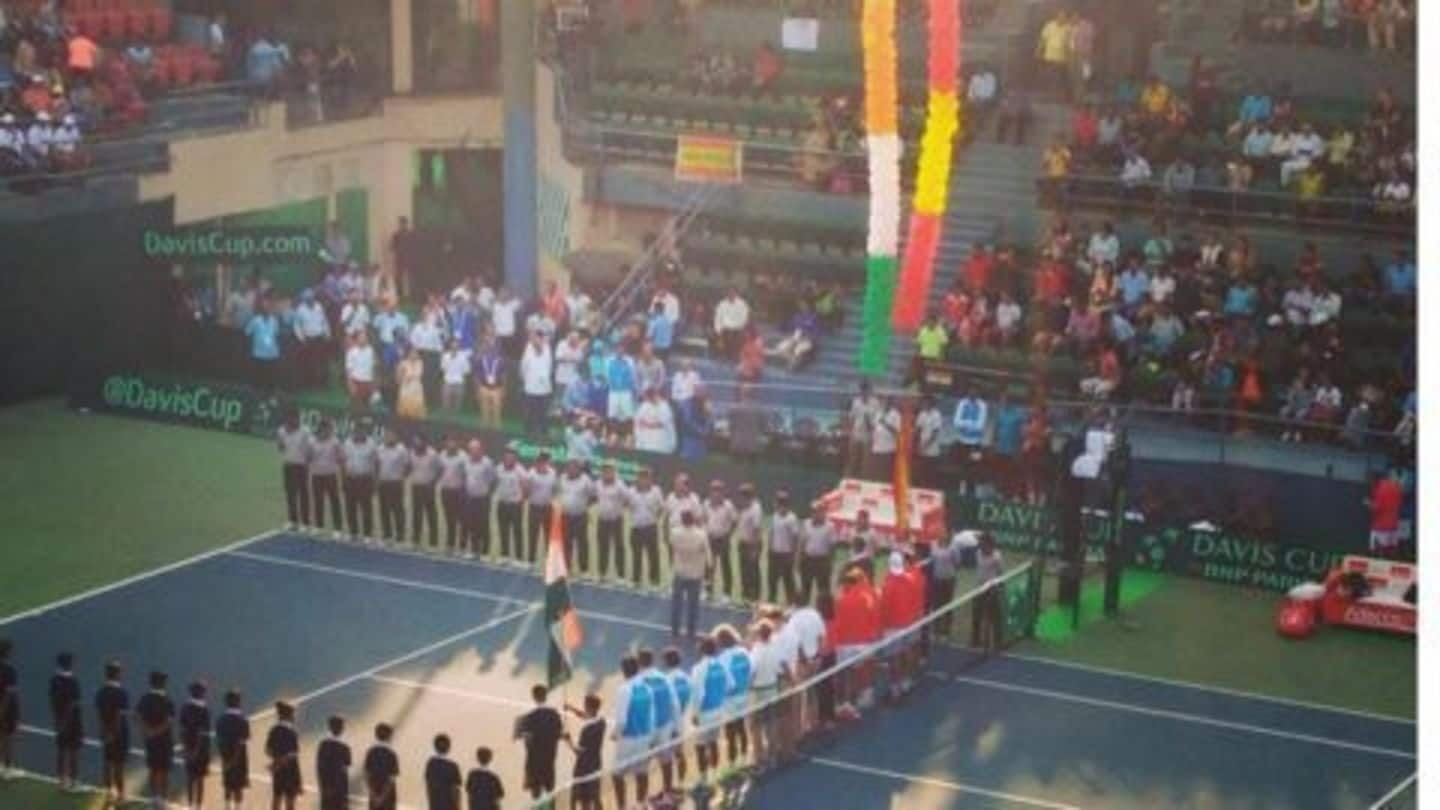 Feliciano Lopez and David Ferrer won their individual singles matches against India to give Spain a 2-0 lead. Lopez beat Ramkumar Ramanathan 6-4, 6-4, 3-6, 6-1 in the opening match. Saketh Myneni took on David Ferrer in the second match. However, Ferrer beat Saketh in straight sets 6-1, 6-2, 6-1 in one hour and 27 minutes.
Described as the "World Cup of Tennis", Davis Cup is an international team event for men, in which countries compete against each other in a knock-out format. Davis Cup was first played in 1900 between USA and Britain. As of 2016, a total of 135 countries participate in the tournament. An elimination round between two nations consists of four singles and one doubles match.
Most number of Davis Cup wins
United States of America have dominated the tournament winning it 32 times. They were runners-up for 29 times. Australia has won the title 28 times, while Great Britain has won it 10 times.
India to host Spain in the Davis Cup play offs
India will host Spain in the World Group play-offs for the 2016 Davis Cup. The matches will take place on hard courts of Delhi lawn Tennis Association between 16-18 September 2016. India is ranked 20th while Spain is ranked 14th in the International Tennis Federations rankings. India has earlier defeated Korea in the Asia Zone to advance in the World play-offs.
India face Spain after 51 years
Spain has won two of the three ties played against India. It was in 1965 that the two teams last faced each other, where Spain emerged as the winner. While Spain is a 5-time Davis Cup Champion, India has never won the Davis Cup.
Rafel Nadal selected in Spain team
14-time Grand Slam winner Rafael Nadal has been selected for Spain's Davis Cup team against India. Along with him, world number 13 David Ferrer has also been named in the team. Feliciano Lopez and Marc Lopez will play the doubles match for Spain. For India, Leander Paes will lead the attack along with Saketh Myneni, Ramkumar Ramanathan and Sumit Nagal.
It's Ramanathan vs Nadal in India-Spain Davis Cup opener
Ramkumar Ramanathan will face world number four Rafael Nadal in the Davis Cup World group play-off on day one. The second tie will be played between Saketh Myneni and David Ferrer. Leander Paes and Saketh will face Feliciano Lopez and Marc Lopez in the doubles match on day two. Saketh will face Nadal while Ramanathan will face Ferrer on day three.
Nadal leaves fans disappointed
Rafael Nadal, who was supposed to play singles match against Ramanathan pulled out one and a half hours before the match citing health problems, leaving the crowd disappointed. However, when Nadal came on the court for inauguration ceremony, he got a huge round of claps.