Virat Kohli to be honoured with Polly Umrigar Award
Virat Kohli to be honoured with Polly Umrigar Award
Edited by
Sripriya Yegneswaran
Mar 01, 2017, 09:39 pm
4 min read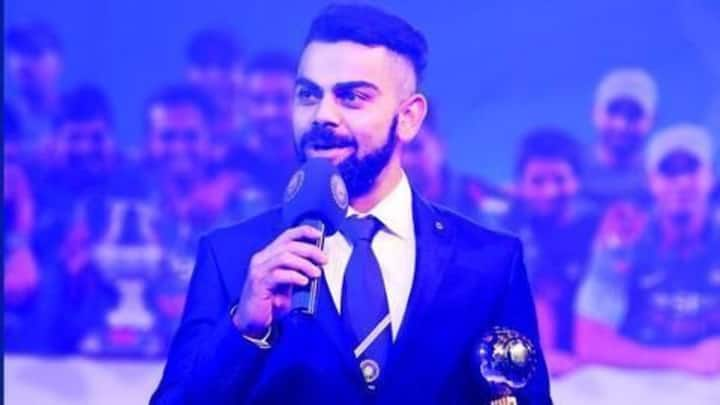 Captain Virat Kohli is set to receive the prestigious Polly Umrigar Award, at the BCCI Annual Awards, to be held in Bengaluru on 8 March. This award is given to 'International Cricketer of the Year' by the Indian cricket board. Kohli becomes the first Indian cricketer to be bestowed with the honour thrice. He previously won it for 2011-12, and 2014-15.
Kohli's international cricket debut
Virat Kohli was born in Delhi, on 5 November 1988. He is a middle-order batsman who sometimes plays as an opener. Kohli became prominent as the captain of India's U-19 cricket team, who led them to 2008 World Cup victory. The same year, he made his international cricket debut in an ODI tour against Sri Lanka, at the age of 19.
Kohli played Ranji match despite father's death
In December 2006, Kohli continued playing the Ranji match against Karnataka, for his Delhi side despite his father's death. His innings which proved crucial for the match displayed his commitment to the team.
Maiden international century
In 2009, Virat Kohli was selected in the 'Emerging Players Tournament' involving four teams. Kohli was the lead scorer (398 runs) and he helped Indian side win the tournament with a century in the final against South Africa. His first international came later in the year on 24 December against Sri Lanka, at Kolkata's Eden Gardens. Kohli scored 107 of 111, and India won.
Having played all the 2011 World Cup matches, Kohli also managed to score a century against Bangladesh, in his WC debut. This was a first for any Indian cricketer. Kohli made his international test debut in July 2011 against West Indies. His first Test century came later that year during a series against Australia, in Adelaide. India lost the series 4-0.
First taste of ODI captaincy
Kohli's efforts were recognized and he was made the vice-captain of Indian team for 2012 Asia Cup. During Asia Cup, he became the highest run-scorer with 183 runs against Pakistan. This stands as a record for the second highest individual score in ODIs while chasing, alongside Dhoni. He first captained the Indian team for 2013 WI Triangular Series, replacing an injured Dhoni.
Kohli becomes Test Captain
In Dec 2014, for an away Test series against Australia, Kohli was made the captain for the first match. After Dhoni announced retirement from the Test cricket after the 3rd of the series, Virat Kohli was made the full-time test captain of India.
Skipper Kohli scores maiden double century against WI
In the ongoing Test series, Virat Kohli created history by scoring a maiden double century against Windies. Kohli, now the first Indian to score an overseas double century in test, was met with applause by Sir Viv Richards from the stands. Previous record for highest score by Indian captain in an away match was held by Azharuddin who scored 192 against New Zealand (1989-90).
Kohli is the fastest cricketer in the world to reach 25 centuries in ODIs. Kolhi is also fastest one to reach '7000 ODI runs'. During the 2016 IPL, he scored a record-breaking 973 runs, highest by anyone in the tournament.
Kohli completes 1000 test runs in 2016
Continuing his excellent form in 2016, Indian test skipper Virat Kohli became the only Indian to score 1000 runs in this calendar year. Only 3 batsmen Bairstow, Root and Cook are ahead of Kohli in terms of runs scored in 2016. Coincidentally, all the three batsmen are from England. He also completed 4000 test runs today and became the sixth-fastest Indian to this feat.
Another record by Kohli, hits 3 double-centuries in a year
Virat Kohli scored third double-century of his career in the fourth test against England today. Coincidentally, all his double-centuries have happened in 2016 and as a captain of the team. He is the only Indian batsman to hit 3 double centuries in a year. Earlier today, Kohli and Jayant Yadav broke the record for eighth-wicket stand for India with their unbroken 194 run partnership.
Virat Kohli to be named captain of ODI, T20 teams
With Mahendra Singh Dhoni stepping down as the captain of India's limited overs teams, Virat Kohli is all set to be named as the new captain. The national selection committee led by MSK Prasad is meeting today to name the Indian team for upcoming series against England. The formal announcement of Kohli's captaincy is also likely to happen today.
Kohli's 4th double-ton in 7 months
Virat Kohli, who recently broke the record for most Test runs in a home season set by Virender Sehwag, has scored his 4th double-ton in 7 months. The double-ton against Bangladesh equates Kohli to Don Bradman and Rahul Dravid's record of three double-tons in one season. This is also Virat Kohli's fourth double-ton in four consecutive test series.