Champions League semi-final draw
Champions League semi-final draw
Apr 16, 2016, 03:07 pm
4 min read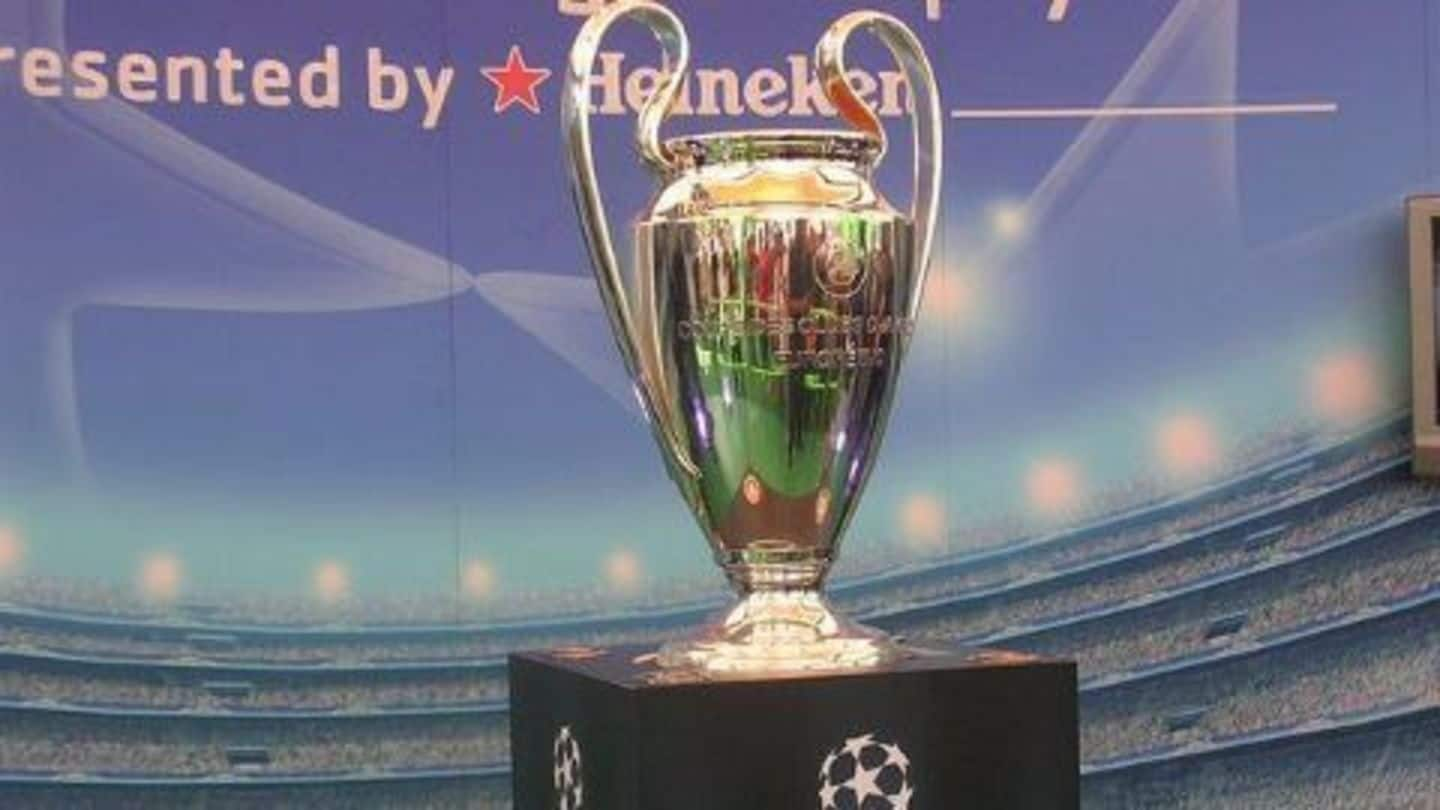 The season's Champion's League semi-final draw pits Manchester City against ten-time champions Real Madrid. Five-time winners Bayern Munich will take on Atletico Madrid. City, the semi-final debutants will play Real Madrid at the Etihad on April 26 and again at the Bernabeau on May 4. Atletico will entertain Bayern at Calderon on April 27 before playing them at the Allianz Arena on May 3.
What is UEFA Champions League?
The UEFA Champions League is an annual continental club football competition organised by the Union of European Football Associations (UEFA). In 1992, Champions League replaced the European Champion Clubs' Cup, which was competed since 1955. The tournament pits 32 of the most successful clubs in Europe, as determined by their standings, in their domestic leagues in the previous season.
Most successful club of Champions League
Real Madrid is the most successful club in the UEFA Champions league's history, having won the tournament ten times, including its first five seasons. The latest of the wins was in the 2013-14 season.
The tournament operates under a group and knockout-round format, beginning with 32 clubs seeded into eight four-team groups. Group stage matches are played home and away in double round-robin system with three points for win, one point for draw and none for loss. The eight group winners and eight runners-up proceed to the knockout phases (QF,SF) that culminates with the final match in May.
The 2015–16 UEFA Champions League is the 61st season of Europe's premier club football tournament organised by UEFA. The 2016 UEFA Champions League Final will be played at the San Siro in Milan, Italy. The winners of the current season will play against the winners of 2015-16 UEFA Europa League in the 2016 UEFA Super Cup. Barcelona are the defending champions of the tournament.
Winners of Group Stage 2015-26
The 2015–16 UEFA Champions League group stage began on 15 September and ended on 9 December 2015. 16 teams qualified from the Group Stage. These include winners of eight groups (A-H): Real Madrid, Wolfsburg, Atletico Madrid, Manchester City, Barcelona, Bayern Munich, Chelsea and Zenit St. Petersburg. Runner-ups of the eight groups: Paris St. Germain, PSV Eindhoven, Benfica, Juventus, Roma, Arsenal, Dynamo Kyiv and Gent.
Currently Cristiano Ronaldo is the highest goal-scorer of all time in the UEFA Champions League with 88 goals to his name. 11 of these goals have been scored in the ongoing season's group stage.
UCL Round of 16 draw announced
The Champions League Round of 16 draw concluded at the UEFA headquarters in Switzerland. The knockout phase-matches will begin on 16 Feb 2016 and conclude on 28 May 2016. The draw is as follows: Gent vs. Wolfsburg; Roma vs. Real Madrid; Paris St-Germain vs Chelsea; Arsenal vs. Barcelona; Juventus vs. Bayern Munich; PSV vs. Atletico Madrid; Benfica vs. St-Petersburg; Dynamo Kyiv vs. Manchester City.
R16 : PSG, Real Madrid secure wins
In the first-leg of Champions League Round of 16 matches, PSG, Real Madrid, Benfica and Wolfsburg secured wins. In the two home victories, PSG won 2-1 against Chelsea and Benifica defeated Zenit 1-0. The 10-time champion Real Madrid notched up a 2-0 away victory against AS Roma. On the same day in another away victory, Wolfsburg defeated Champions League newcomer Gent 3-2.
Bayern draw away as Barca beat Arsenal
Juventus came back from two goals down to draw 2-2 against Bayern Munich in the first leg of their Champions League Round of 16 match, at Turin. While Mueller and Robben scored for Bayern, Dybala and Sturaro reduced Juve's deficit. In the other match, Messi scored twice for Barcelona to win 2-0 against Arsenal, in an away match at the Emirates Stadium.
Two of the big quarter-final results saw Spanish giants Barcelona being knocked out by Atletico madrid while PSG was beaten by Mancheter City. The other teams to move to the final-four include Real Madrid and Bayern Munich who beat Wolfsburg and Benfica respectively.