Bolt returns his 2008 Olympic medal
Bolt returns his 2008 Olympic medal
Written by
Rishikesh Malkhede
Edited by
Gaurav Jeyaraman
Jan 28, 2017, 12:18 pm
4 min read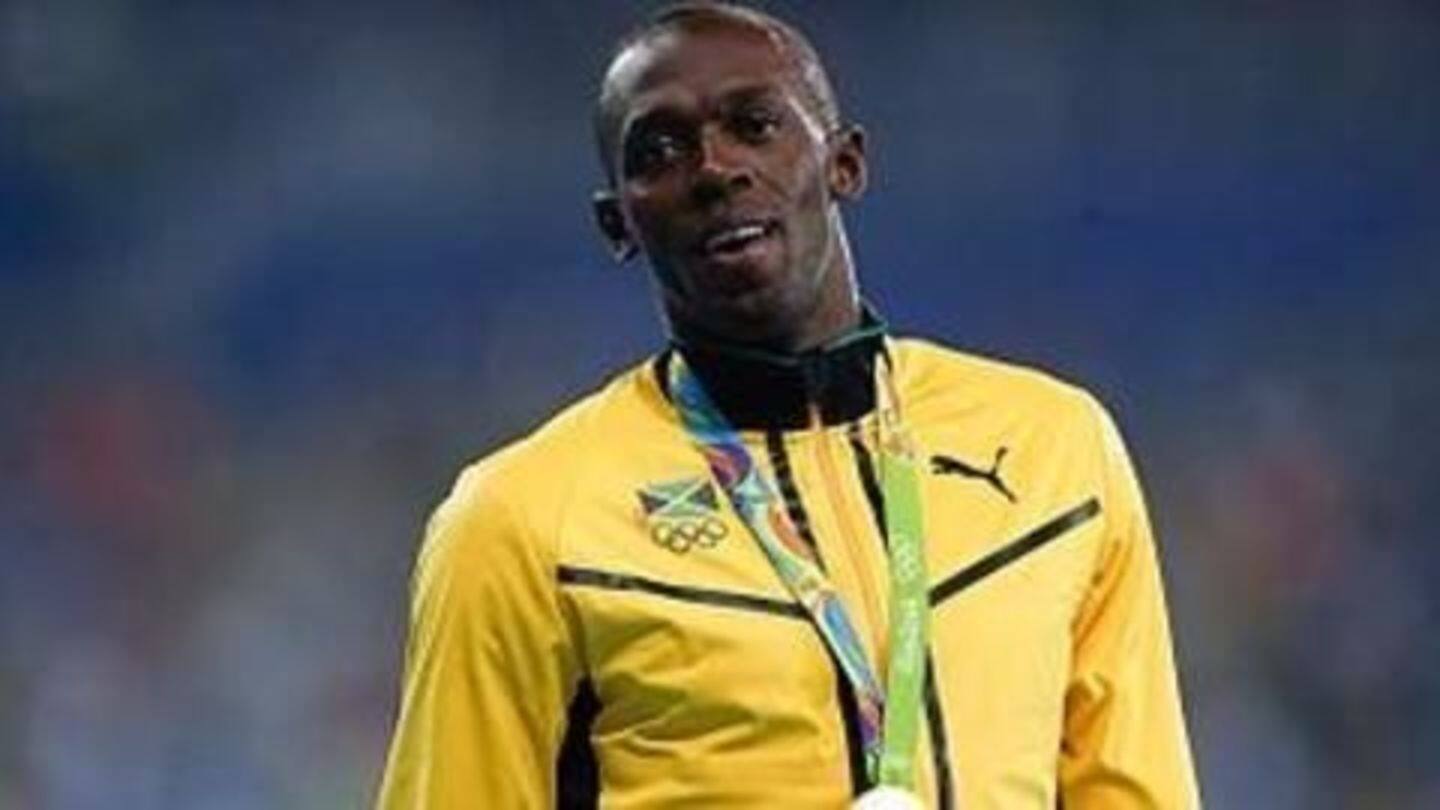 Usain Bolt has confirmed that he has returned his gold medal, which he had won at the 2008 Beijing Olympics in the 4x100m relay race. After returning the medal, he said, "It's rough that I have to give back one of my medals and I already gave it back because it was of course required by the International Olympic Committee."
Bolt broke three world records at the 2008 Olympics in Beijing when he won gold for 100m, 200m and the 4x100 races. At the 2012 London Olympics, he defended his three titles and set a new world record for the 4x100. Olympics history was made at Rio when he won gold for 100m: the first athlete to win three successive titles in the event.
Bolt's parents were runners themselves and he was outpacing them by age 10. He was noticed early on at school as a 'standout cricketer and sprinter'. Soon after, he began to focus on sprinting under Pablo McNeil's tutelage, a former Olympics sprint athlete. At age 15, he became the youngest world-junior gold medalist by winning the 200m dash at the World Junior Championships.
In 1896, Thomas Burke won the first gold medal in 100m race at the Athens Olympics; he finished in 12 seconds. At Rio Olympics in 2016, Usain Bolt won the gold, finishing in 9.81 seconds. Burke's time puts him "more than 60 feet behind Bolt"!
Scientists find it hard to explain
Bolt is considered a genetic freak as given his 6'5" inch height, technically it should be hard for him to accelerate fast. Dr Sam Allen from Loughborough University admits not being able to pinpoint 'anatomical or biomechanical factors' for Bolt's speed. He believes Bolt take big strides; stride length is essentially the key to win short races and Bolt is not hindered by height.
It's not just in the genes!
Bolt finishes running 100m in about 41 steps, which is at least three less than his competitors. According to a former British athlete, stride length is the most crucial determinant for a sprinter. Studies by American researchers indicate that a sprinter of Bolt's calibre would spend only 0.08 seconds in contact with the ground and 60% of the time without any ground contact.
Where are other athletes when Bolt finishes the race?
Usain Bolt is more than a metre ahead than the second fastest man Tyson Gay when Bolt completes the race. India's Amiya Kumar Mallick is a good 6.63 meters behind Bolt. Mallick's time of 10.26 seconds would have won him a gold 60 years back.
Bolt claims his 8th Olympic gold
Jamaica's Usain Bolt won the men's 200m race securing his second Rio'16 gold medal and eighth overall. Bolt's 19.78 second finishing time was enough to beat Canada's Andre de Grasse and France's Christophe Lemaitre. Bolt, who won gold at the 100m as well, said he seeks to win the 4x100m relay too, so he can match his clean sweeps at London and Beijing.
Bolt makes history with unprecedented 'triple triple'
Usain Bolt secured the gold medal in the 4x100m relay, making history by securing a clean sweep off all sprinting events for the third successive time. This has secured him his 9th gold medal, bringing him level with Finland's Paavo Nurmi and America's Carl Lewis, as the most successful track athletes of all time. Bolt said, "There you go. I am the greatest."
Usian Bolt wins 'Athlete of the Year' award
Jamaican sprinter won IAAF's male 'Athlete of the Year' award for the sixth time in his career. He had previously won the title in 2008, 2009, 2011, 2012 and 2013. Bolt, who is set to retire next year after the World Championships said that winning the award is a big deal and means as much as it did for the first time.
Usain Bolt stripped of one Olympic gold medal
Nine-time Olympic gold medalist Usain Bolt will have to return his 2008 Beijing Olympics medal that he won in the men's 4x100m relay race after his team-mate Nesta Carter was tested positive for a banned substance. Carter's sample was retested by the International Olympic Committee last year. He has been found guilty of consuming banned stimulant methylhexaneamine.
I have accomplished a lot: Bolt
Bolt also added, "I think I've still accomplished a lot. This hasn't changed what I have done throughout my career. I have worked hard and pushed and done things that no one has done before."