Karjakin wins the Candidates' tournament
Karjakin wins the Candidates' tournament
Mar 30, 2016, 02:36 pm
4 min read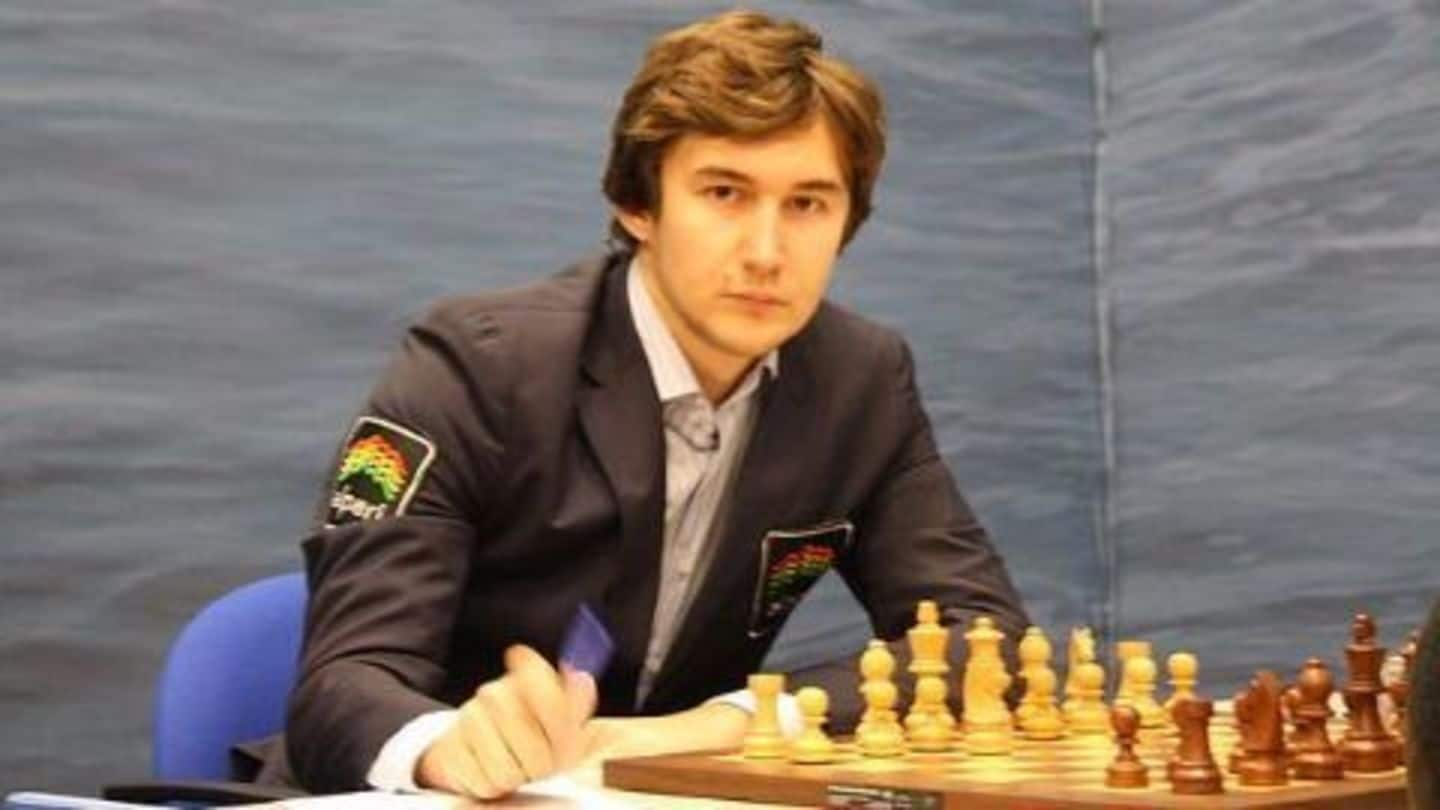 Beating Fabiano Caruana in a thrilling last-round game, Russia's Segey Karjakin won the FIDE Candidates Tournament in Moscow, earning the right to take on reigning world champ Magnus Carlsen. Karjakin scored 8.5 to finish first, a full point ahead of Caruana and former world champion Viswanathan Anand on 7.5 points. After Anand had drawn his game with Peter Svidler, Karjakin only needed a draw.
What is the Candidates Tournament all about?
World Chess Candidates is a tournament that determines the challenger for the World Chess Championship. The winner of the Candidates earns the right to a match for the World Championship against the incumbent World Champion. In early history, it was contested as a triennial tournament, but after the split of the World Championship in early 1990s, it is held on a variable time basis.
Candidates' tournament 2016
The 2016 FIDE World Chess Candidates Tournament was scheduled to take place in Moscow from March 10-30. Eight of the world's top grandmasters are to play in the tournament that will be contested as a double round-robin over 14 games. The winner will play a match for the title against reigning World Champion Magnus Carlsen in November in the US.
The total minimum prize fund of the Candidates Tournament amounts to 420,000 euros. All prize money will be divided equally where players have the same score in the tournament (after 14 rounds).
Who are this year's participants?
The eight participants include: Veselin Topalov (Bulgaria) and Anish Giri (Netherlands), who qualified based on ratings; Viswanathan Anand (India), the runner-up of last World championship match. Hikaru Nakamura and Fabiano Caruana (both USA), the top two finishers in last Grand Prix; Sergey Karjakin and Peter Svidler (both Russia), winner and runner-up of last World Cup respectively and Levon Aronian (Armenia), a wild card choice.
Vishy, India's very own Grand Master
Vishwanathan Anand is an Indian Chess Grandmaster and a five-time World Chess Champion. Anand was the first recipient of Rajiv Gandhi Khel Ratna Award in 1991–92, India's highest sporting honour. In 2007, he was awarded India's second highest civilian award, the Padma Vibhushan, making him the first sports-person to receive it. Anand is currently (as of March 2016) ranked World No.12 in FIDE rankings.
Anand's World Championship in three different formats
Vishwanathan Anand is the first player in chess history to have won the World Championship in three different formats: knockout, tournament, and match.
Vishy Anand beats Topalov in Candidates' Chess Opener
Indian chess maestro Vishwanathan Anand had a great start at the Candidates' Chess with a win over Veselin Topalov of Bulgaria in the first round. With other three games of Round 1 ending in draws, Anand emerged as the sole winner on day one of biggest event of the year. With a bad last year, Anand is the least favorite to win the tournament.
Anand loses to Nakamura, slips from joint lead
Viswanathan Anand lost to Hikaru Nakamura of United States in the 12th round of Candidates Chess tournament. Nakamura, who has been Anand's nemesis for some time, got the better of Anand. For the first 11 games, Nakamura had just scored a single victory, seven draws and three losses. With this loss, Anand fell 1/2 a point behind the leaders, with a score of 6.5.
Out of the 12 games (double round-robin) Anand played so far, he lost three to Karjakin, Caruana and Nakamura; won four over Karjakin, Aronian, Svidler, and Topalov; and drew five with Caruana, Aronian, Anish Giri, Nakamura and Topalov.
Current standings at Candidates Chess 2016
As it stands, after 12 rounds of tournament, Fabiano Caruana and Sergey Karjakin hold the joint lead with a score of 7. They are followed by Anand, Levon Aronian (6), Anish Giri (6), Peter Svidler (6), Hikaru Nakamura (5.5), and Veselin Topalov (4) in that order. Given the close contest and high number of draws, the result will most likely go to the wire.
Karjakin, youngest player to become Grand Master
Sergey Karjakin, the 26-year old Russian is a child prodigy and holds the record for the youngest player ever to earn the grandmaster title at 12 years, seven months.