First formal corruption charges against Brazilian President Michel Temer
First formal corruption charges against Brazilian President Michel Temer
Jun 27, 2017, 04:51 pm
3 min read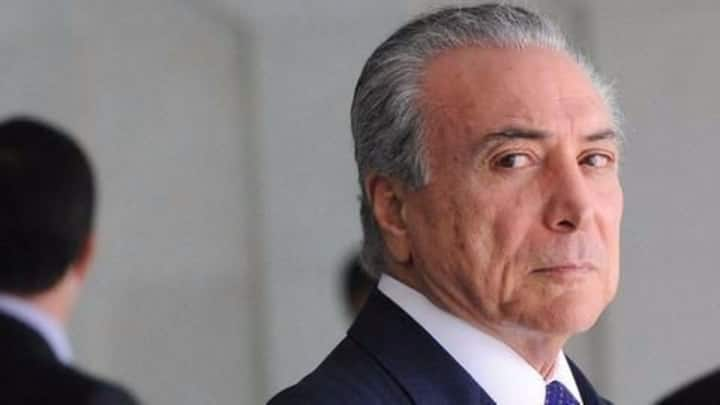 The Brazilian chief prosecutor has charged President Michel Temer with accepting bribes. The charges have been sent to the Supreme Court, which will now decide if it can be sent to the lower house of parliament. It will then vote on whether Temer should be tried. The accusations emerged a year back, but these are the first formal charges. Temer has denied any wrongdoing.
Brazil Senate impeachment vote ousts President Rousseff from office
In September 2016, the Brazilian Senate voted to impeach President Dilma Rousseff from office over alleged manipulation of the budget. The Senate's vote put an end to the 13-year-rule of Rousseff's left-wing Workers' Party. She was removed from her presidency by a 61-20 vote. Vice-President Michel Temer took over as the new President for the remainder of Rousseff's term till 1 January 2019.
Brazil corruption scandal- President Michel allegedly took bribes worth millions
Brazil's Supreme Court has released plea-bargaining testimony accusing President Michel Temer of receiving millions of dollars in bribes since 2010. The testimony came from the executives of JBS, the world's largest meat-packing firm. The accusations raise serious doubts about whether Temer can continue with his crisis-hit presidency, amid widespread calls for his resignation. Temer has rejected the accusations and vowed to prove his innocence.
Temer allegedly received over $2.5mn from JBS
JBS Chairman Joesley Batista said in his plea-bargaining testimony that Temer was paid over $2.5 million for election campaigning. Another JBS director said Temer's allies received $4.6 million in 2014 under the guise of official election campaign donations. Temer also faces prior accusations that he allowed the payment of bribes to silence a witness in a massive corruption scam.
Supreme Court releases damaging audiotape of Temer discussing bribes
The Supreme Court on May 18 released an audio tape of Temer speaking with JBS Chairman Joesley Batista. In the recording, Temer appears to condone the payment of hush money to Eduardo Cunha, Brazil's former lower house speaker who orchestrated Rousseff's impeachment and was convicted on corruption charges. Temer said the recording is authentic but has denied any wrongdoing.
Temer now directly embroiled in Operation Car Wash investigation
The revelations represent Temer's direct embroilment in a massive corruption investigation called Operation Car Wash. The investigation was launched in 2014 to look into companies which allegedly bribed officials to secure contracts with the state-owned oil major Petrobras. The scandal has rocked Brazilian politics leading to convictions of over 90 politicians and businessman. A third of Temer's cabinet is under investigation.
Brazilian opposition demands Temer's impeachment
The Supreme Court said an immediate investigation into Temer is needed because possible criminal practices "are underway or about to occur." On May 18, Temer said he won't resign from the presidency. The conservative Temer has managed to retain power through a coalition but remains hugely unpopular in Brazil. Opposition parties have demanded his impeachment and snap elections.
Brazilian court dismisses case that could oust President Temer
A case threatening to oust Brazilian President Michel Temer has been dismissed by the country's top electoral court. Temer was facing allegations of taking illegal campaign funding while he was impeached President Dilma Roussef's running mate during the 2014 election. The ruling comes as a relief for Temer who is also being investigated by federal prosecutors for corruption, obstruction of justice and racketeering.