Southern California wildfires extend to Bel-Air, damage to multimillion-dollar properties
Southern California wildfires extend to Bel-Air, damage to multimillion-dollar properties
Written by
Anupama Vijayakumar
Dec 07, 2017, 06:44 pm
2 min read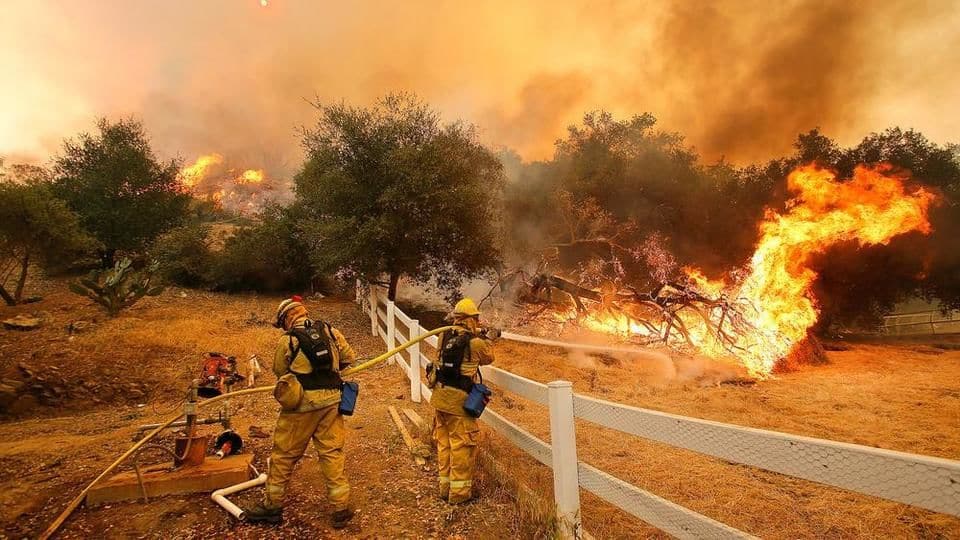 After ravaging property worth millions of dollars, the Southern California wildfire has extended to Los Angeles' exclusive Bel-Air section. Five fires have brought highways, schools and media channels' operations to a halt. For the first time, the California Department of Forestry and Fire Protection issued a purple forecast, the most severe. 2,00,000 people are under evacuation even as firefighters progressed slowly against the blaze.
Wildfires spreading fast in southern California, thousands evacuate
On 6th December, it was reported that thousands in southern California's Ventura County were forced to evacuate due to rapidly spreading wildfires. According to CNN, the fires were spreading even faster due to "howling Santa Ana winds." California has witnessed at least five major wildfires in recent months amid dry weather and sparse rainfall. Let's see what's happening on the ground.
An unbelievably massive fire
According to reports, a large fire named the "Thomas fire" has been burning at nearly an acre/second. For instance, at this speed, the fire could burn through Manhattan's Central Park in 14 minutes! "I've never seen a fire burn down so many structures so fast in my (30-year) career," said Richard Macklin, a Ventura County fire-engineer. A firefighter has described the conditions as "unbelievable."
The Ventura County Sheriff's deputies reportedly knocked on residents' doors on Monday night urging them to evacuate. "Fires are breaking out across the region... Be fire safe. Firefighters are working very hard to minimize damage to property. Evacuations are taking place in many places in Southern California," tweeted the Ventura Fire Department. Governor Jerry Brown has declared a state of emergency in California.
The Ventura County fires as seen in satellite imagery
Damage to famous properties
The fire damaged a wine storage at the 16-acre Moraga Vineyards estate owned by media mogul Rupert Murdoch. HBO and CBS had to suspend production of "Westworld" and "S.W.A.T." in view of the danger to cast and crew. Two fires ravaged near the location. Meanwhile, the reputed Getty Center art complex was shut down to protect its collection worth millions from the blazing smoke.