President Trump didn't remember my husband's name: Dead soldier's widow
President Trump didn't remember my husband's name: Dead soldier's widow
Oct 23, 2017, 09:49 pm
3 min read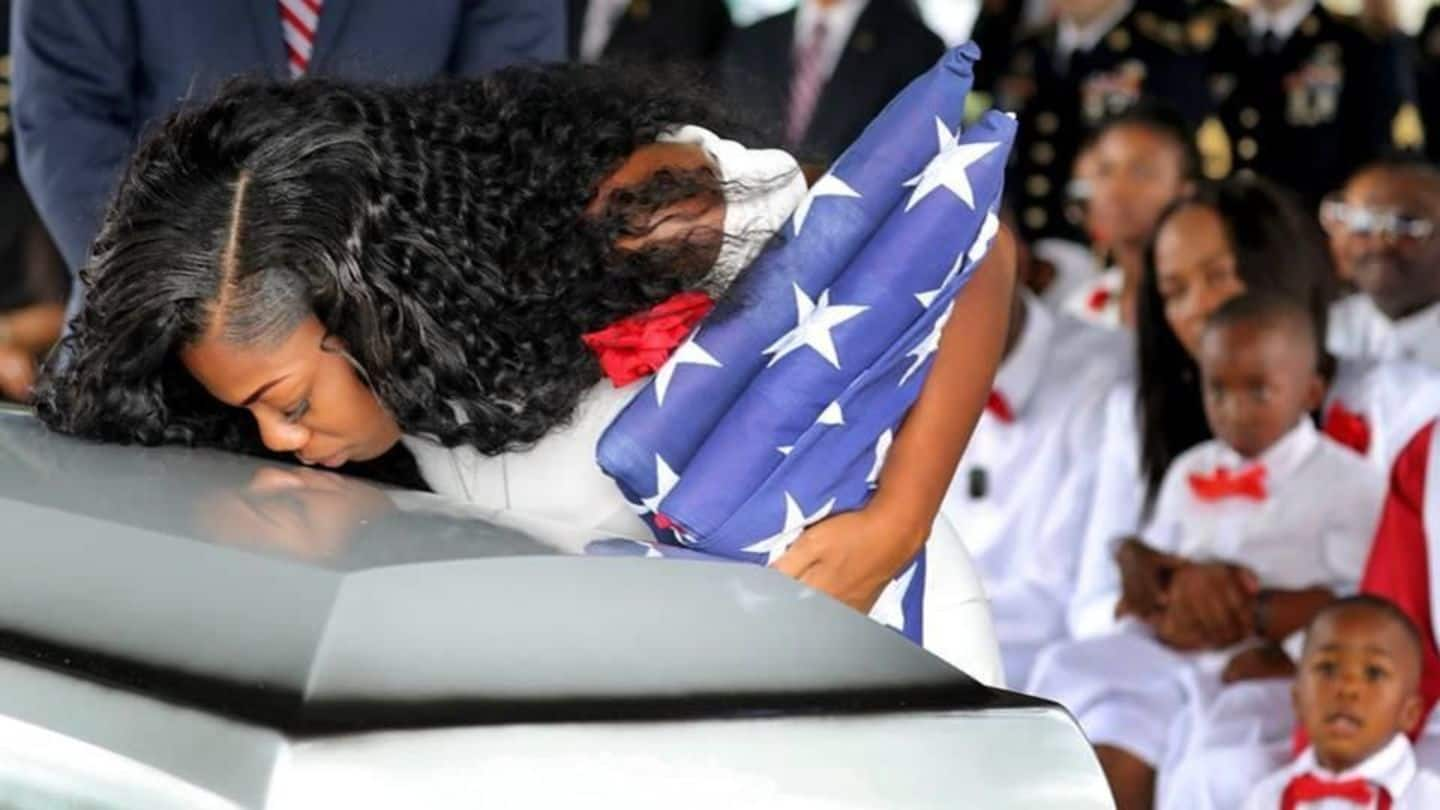 Myeshia Johnson, the pregnant widow of the fallen US soldier Sgt La David Johnson, lashed out at President Donald Trump as he couldn't remember her husband's name during the condolence phone-call. She was hurt by Trump's "stumbling" for the name of her husband, who risked his life for the country. Sgt Johnson was among the four personnel recently killed by Islamist militants in Niger.
Trump rejects allegations he was 'insensitive' to soldier's widow
President Donald Trump has rejected Democratic Congresswoman Frederica Wilson's claim that he made a fallen soldier's wife cry as "totally fabricated." Wilson claims Trump told Myeshia Johnson that her husband "knew what he was signing up for, but I guess it hurts anyway." Myeshia is the widow of Sgt La David Johnson, one of four special-forces personnel killed by Islamist militants in Niger recently.
Trump had tweeted: "Democrat Congresswoman totally fabricated what I said to the wife of a soldier who died in action (and I have proof). Sad!"
Wilson says she heard Trump make "insensitive" remarks
Wilson, who hails from Florida, said Trump called Myeishia shortly before her husband's coffin arrived in Miami. She said she heard Trump's "insensitive" words to the widow on speakerphone in a limousine. She said Myeishia then started crying. Wilson said, "everyone knows when you go to war, you could possibly not come back alive. But you don't remind a grieving widow of that."
Wilson says Trump has "brain disorder"
Wilson said Trump has a "brain disorder" and "does not possess the character, empathy or grace to be president of the United States." She said she wanted to grab the phone and "curse" out Trump but Myeishia wouldn't let her speak to the president.
Trump criticized for not contacting slain soldiers family immediately
Trump had faced criticism for not immediately contacting the families of the four slain military personnel. On October 16, the president said he had written to their relatives and planned on calling them soon. On October 17, he falsely suggested that his predecessors, including Barack Obama, didn't call the loved ones of fallen soldiers. Trump's comments led to widespread criticism.
White House's John Kelly defends Trump in 'insensitive comments' case
White House chief of staff General John Kelly has now risen to President Donald Trump's defense, accusing "selfish" congresswoman Frederica Wilson of being "an empty barrel". Wilson's allegations of Trump making insensitive comments to a war widow had "stunned" him and broken his heart, he said. He added former president Barack Obama hadn't called him when his son died in Afghanistan in 2010.
Why can't you remember his name, asks Myeshia Johnson
Angry and upset over Trump's condolence phone call
Myeshia said: "President said that he (Sgt Johnson) knew what he signed up for, but it hurts anyways. It made me cry because I was very angry at the tone of his voice." She appeared to confirm Democratic Congresswoman Frederica Wilson's claims.