Egypt's Hosni Mubarak freed from detention after six years
Egypt's Hosni Mubarak freed from detention after six years
Written by
Gaurav Jeyaraman
Mar 24, 2017, 06:20 pm
4 min read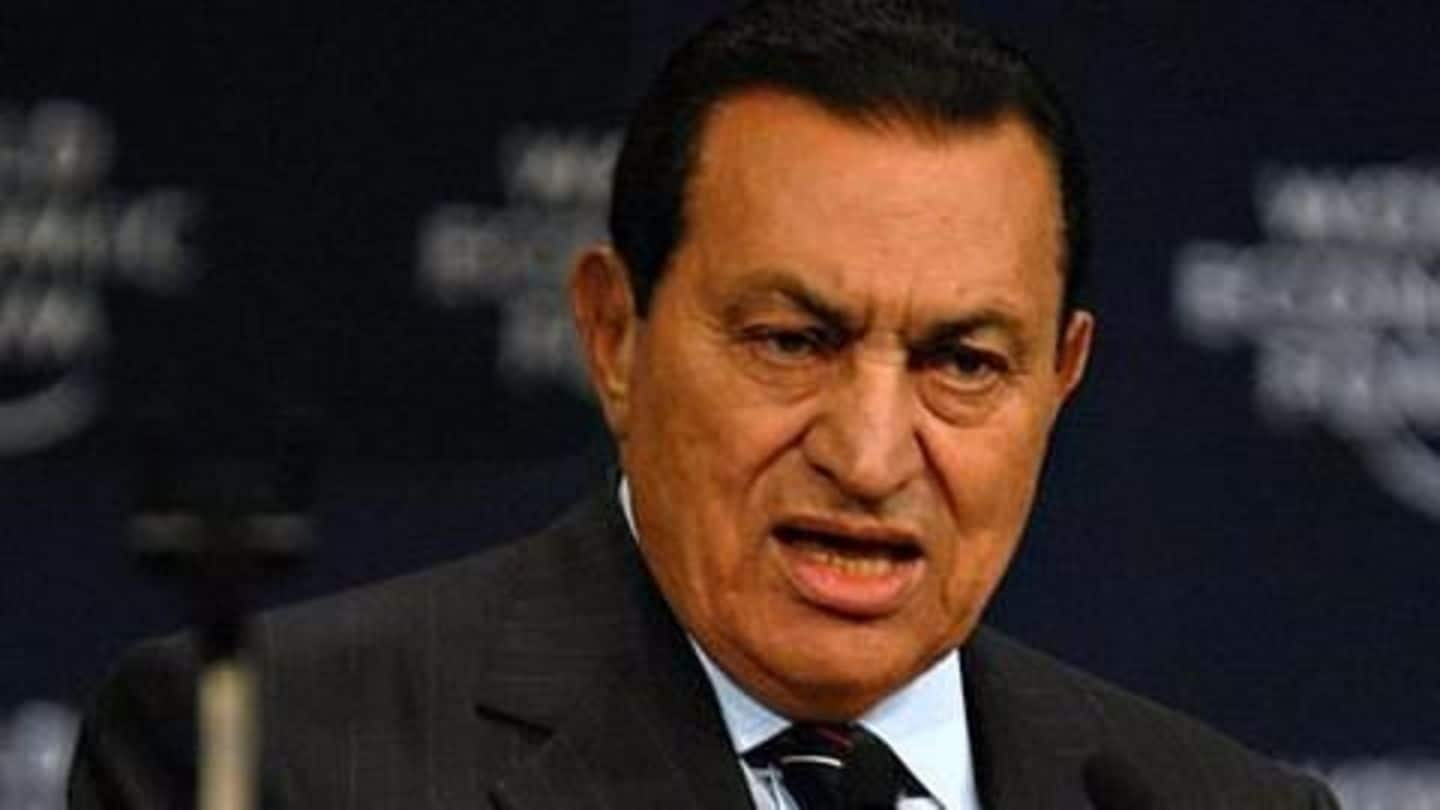 Former Egyptian President Hosni Mubarak has been released from prison after a top Egyptian court cleared him in the deaths of over 800 protesters in clashes with security forces in 2011. Since 2013, he had been at Maadi Military Hospital, after being transferred on bail from Torah prison. Mubarak went to his home in Heliopolis, his lawyer said.
Egypt: Early political history
Egypt was ruled by Britain from 1882, until it gained independence in 1922. In 1928, the Muslim Brotherhood, a significant force in Egyptian politics, was founded by Hassan al-Banna. Egypt suffered heavy casualties in the 1948 Arab-Israeli war, leading to a coup in 1952 bringing Muhammad Najib to power. In 1956, he was overthrown by the Prime Minister and fellow coup leader Abdel Nasser.
Nationalisation, welfare and Arab unity
Nasser's objectives were to re-orient Egypt away from the west and his first major move was the nationalization of the Suez Canal in 1956, which led to the Suez crisis. This led to an attempted invasion by the French, British and Israelis but was ultimately thwarted by diplomatic intervention by the US. This improved Nasser's image among the people in Egypt.
Nasser also pushed for Arab unity, setting up the United Arab Republic unitary state along with Syria (1958-61). He embarked upon an ambitious economic modernization program that improved economic conditions in the 1950s. However, these policies began failing in the 1960s and his government began losing popularity. He died on 28 September 1970 after hosting an emergency summit of the Arab League in Cairo.
Reorientation toward the West
President Anwar Sadat came to power in 1970, and began the process of reorienting Egypt toward the west. The Suez canal was opened again, and Sadat began an attempt to open up the Egyptian economy. He also forged a peace treaty with Israel in 1979. He was assassinated by Islamist extremists in 1981 amidst anti-government protests and was succeeded by Hosni Mubarak.
In light of continuing protests, Hosni Mubarak imposed a state of emergency and used the Egyptian military to quell protests. Mubarak's government hampered freedoms of association and expression by imposing new regulations and draconian penalties on violations. Parliamentary politics became irrelevant, until 2005 when Mubarak introduced electoral reforms and conducted elections. Mubarak won the elections, and imprisoned his competitor and runner up Ayman Nour.
By 2008, Mubarak began mass arrests of the Muslim Brotherhood members, starting with the top leadership, and arresting over 900 members overall. In 2011, protests against Mubarak's rule intensified under the Arab spring. Mubarak stepped down and handed power to the Army Council in February 2011. He was succeeded by the Muslim Brotherhood's Mohammed Morsi, who managed a marginal victory in parliamentary elections.
The state of emergency imposed after Anwar Sadat's killing was lifted in 2012. Morsi began to attempt to consolidate his power, by immunizing himself and his decisions from judicial purview. This, coupled with influx of Islamist policies led to mass protests across the country. On 3 July 2013, the military removed President Morsi from power in a coup and installed an interim government.
The military continued to rule Egypt until 2014, and jailed and executed several members of the Muslim Brotherhood. In March 2014, Abdel Fattah el-Sisi the head of the Egyptian armed forces that was ruling the country, resigned so he could stand for elections. He won the elections in a landslide victory and was sworn in as President of Egypt in June 2014.
Egypt convenes Parliament after three years
Egypt swore in its first Parliament in almost three years, with a majority of parliamentarians supporting further empowerment of President Fateh al-Sisi. The previous Islamist-dominated legislature was dissolved by a court ruling in 2012. 596 lawmakers took individual oaths to uphold Egypt's Constitution which was ratified in 2014. Ali Abdelaal, a lawyer who helped draft the 2014 constitution has been elected as the speaker.