Suu Kyi makes first international speech as Myanmar leader
Suu Kyi makes first international speech as Myanmar leader
Sep 22, 2016, 04:53 pm
4 min read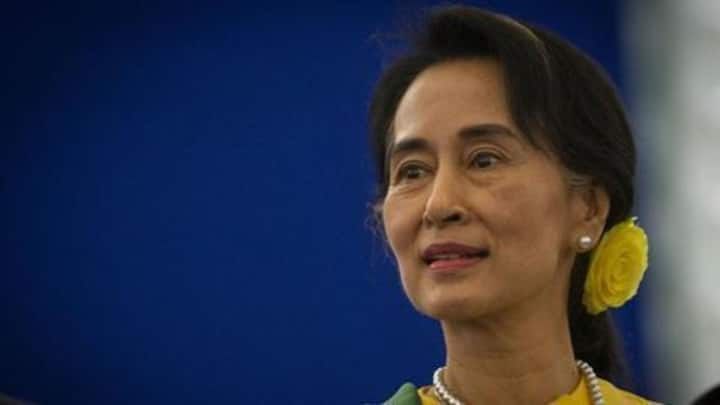 Myanmar's State Counsellor Aung Sang Suu Kyi made her first speech at UN since forming a democratically elected government in Myanmar. Suu Kyi stated that her government was "standing firm against the forces of prejudice and intolerance" and was continuing its struggle against sectarian tensions in the region. She said Myanmar was committed "to peace, stability and development for all communities within the state."
In 1948, Burma became independent with U Nu from Anti-Fascist People's Freedom League (AFPFL) as its Prime Minister. In 1962, U Nu was ousted in a military coup led by Gen Ne Win, who abolished the federal system and inaugurated "the Burmese Way to Socialism." This meant nationalising the economy, forming a single-party state with the Socialist Programme Party as the sole political party.
From 1962 to 2011, the country was ruled by military junta that suppressed dissent and wielded absolute power in the face of international condemnation and sanctions. The 1990 general elections, won by National League for Democracy (NLD), led by Aung San Suu Kyi, was ignored by military. NLD boycotted the 2010 general elections resulting in the military-backed Union Solidarity and Development Party winning it.
Daughter of the independence leader Aung san, Suu Kyi entered politics in 1988 amid pro-democracy protests. Suu Kyi was placed under house arrest in Burma, because of her efforts to bring democracy, for almost 15 of the 21 years from 1989. Her most recent release was in 2010. In 2012 parliamentary by-elections, Suu Kyi along with her party candidates from NLD, swept the polls.
How does the election work?
As per the new constitution in 2008, voters will choose three-quarters of the representatives to the country's two houses of Parliament. The remainder will be appointed by the armed forces. The two houses of Parliament and the military will each nominate one candidate for the presidency. The two houses will hold a joint vote to choose the president. The two runners-up become vice presidents.
Mynamar votes in historic election
Myanmar went to polls in a historic first openly contested election in 25 years. This could determine if the military-backed ruling party will hold on to power, or lose to the opposition led by pro-democracy campaigner Aung San Suu Kyi. Around 30 million voters will cast their vote and pick from among 6,065 candidates for the two houses of national parliament and regional assemblies.
Suu Kyi's NLD wins a landslide victory
Nobel laureate Aung San Suu Kyi's opposition party NLD secured a clear majority in parliament in Myanmar's historic election. The Union Election Commission declared the results where National League for Democracy (NLD) party crossed over the 329 margin of seats which were needed for a clear majority in both the houses of the 664-member parliament. So far, 82.9% votes have been confirmed.
Myanmar's first democratic parliament session in 50 years
MPs have begun a parliamentary session in Myanmar to see in the first democratically elected government in more than 50 years. The first sitting of the NLD-dominated parliament is another step in Myanmar's political transition. The newly elected government will officially begin its term in April after parliament has picked a President. The presidential nomination process is likely to take place later this month.
Myanmar elects first civilian President in 50 years
Myanmar's parliament elected Htin Kyaw as the country's first civilian leader after more than 50 years of military rule. Htin Kyaw, a close ally of Aung San Suu Kyi, said his appointment was "Aung San Suu Kyi's victory". Kyaw won with 360 of the 652 votes cast in the two houses of Parliament. In second place was Myint Swe, who will be the Vice-President.
Myanmar parliament approves govt formation
The Myanmar parliament approved President-elect U Htin Kyaw's plan of forming a new government with reduced ministries. The proposal submitted on 17 March was approved by a vote of 611-3 with 21 abstentions. Kyaw made a public address clarifying his plan to form a government with 21 ministries and 18 ministers, slashed from 36 and 32 respectively in the outgoing government.
Suu Kyi to be Myanmar Foreign Min
Aung San Suu Kyi will be foreign minister in Myanmar's first civilian government for decades, giving her a formal post despite being blocked from the presidency. NLD spokesman Zaw Myint Maung confirmed she would lead the foreign ministry and hinted that she would also hold other roles, without specifying which ones. Sources state that Suu Kyi will still hold considerable influence over the president.
Htin Kyaw sworn in as Myanmar President
Htin Kyaw was sworn in as Myanmar's president, ushering in the first democratically elected government into office after decades of military rule. Kyaw took the oath of office in a joint session of Myanmar's newly elected parliament with his two vice presidents at his side. Kyaw will be remembered by history as Myanmar's first civilian president to be elected in free and fair polls.