Duterte warns rebels after scrapping ceasefire
Duterte warns rebels after scrapping ceasefire
Edited by
Gaurav Jeyaraman
Feb 06, 2017, 01:13 pm
5 min read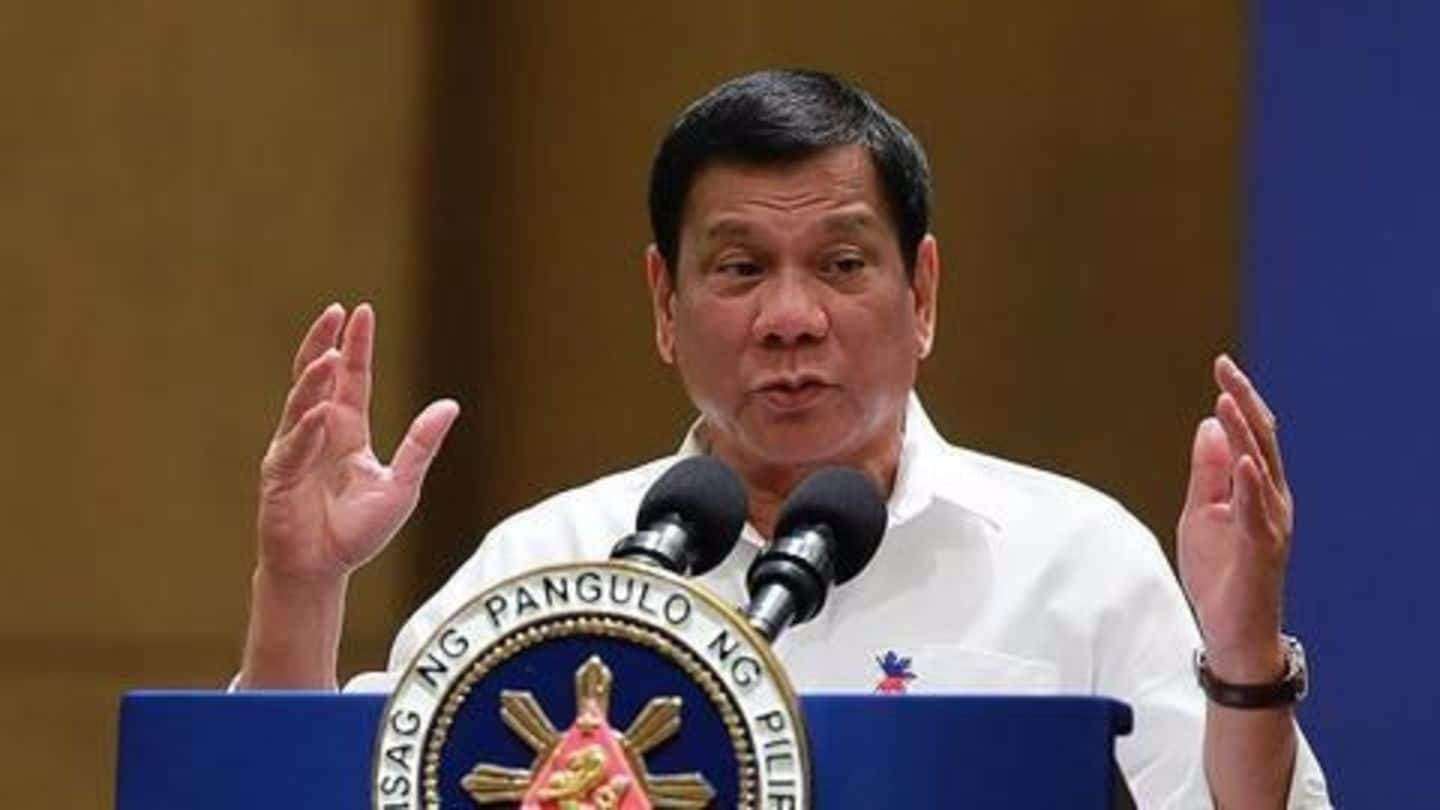 Philippine President Rodrigo Duterte at a news conference warned rebels that the military is ready to respond with airstrikes and and new offensives if Maoist rebels launch attacks. He called the rebels "terrorists," as months of steady peace talks collapsed after the New People's Army killed 6 soldiers and kidnapped 2 others. The government's six-month-old ceasefire with the rebels was lifted on Friday.
Since President Duterte took office on June 30, he led a massive crackdown on drug dealers in Philippines. In the last few months, 2000 suspected drug dealers and users have been killed. 900 have been killed in police operations. On Monday, Obama said he understood the significance of eliminating the drug trade but insisted it must be within the confines of the law.
Rodrigo Duterte: War on Drugs
Rodrigo Duterte: "Forget the laws of human rights. If I make it to the presidential palace, I will do just what I did as mayor. You drug pushers, hold-up men and do-nothings you better go out. Because as the mayor, I'd kill you."
Philippines' 'Donald Trump'
President Rodrigo Duterte's frequent usage of coarse language for international leaders and personalities has led to comparisons with 'Donald Trump'. Last month, Duterte attacked the US ambassador to Philippines and called him a "gay son of a bitch". In April, during his presidential campaign, he mocked a rape victim. Last year, he cursed the Pope for causing traffic-jams on a visit to the Philippines.
Duterte's comments on Obama
President Duterte: "Who is he [Obama] to confront me?" and added "I am a President of a sovereign state and we have long ceased to be a colony. I do not have any master except the Filipino people, nobody but nobody."
During an interaction with reporters in Laos, President Duterte referred to Barack Obama as a 'son of a b@#$%'. Obama was made aware of the insult as he was stepping out of a G20 summit in Hangzhou, China. American officials were asked to confirm if 'the incident' did happen. Shortly after, both sides agreed to mutually postpone the meeting.
Obama cancels meet with Philippines President
Barack Obama was scheduled to meet the Filipino President Rodrigo Duterte; this would've been their first meeting. The meeting was however cancelled after it was reported that President Duterte had used vulgar language in public to describe Barack Obama. The two were supposed to meet in Laos; however, the meeting has now been postponed indefinitely.
US Def Sec: US-Philippines military ties are intact
Against the backdrop of Philippines President Rodrigo Duterte's unsavoury language toward US President Obama and Philippines' recent announcement of ending joint military drills with the US, Defence Secretary Ashton Carter clarified that US-Philippine military ties were "iron-clad." He was addressing troops aboard the USS Carl Vinson aircraft carrier in San Diego. Duterte has promised that this year would see the last US-Philippine joint exercises.
Duterte: Trump makes me feel like a saint
Philippine President Rodrigo Duterte said he felt like a saint after his congratulatory phone conversation with Donald Trump; Trump heaped praises on Duterte for his deadly war on drugs in the Philippines. He added that Trump also invited him for coffee and discussions at the White House. This is a significant departure from Duterte's long-standing anti-American stance.
Philippines President Duterte hints at quitting
Philippines President Rodrigo Duterte hinted at possibly quitting as President, saying "I don't need it at my age". He had earlier complained of back pains, migraines and Buerger's disease, a cause of blockages in the blood vessels, associated with heavy smoking. Calling this his "last hurrah", he said he was unsure if he would "still be around by the end of my term."
Rodrigo Duterte confirms to killing people
At a news conference in the capital of Manila, President of Philippines Rodrigo Duterte confirmed that in his time as mayor of Davao city, he had killed three people. "It happened, I cannot lie about it," he said. As mayor of Davao city, Duterte was accused of overseeing a death squad to kill criminal suspects and was known to carry a .38 pistol.
UN rights chief: President Duterte must be probed for murder
After President Duterte's confession of having killed criminals in the past, UN rights chief urged the Philippines to investigate him for murder. Rights chief Zeid Ra'ad Al Hussein said, "The killings committed by Mr Duterte by his own admission clearly constitute murder." However, Philippines Justice Secretary Vitaliano Aguirre insisted that he had not violated any law.
Philippines President Duterte wants to charge staff of central bank
On Thursday, Philippines President Rodrigo Duterte said to the governor of the central bank, "I will give you a whack." He also threatened criminal charges against his country's Anti-Money Laundering Council (AMLC). He accused the AMLC of not supporting the war on drugs by failing to track the flow of drug money. He said people supposed to chase the money-trail are politicized and tainted.
President Duterte at it again, calls US envoys spies
Philippine President Rodrigo Duterte stoked controversy by accusing US envoys of the country of being spies for allegedly plotting his ouster; the US denied the allegations. He also said he once threw a man out of a helicopter and would not hesitate to do so again, prompting calls for a UN investigation. Duterte also threatened "corrupt officials" with a similar fate.