Russia: Plane catches fire mid-air, makes emergency landing; 13 dead
Last updated on
May 06, 2019, 12:42 am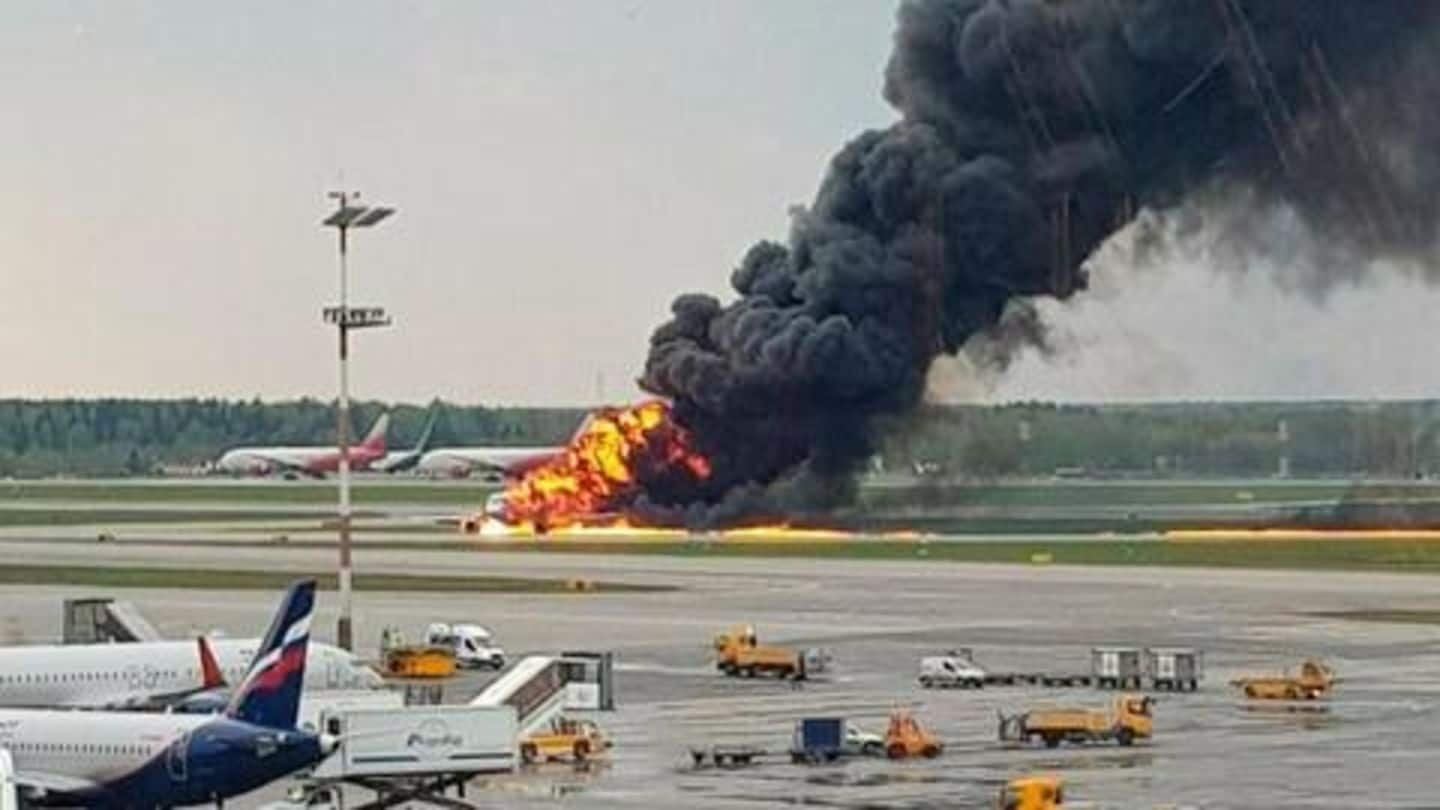 At least 13 people have died after a fire broke out on board a passenger plane in Russia on Sunday. The Aeroflot Sukhoi Superjet plane made an emergency landing at Moscow's busiest Sheremetyevo Airport after catching fire mid-air, Russian state news agency TASS reported. The plane, which was on its way to Murmansk from Moscow, erupted in flames shortly after takeoff. Here's more.
Plane attempted emergency landing; didn't succeed the first time: Source
"It (the plane) attempted an emergency landing but did not succeed the first time, and on the second time the landing gear hit (the ground), then the nose did, and it caught fire," a source told Russia's Interfax news agency.
Here's a video of the plane making an emergency landing
Conflicting reports on the number of passengers on the plane
The Russian plane was carrying 73 passengers, according to TASS news agency. However, RIA news agency reported that they were 78 passengers on board the plane. While 13 were reported dead, the number of injured was not. Russian media reported that "several" people were injured in the incident. TASS said ambulances were rushed to the spot and passengers on board the plane were evacuated.
Russian investigators looking into whether pilots breached air safety rules
Russian airline Aeroflot has confirmed the plane caught fire but didn't give any details about the casualties yet. Meanwhile, Russian investigators said they have begun an investigation to look into whether the plane's pilots breached any air safety rules. While the cause of the fire wasn't immediately known, RIA news agency said initial reports suggest an electrical fault might have triggered the fire mid-air.
Plane circled over Moscow twice before making emergency landing
After taking off from Moscow for Murmansk, the plane returned to the Russian capital after catching fire in the air. The plane circled twice over Moscow before making the emergency landing after 45 minutes, according to FLightradar24 tracking service.