100 missing in landslides declared dead
100 missing in landslides declared dead
Edited by
Gaurav Jeyaraman
May 28, 2016, 03:23 pm
4 min read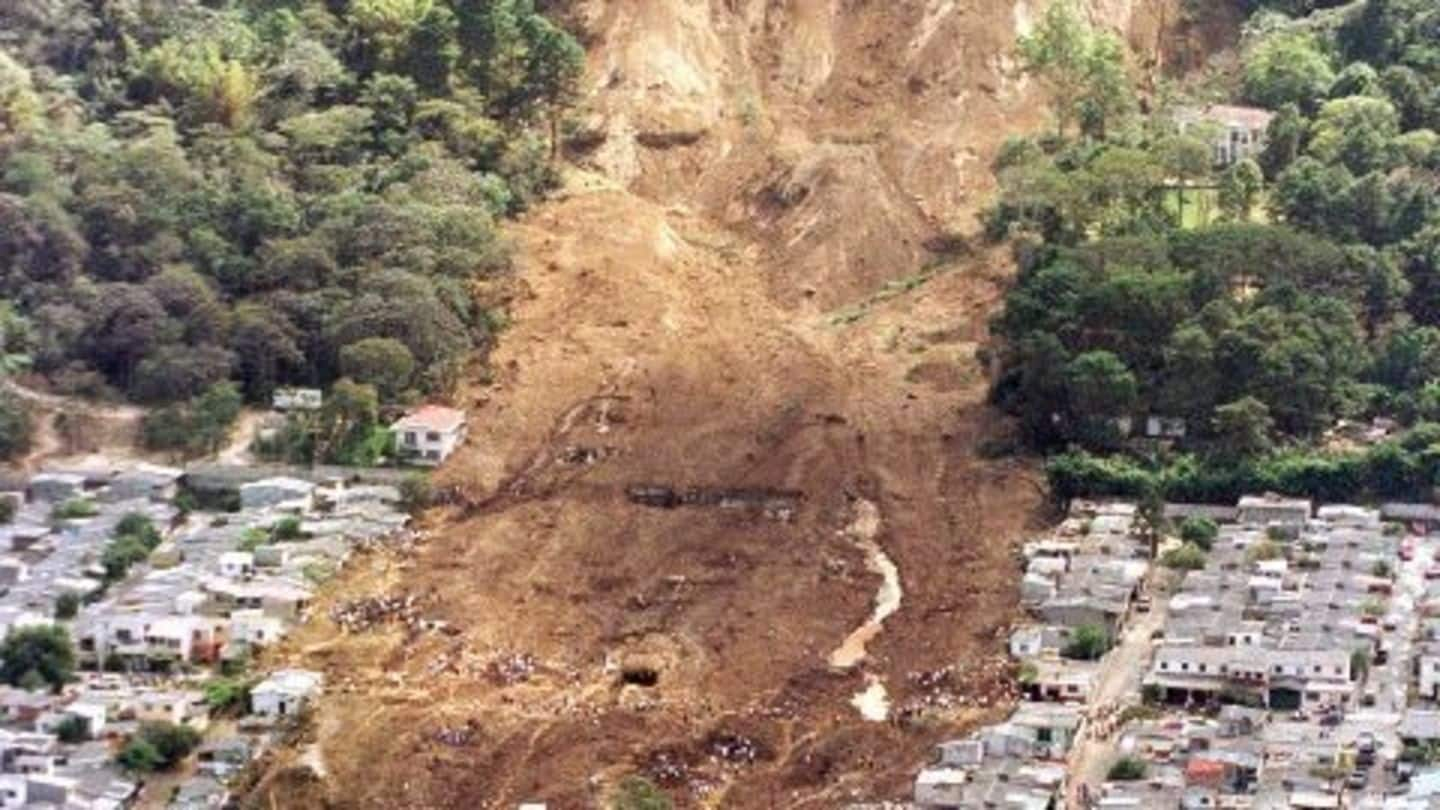 After failing to locate the 100 people who went missing the deadly landslides, Sri Lankan authorities have declared them dead. The Disaster Management Centre (DMC) said 67 bodies had been recovered from the worst hit central district of Kegalle. DMC spokesman Pradeep Kodippili said "the military is keeping up a search, but there is no hope of finding anyone alive now."
Mudslides are a common occurrence during the monsoon season in Sri Lanka (May-September, December-March). In the heavy rains of December 2014, authorities had evacuated more than 60,000 people from thousands of homes that were run-down by floods and landslides.
Landslide buries three villages in Aranayake
After torrential rains, a landslide crushed three villages - Siripura, Elangapitiya and Pallebage situated in the central district of Kegalle. Villagers said torrents of muddy water, tree branches and debris came crashing down around their homes. This landslide claimed 14 lives, and left another 130 people missing, said Maj. Gen. Sudhantha Ranasinghe, the commanding officer in charge of the rescue operation.
Rescue operations in Aranayake: Details
The 150 people rescued in Aranayake were sent to six camps which were set up for displaced people in the area. Everything from hoes and shovels, to sticks and bare hands were used by military officials, soldiers and police to dig through the piles of mud. Along with rainfall, heavy fog, electrical outages and the loose ground too obscured rescue effforts.
Death toll much higher than official figures
Sri Lankan Red Cross officials, who attended a disaster meeting at the Aranayaka landslide site, revealed that around 300-400 people are feared to have been killed, said Neville Nanayakkara, director general of the Sri Lanka Red Cross Society.
Sri Lanka's landslides: The casualties so far
According to Sri Lanka's Disaster Management Centre, days of torrential rain have displaced over 300,000 people. Eighteen bodies were retrieved at landslide sites and authorities gave up hopes of finding more. A total of 37 people are dead and officials said that the death toll was likely to rise. 220 families were reported missing and 1,550 people were being sheltered at seven different sites.
Rains delay rescue operations in Sri Lanka
The Kegalle district in Sri Lanka, 75 miles east of the capital, Colombo, was hit by two major landslides. The disaster occured after three consecutive days of torrential rains. 150 people have been rescued from the disaster site but there are another 134 people that remain unaccounted for. Rescue efforts had to be suspended temporarily due to heavy rains.
Lanka seeks international aid after deadly landslides
Sri Lanka sought international assistance for flood relief work and rescue efforts as hundreds remained unaccounted for in areas devastated by heavy rains and landslides. Foreign Minister Mangala Samaraweera briefed resident diplomats on the devastation, but did not specify the quantum or nature of aid sought. India and China were the first to rush emergency supplies after the magnitude of devastation came to light.
Fresh rains force evacuations from Colombo
As fresh downpours continued to batter Sri Lanka, more than 20,000 people were forced to evacuate from Colombo with the help of the Sri Lankan military. Sri Lankan President Sirisena urged citizens and private companies to come together and do whatever possible for the flood victims. The government also lifted all taxation on donations and supplies coming in from foreign nations.
Death toll 82 in Sri Lanka landslides
Rescuers pulled out more bodies from the muddy debris of the disastrous landslide in Sri Lanka taking the toll to over 80. 118 people continue to remain unaccounted for. The Sri Lankan army and other rescuers pulled out 13 more bodies late last night in the worst-hit district of Kegalle. Around 3,40,000 people have been displaced across the country in the floods and landslides.
Sri Lanka death toll crosses 90
Sri Lankan authorities have stated that the death toll from the deadly landslides has risen to 92. Sri Lankan army soldiers recovered at least seven more bodies on Sunday from Aranayake in the Kegalle district, the worst affected area. The rain has now stopped in many parts of the country and authorities said that floodwaters had begun to recede from Colombo.