Migrant boat sinks, hundreds rescued
Migrant boat sinks, hundreds rescued
Written by
Ramya Patelkhana
Edited by
Gaurav Jeyaraman
Jun 04, 2016, 05:56 pm
4 min read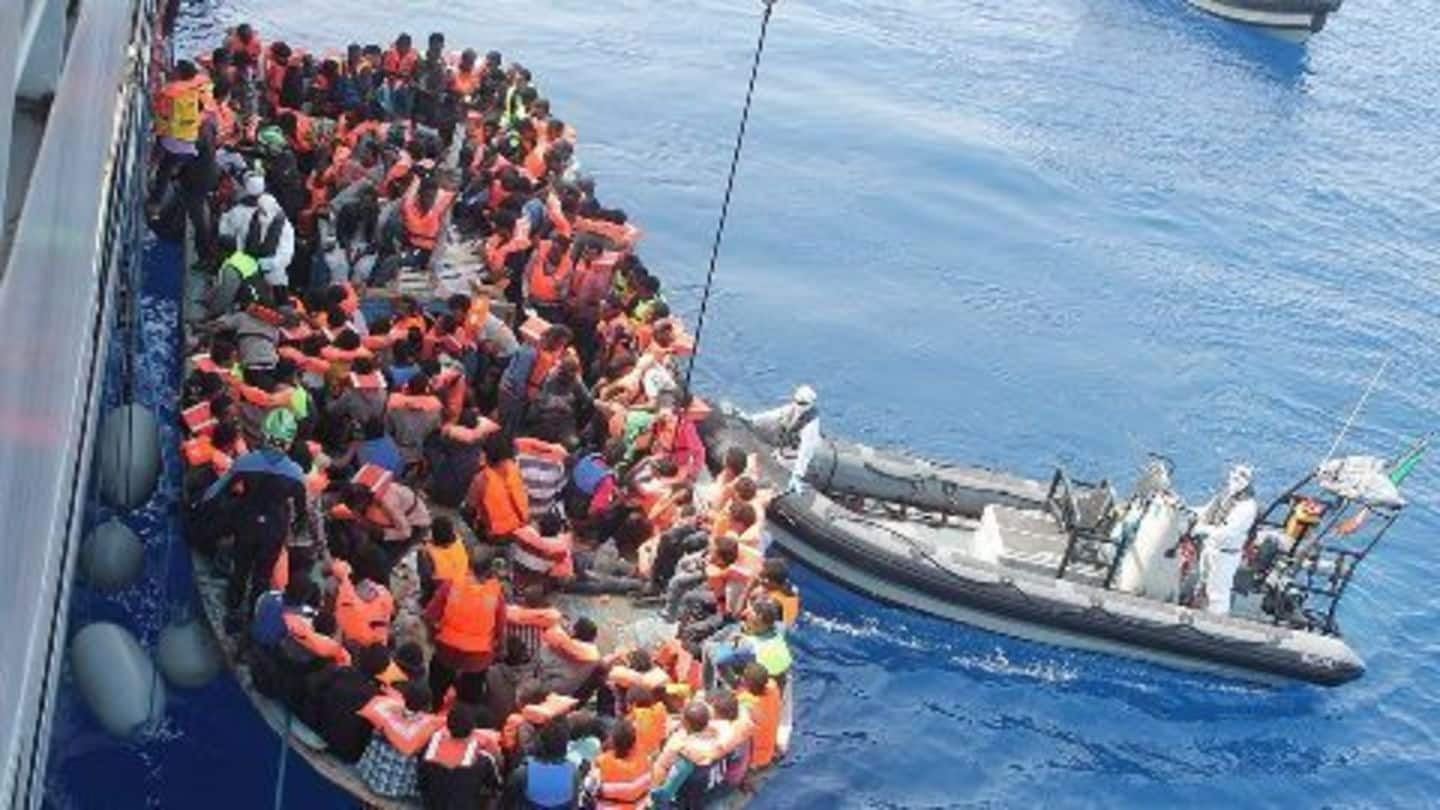 Greek officials rescued over 340 migrants and 9 boats after one capsized south of the Greek island of Crete. Officials said that though they recovered 7 bodies from the wreck, the boat was thought to be carrying over 700 refugees. The Greek Coast Guard rushed 2 patrol boats and a helicopter, and at least 4 other ships joined in the rescue efforts.
What is the European migration crisis?
The European migrant crisis started in 2015 when a large number of migrants and refugees began their journey to Europe to seek asylum. The migrants travelled across the Mediterranean Sea or through the southeast Europe mostly from Africa, Western & South Asia, and Western Balkans. According to the United Nations, the migrants were seeking asylum from war torn countries including Iraq and Syria.
Greece becomes the primary point of migrant arrivals
In 2015, migrant arrivals in Greece surpassed Italy's; 137,000 migrants arrived in Europe during Jan-Jun'15 out of which 68,000 had arrived in Greece. According to International Organization of Migrations and UNHCR, over one million migrants had arrived in Europe by 21 Dec'15—three to four times higher than in 2014. IOM stated that 3,692 migrants had lost their lives in 2015 at sea.
Nearly 80 migrants died till March
On 27 Jan, 26 migrants including ten children, died when their boat capsized near Greece's Samos Island, the first deaths in the sea in 2016. On 7 Feb, 27 migrants including 11 children, drowned in Turkey's Gulf of Edremit, only two miles away from the shore. On 5 Mar, 25 migrants were left dead when their boat sank near the Turkish coast.
Over one million Mediterranean Sea arrivals to Europe
United Nations High Commissioner for Refugees reported that in over one million Mediterranean Sea arrivals to Europe between Jan'15-Mar'16, 46.7% were Syrian, 20.9% Afghan, and 9.4% Iraqi. UNHCR stated that and 58% of them were men, 17% were women, and 25% were children. UNHCR also reported that death toll shot up to record levels in Apr'15, when five ships, carrying around 2,000 migrants sank.
700 migrants drowned last week: UNHCR
The United Nations stated that at least 700 migrants have drowned last week in the Mediterranean Sea, as they were trying to reach Europe. UNHCR spokeswoman, Carlotta Sami stated that 550 people went missing after a smuggler boat carrying 650-700 people capsized on Thursday and only 100 survived. Earlier, 150 people died as other ships sank on Wednesday and Friday.
Two boats were carrying migrants, say survivors
The survivors of Thursday's disaster said that two ships were carrying migrants; the first ship had 500 migrants and the second had 700. The second ship began sinking when the first ship's captain cut the rope connecting both the ships to avoid damage to his ship, which caused it to whiplash decapitating a woman. They added that 40 children, including babies, had died.
Deadliest death toll since Apr'15
Last week's combined death toll was 700, the deadliest since the Apr'15 ship sinking. In Apr'15 around 700-800 people, locked in a ship, had drowned after their vessel collided with a merchant ship sent to their rescue.
13,000 people rescued in last week
Nearly 670 people were saved from boats in the Mediterranean Sea taking the week's total number of refugees rescued from to 13,000. They were rescued from the sea to the south of the Italian island of Sicily. The rescue operations were reportedly carried out by the Italian coast guard and naval ships with help from German and Irish ships and humanitarian organizations.
Migrant boat rescued, smugglers charged
Officials rescued a migrant boat carrying 20 people off the coast of Kent, and also captured two British nationals who were suspected of trafficking the migrants. Robert Stilwell, 33, from Dartford, and Mark Stribling, 35, from Farningham were arrested and produced before a court for smuggling migrants. They charged with conspiring to facilitate the entry of non-EU nationals, and remanded in custody.
UN: 880 killed in boat mishaps last week
According to UN estimates based on survivor's accounts, over 880 migrants died in shipwrecks in the Mediterranean sea last week. UNHCR spokesman William Spindler said this year was "particularly deadly" on the Mediterranean, with 2,510 lives lost in the same period as compared to last year. He added that it was "shameful" that the EU had resettled fewer than 2,000 people this year.
85 migrant bodies wash ashore in Libya
The Libyan Red Crescent has confirmed that over 85 bodies of migrants who attempted to cross the Mediterranean sea washed ashore in the country. Officials said that relief workers were recovering more bodies, including women and children, adding that the circumstances of their death are still unclear. Due to poor weather conditions, no sea patrolling and rescue had been conducted this week.