Democrats mull options to block nomination of Trump's justice nominee
Democrats mull options to block nomination of Trump's justice nominee
Written by
NewsBytes Desk
Apr 05, 2017, 09:56 am
3 min read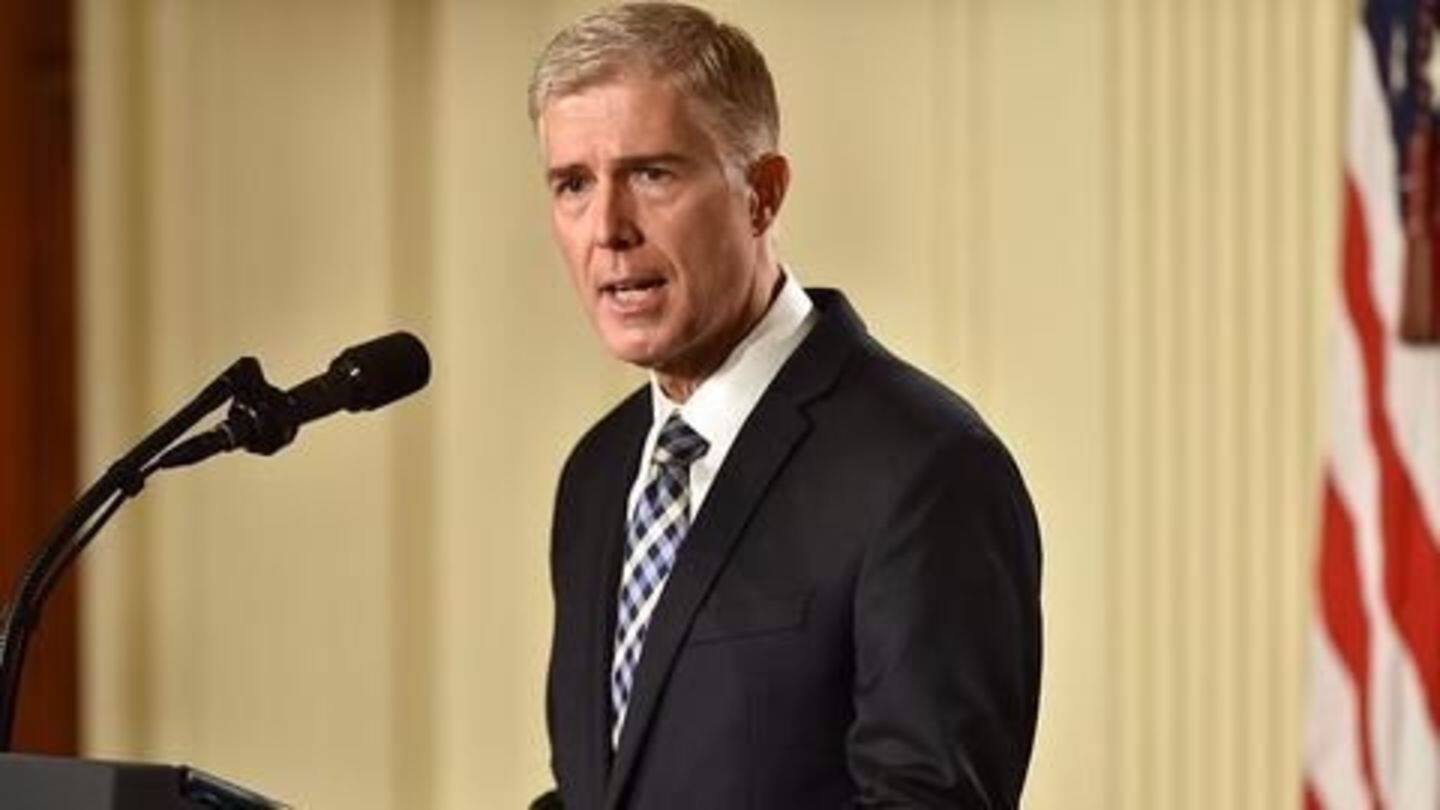 Democrats said they will use a tactic called filibuster to thwart the confirmation of US President Donald Trump's nominee for justice, Neil Gorsuch, bringing in the necessary 41 votes. Republicans might hit back with the "nuclear option": changing laws to push forward the process. After going through committee, the nomination will go to the full Senate on April 7.
Neil Gorsuch, 49-years old, is a judge on US Circuit Court of Appeals in Denver. Gorsuch was appointed to this post by former Republican President George Bush in 2006. He has an Ivy-league education: he attended Columbia University and Harvard Law school where he graduated in 1991 from the same class as Obama. He also has a doctorate in legal philosophy from Oxford University.
Gorsuch's political leanings
Supreme Court nominee Neil Gorsuch is considered to be a conservative intellectual. Based on his work, he has had a strong record of supporting religious freedom over other beliefs. He has also written against euthanasia and assisted suicide and has reportedly demonstrated hostility towards women's rights. However, Gorsuch has written very little on gay rights or gun control, issues of much interest to right-wing.
Trump nominates conservative judge for SC
US President Donald Trump has nominated conservative judge Neil N. Gorsuch for a lifetime job on the US Supreme Court. Gorsuch will have to attend confirmation hearing in the US Senate before being appointed. Republicans in the senate had rejected Obama's recommendation to the senate, to better serve the Republican mandate. Liberal groups in the US have called for a fight to reject Gorsuch.
Neil Gorsuch to fill long vacant SC seat
SC seat fell vacant last year due to sudden death of conservative judge, Antonin Scalia. Republicans 'stonewalled' Democratic nominee for 10 and a half months allowing Republican President Trump to nominate Neil Gorsuch.
Trump urges rule-breaking to confirm Neil Gorsuch
A day after nominating Neil Gorsuch to fill in a permanent seat at the Supreme Court, Donald Trump encouraged the US Senate's Republican leader to resort to the "nuclear option" of dismissing longstanding chamber rules if need be in order to confirm the nomination. This would involve rule-changing by Republicans over the objections of the Democrat minority in the Senate.
High-stakes hearing for confirmation of Trump's justice nominee begins
A US Senate Committee began a hearing on on March 20 on confirmation of Neil Gorsuch, President Donald Trump's nominee for justice. About 30 attendees, presumably Democrats, wore red tees declaring #StopGorsuch at the hearing that could last up to four days. If the nominee is confirmed, it could reinstate a narrow 5-4 conservative majority in the court.
Neil Gorsuch vows independence from President Trump
US President Donald Trump's nominee for justice, Neil Gorsuch, vowed independence and assured he wouldn't hesitate to rule against Trump, at the Senate Judiciary Committee confirmation hearing. Adding no one was "above the law", Gorsuch said he had offered no promises to anyone on how he would rule. However, he remained non-committal on whether he thought some contentious cases had been decided correctly.